Goth Chick News: The Woman in Black
Goth Chick News: The Woman in Black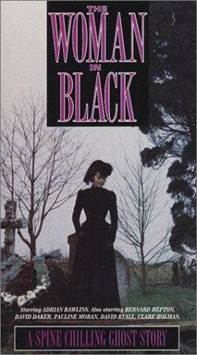 Anyone who has been reading these entries with any regularity knows that the word "minimalist" will never be used in the same sentence with my name. I seem to be visually starved, needing to be perpetually surrounded by interesting if not strange things to look at. This can easily be proven by the fact I cohabitate with a voodoo doll collection and three German Shepherds.
Maybe that's why I've always been drawn to Halloween.
I mean, you've probably heard people comment on over-the-top Christmas decorations, but I doubt you've heard anything but awe-struck admiration for someone who's gone nutty with their front yard zombie display.
Or maybe my neighbors are just trying to be nice.
In any case, it's rather odd for me to tell you that one of my all-time-favorite books, which then made it to the top of my theater list — and will eventually, I hope,  make it to my top ten movie list — is anything but visually cluttered. Speaking at least for the book and the play, The Woman in Black derives its horror from its simplicity, and that's really what a classic fright is about, isn't it? It's why no blood-splattered, psychopath training film like Saw or Hostel will ever be as scary as the scare that gets in your head.
Back in 1983, author Susan Hill wrote the tale of a young lawyer summoned to settle the affairs of the deceased Alice Drablow, who had lived on a remote English estate cut off from the mainland during high tide (sounds awesome so far, right?) As he pieces together Alice's tragic life, the lawyer begins to uncover a tragic family secret and its horrifying guardian, the Woman in Black. It's a premise just simple enough to make your skin crawl.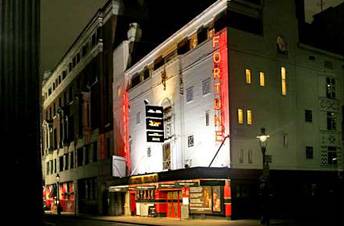 The creepiness of the story is rooted in its isolation; of the location, of the lawyer and of the dead people whose tale is being told. When I found The Woman in Black in a used book store I ended up reading the first half  in the parking lot in broad daylight, and hitting the lock on my car door half way through. It just about doesn't get any better than that.
Until, while researching theater offerings during a trip to London, I discovered my beloved book had been adapted to the stage.
The Woman in Black started off in 1987 in a much smaller theater in a much smaller town. But by 1989 it had been so well received that it got the ultimate upgrade to a location in the West End district of London, called The Fortune Theater.
Opened in 1924, The Fortune is a grand old hall that doesn't appear as though one thing has changed since the first performer stepped on the stage. There are no fancy effects or elaborate lighting rigs, and some of the upholstery and wallpaper looks a bit worn.
It isn't run down by any means, but is the sort of place you'd have no trouble believing is haunted in its own right and is therefore beyond perfect in its starkness, as a setting for this play in particular.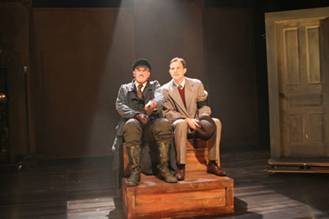 What was immediately interesting as soon as the curtain rose, was that there was no set and only a few props scattered around the stage. I saw from the playbill that the entire cast was comprised of two actors.
However, five minutes after the lights went down there may have well been a cast of dozens with the most elaborate sets ever built for all that it mattered. I, along with the entire audience, screamed my lungs out at the climatic final scene and then, as I was traveling solo, I was forced to walk alone in the dark, back to the hotel.
It was one of the most terrifying, thrilling and memorable evenings of my entire life.
Because The Woman in Black holds such a special place in my little black heart that I am excited, in a dread sort of way, over the news that sometime in 2011 my beloved, spine-tingling tale will make its big screen debut from Hammer Films; starring none other than Harry Potter himself, Daniel Radcliff. Jane Goldman, who who co-wrote the film adaptation of Neil Gaiman's Stardust, will be handling the script.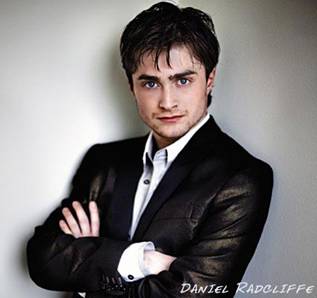 It's not that I doubt the casting. On the contrary, I think Daniel will make a fine showing as the lawyer in this tale.
What I am apprehensive about is Hollywood's constant efforts to make things bigger and grosser than life.
To fill The Woman in Black with lavish location shots and high-end special effects would kill what's really special about the story, and I'm hanging on to a thin hope that it will be a low-budget, indy-style film that they'll shoot in black and white to save money.
But, horror of horrors, I've found the opposite to be true. Apparently there's a rumor that Hammer is going to shoot the movie version in 3D. I need to go have a lie down.
In the meantime, go pick up the book. They're still selling new copies on Amazon.
I wish I could tell you to go see the play which you could do if you are planning on being in London anytime soon. The Woman in Black has been performed non-stop at The Fortune since it opened there in 1989 but unfortunately, has never toured or been performed in the US as far as I could find.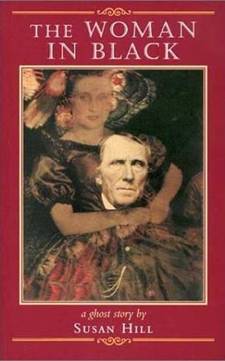 I did discover the BBC did a made-for-TV version you might turn up a copy of. There are some clips on YouTube but it looks fairly cheesy.
The Woman in Black is a classic horror story that knows what you imagine is far worse that what you can actually see; that will make you sleep with all the lights on, even the one in the kitchen under the microwave; that will make you drag all three dogs out of bed to go with you to get a drink of water because you're freaked out and then throw a towel over that creepy statue in the hallway on your way back because now it's watching you.
Or maybe that's just me.
Have you read The Woman in Black or seen it performed live? Drop me a note at Sue@blackgate.com, and tell me if you screamed like a little girl at that scene when…