New Treasures: The Throne of Amenkor by Joshua Palmatier
New Treasures: The Throne of Amenkor by Joshua Palmatier
Joshua Palmatier is a high-energy guy. I wrote about his science fictional Ley Trilogy last year, and I backed his 2017 Kickstarter for the Guilds & Glaives anthology because it contains stories by no less than four Black Gate authors: David B. Coe, James Enge, Howard Andrew Jones, and Violette Malan.
That ought to be enough from one guy to satisfy even the most demanding readers. So I was surprised to find a fat 840-page volume from Palmatier during my last trip to Barnes & Noble: The Throne of Amenkor. It turns out to be an omnibus reprint collecting three of his early fantasy novels:
The Shewed Throne (384 pages, $8.99 in paperback, January 3, 2006)
The Cracked Throne (400 pages, $7.99 in paperback, November 7, 2006)
The Vacant Throne (480 pages, $8.99 in paperback, January 2, 2008)
All three were published in hardcover by DAW, and are still in print in mass market paperback a decade later — an impressive feat. K. Tang and Charlene Brusso reviewed them enthusiastically for Black Gate, but I never had the chance to enjoy them myself. I already have a handful of Joshua Palmatier novels sitting on my nightstand, and an anthology on the way, but I'm a sucker for these big omnibus editions from DAW and I ended up bringing The Throne of Amenkor home with me anyway.
[Click the images for bigger versions.]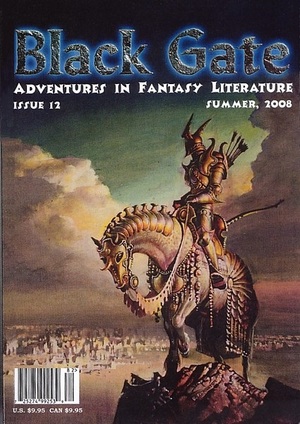 Not too many writers debut with a fantasy trilogy, but Palmatier did. In her feature review of the second volume in Black Gate 11, K. Tang wrote:
The Cracked Throne is the second novel in a fantasy trilogy. I had not read the first, The Skewed Throne, and was going to track down a copy…. but I was hooked on this one after the first few pages. Palmatier's prose is smooth, believably communicating the first person experience of his female protagonist, and immersing the reader quickly and seamlessly into an expertly developed secondary world.

The story follows Varis, a former gutterscum bodyguard and assassin, forced by people she trusted to take the throne and become the city of Amenkor's new mistress. Unsure of who to trust, and uncertain of her own abilities, she takes command of a city in grave danger… There are many powerful and courageous female heroines portrayed here, Varis first among them. She makes bold decisions and struggles mightily to solve each dilemma she faces.
Charlene Brusso reviewed The Vacant Throne for us in Black Gate 12. Here's a snippet:
Palmatier's Throne of Amenkor series has been getting better with each book. The third novel comes with another hearty helping of intrigue and adventure in a fractal-like setting the grows more fascinating the longer you look at it….

Those just discovering the series can jump right in without fear; there's just enough backstory to fill in the blanks without slowing things down. It's refreshing to read an urban fantasy with a firm grasp of cultural and urban infrastructure and economics as well as Big Magic and rock'em-sock'em heroics. Palmatier balances world building and character development nicely, expanding on the previous books in the series in some interesting — and surprising — ways.
Palmatier followed The Throne of Amenkor trilogy with two more novels set in the Amenkor Universe, both published by DAW under the name Benjamin Tate:
Well of Sorrows (2010)
Leaves of Flame (2012)
Both volumes were re-issued as digital books by Baen in 2015, this time under the name Joshua Palmatier.
Here's the original covers for the The Throne of Amenkor trilogy.
The first two are by Steve Stone; that last one is by Larry Rostant. Here's a snap of the handsome hardcover editions.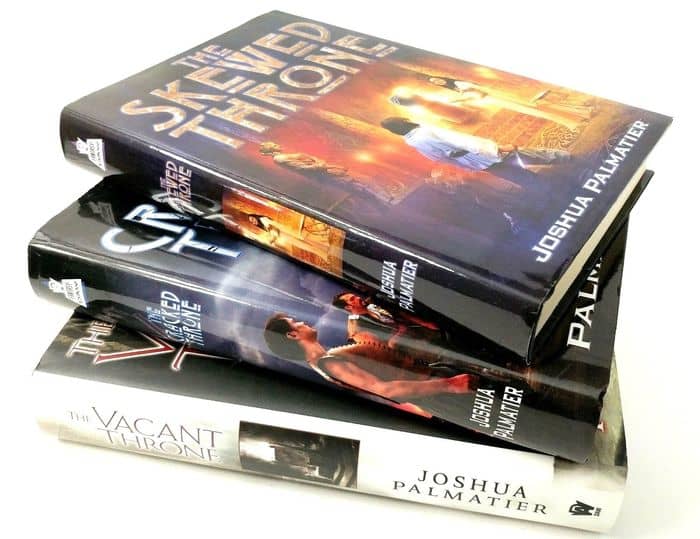 The back of The Vacant Throne has a nice sample of the praise for the whole series.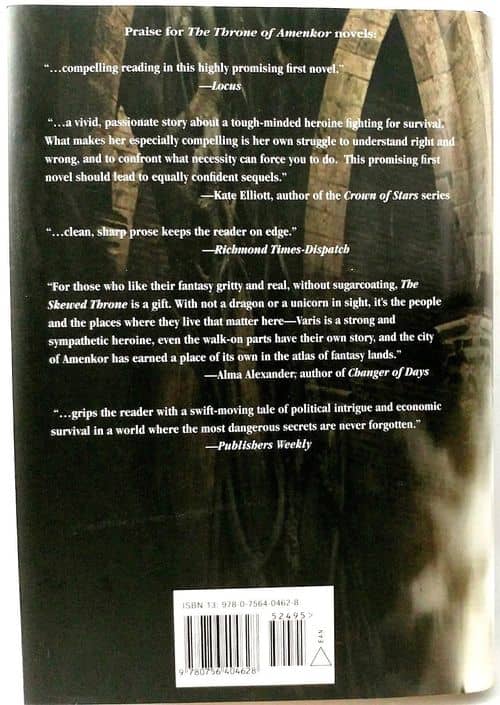 If you enjoy these omnibus volumes as much as I do, check out our recent coverage of omnibus releases here.
The Throne of Palmatier was published by DAW Books on November 14, 2017. It is 840 pages, priced at $18 in trade paperback and $11.99 for the digital edition. The cover is by Shutterstock.
See all of our recent New Treasures here.