The Omnibus Volumes of Jack Vance, Part I: Planet of Adventure
The Omnibus Volumes of Jack Vance, Part I: Planet of Adventure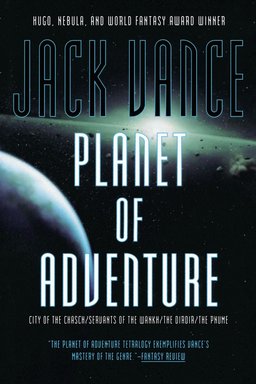 I've been exploring the work of Jack Vance recently, inspired by the beautiful volumes from Subterranean Press collecting his earliest short stories, The Early Jack Vance. Four have been released so far, and we covered the upcoming fifth volume, Grand Crusade, here.
I don't think I really understood just how prolific Jack Vance was until I set out to collect his paperbacks. I began that undertaking decades ago, and it's still underway. At last count, I had well over 50. He published over 20 through DAW alone (Amazon has listed many of them here).
Still, one of the great things about Vance is that you don't have to work hard to find his most popular fiction. Over the years much of it — including his Dying Earth, Demon Princes, Durdane, Alastor, and Ports of Call books — has been collected in handsome and affordable omnibus editions from Orb/Tor, Gollancz, and the Science Fiction Book Club. And most of them are still in print.
Earlier this week I published the third and final installment of my survey of The Omnibus Volumes of C.J. Cherryh. That started out as a modest attempt to catalog the omnibus editions of Cherryh's early paperback SF and fantasy from DAW Books, and eventually became an excuse to showcase the covers of all 22 of her original novels. It was a lot of fun, especially if you have an obsessive interest in vintage paperbacks like I do.
Coincidentally, I ordered a set of Jack Vance omnibus editions earlier this month, and when they arrived I realized I could do the same thing with Vance. I've never really explored Vance's back catalog with any thoroughness here at Black Gate, and it seemed like the right time.
So here we are. We're kicking things off today with Planet of Adventure, an omnibus collection of four linked space opera novels: City of the Chasch (1968), Servants of the Wankh (1969), The Dirdir (1969), and The Pnume (1970). Next to The Dying Earth this is perhaps Vance's most popular series, so it's as  good a place to start as any.
Here's the blurb:
Stranded on the distant planet Tschai, young Adam Reith is the sole survivor of a space mission who discovers the world is inhabited — not only by warring alien cultures, but human slaves as well, taken early in Earth's history. Reith must find a way off planet to warn the Earth of Tschai's deadly existence.

Against a backdrop of baroque cities and haunted wastelands, sumptuous palaces and riotous inns, Reith will encounter deadly wastrels and murderous aliens, dastardly villains and conniving scoundrels.

And always the random beauty in need of rescue…

…the Planet of Adventure Saga, collected now in one volume, is one of Vance's best-loved series. The Planet of Adventure novels are fast-paced, classic science fiction with sparkling dialogue, clever and intriguing characters… and have at their core a world as complex and fully realized as Frank Herbert's Dune. A rollicking adventure with one of Vance's most likable heroes, Planet of Adventure is a feast for any Jack Vance fan.
One of the things I've always liked about that blurb is the description of the setting: "baroque cities and haunted wastelands, sumptuous palaces and riotous inns." Is it weird that I'm more intrigued by a book because it includes "riotous inns?"
The four Planet of Adventure novels were originally published by Ace Books between 1968-1970, with covers by the great Jeff Jones:
[Click for bigger versions.]
The Jones covers gave these books a definite science fantasy feel. I found them very Burroughs-like, even when I first saw them in the early 70s.
The novels weren't reprinted by DAW until 1979, with a new set of covers by H. R. Van Dongen that lent them a much more science-fiction air:
Orb wasn't the only publisher to hit on the idea of collecting all four of these slender volumes into one book. In November 1985, Grafton Books issued a 536-page trade paperback omnibus in the UK, with a cover by Geoff Taylor (below left).
Tor Books issued the first omnibus here in the US on August 15, 1993, with a cover by Dave Archer (above right).
The omnibus edition of Planet of Adventure is still in print from Tor/Orb. It is 541 pages, priced at $21.99 in what appears to be a print-on-demand trade paperback. There is no digital edition.
Next up: Part II: Tales of the Dying Earth.