New Treasures: California Bones and Pacific Fire by Greg van Eekhout
New Treasures: California Bones and Pacific Fire by Greg van Eekhout
What we have here is a pair of novels in an intriguing new dark fantasy series which were both released last month — California Bones in paperback, and Pacific Fire in hardcover.
California Bones is the first; it was published in hardcover by Tor last year. It's an epic adventure set in a world similar to our own, in the Kingdom of Southern California, in a city of canals and secrets and casual brutality.
Here's the blurb:
When Daniel Blackland was six, he ingested his first bone fragment, a bit of kraken spine plucked out of the sand during a visit with his demanding, brilliant, and powerful magician father, Sebastian.

When Daniel was twelve, he watched Sebastian die at the hands of the Hierarch of Southern California, devoured for the heightened magic layered deep within his bones.

Now, years later, Daniel is a petty thief with a forged identity. Hiding amid the crowds in Los Angeles — the capital of the Kingdom of Southern California — Daniel is trying to go straight. But his crime-boss uncle has a heist he wants Daniel to perform: break into the Hierarch's storehouse of magical artifacts and retrieve Sebastian's sword, an object of untold power.

For this dangerous mission, Daniel will need a team he can rely on, so he brings in his closest friends from his years in the criminal world. There's Moth, who can take a bullet and heal in mere minutes. Jo Alverado, illusionist. The multitalented Cassandra, Daniel's ex. And, new to them all, the enigmatic, knowledgeable Emma, with her British accent and her own grudge against the powers-that-be. The stakes are high, and the stage is set for a showdown that might just break the magic that protects a long-corrupt regime.
California Bones was published by Tor Books on January 6, 2015. It is 320 pages, priced at $14.99 in trade paperback and $9.99 for the digital edition.
The sequel, Pacific Fire, arrived in January; it returns to the world of California Bones, but features new characters and focuses a dangerous magical plot unfolding in Los Angeles.
I'm Sam. I'm just this guy.

Okay, yeah, I'm a golem created from the substance of his own magic by the late Hierarch of Southern California. With a lot of work, I might be able to wield magic myself. I kind of doubt it, though. Not like Daniel Blackland can.

Daniel's the reason the Hierarch's gone and I'm still alive. He's also the reason I've lived my entire life on the run. Ten years of never, ever going back to Los Angeles. Daniel's determined to protect me. To teach me.

But it gets old. I've got nobody but Daniel. I'll never do anything normal. Like attend school. Or date a girl.

Now it's worse. Because things are happening back in LA. Very bad people are building a Pacific firedrake, a kind of ultimate weapon of mass magical destruction. Daniel seemed to think only he could stop them. Now Daniel's been hurt. I managed to get us to the place run by the Emmas. (Many of them. All named Emma. It's a long story.) They seem to be healing him, but he isn't going anyplace soon.

Do I even have a reason for existing, if it isn't to prevent this firedrake from happening? I'm good at escaping from things. Now I've escaped from Daniel and the Emmas, and I'm on my way to LA.

This may be the worst idea I ever had.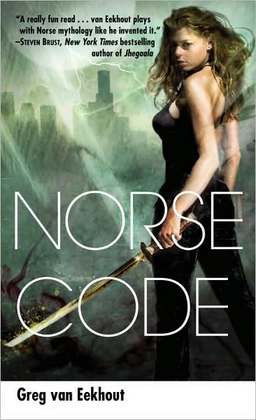 Pacific Fire was published by Tor Books on January 27, 2015. It is 336 pages, priced at $24.99 in hardcover and $12.99 for the digital edition.
Greg van Eekhout's first novel was Norse Code (Spectra, 2009), about a genome project designed to identify descendants of Odin, and a murdered MBA student brought back from the dead to serve as a valkyrie in Odin's army. As plots go, you're not going to find many more gonzo than that. I bought a copy as soon as it came out.
His other books include two middle-grade SF novels, Kid vs. Squid (2010) and The Boy at the End of the World (2012), which was a finalist for the Andre Norton Award.
If you want to check out Eekhout without springing for an expensive trade paperback, he's got a number of short stories in the wild that you can sample for free.
You can read his superhero story "Last Son of Tomorrow" at Tor.com, and "The Osteomancer's Son" in the latest issue of Clarkesworld magazine, Clarkesworld 101.
See all of our recent New Treasures articles here.