The Omnibus Volumes of Steven Brust: The Adventures of Vlad Taltos
The Omnibus Volumes of Steven Brust: The Adventures of Vlad Taltos
Steven Brust's Vlad Taltos novels are unique in modern fantasy. They're caper novels in which a supremely gifted assassin, Vlad Taltos, teams up with a group of like-minded companions (including pickpockets and vampires) to right wrongs, alter the course of destiny, and sometimes make a little coin. The odds are always against them, and things don't always go their way, but Vlad, our protagonist and narrator, has a wry and self-deprecating sense of humor that makes the books highly entertaining. There are plenty of great reviews out there I could point you to, but one of my favorites is this concise one-paragraph bit from Amazon reviewer Wizard's Apprentice:
Vlad is a human in a city dominated by eight-foot Dragaerans, who never have to shave and live to be a thousand. It's their turf, and their rules, and they routinely conquer and abuse "Easterners" like Vlad. He's not the type to take this, so he becomes a "Jhereg" assassin, working up the ranks of a criminal syndicate until he comes to boss dozens of Dragaerans around, befriending some and terrorizing others. He adopts a new-hatched mini-dragon or jhereg, finding that the cat-sized beast has a humanlike intelligence and a nasty sense of humor, and wins a grudging respect from the dominant species. All his friends are 900 years old, or undead vampires, or legendary thieves; but don't hold it against them. Vlad solves mysteries and evades death, and cooks fiery fungus-laced omelets, in a bizarre semi-alien milieu. He finds love. He sharpens knives. He gloomily bandages his jhereg bites. He'd be right at home in a Zelazny novel, which is reason enough to buy this or any other Brust book.
[Click the covers to embiggen.]
There are currently fourteen volumes in the series. Ace Books published the first, Jhereg, as a paperback original way back in April 1983, and the next six novels. Tor took over with volume 8, Dragon, and has published the last seven novels in the series, including the most recent, Hawk (2014), which we covered here.
So far there have also been five handsome volumes of omnibus collections, three from Ace and two from Tor. They are a convenient and economical way for modern readers to collect this classic fantasy series. The first, The Book of Jherg, was published in trade paperback in 1999; the fifth and most recent, The Book of Dzur, appeared in 2011.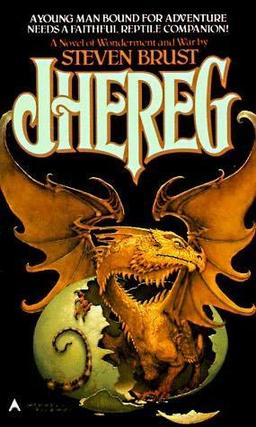 Fletcher Vredenburgh, spurred on by comments from Bill Ward, read Jherg for the first time in 2013, and I enjoyed his take on the series. Here's a snippet from his Black Gate article, "A Hero in the Service of Organized Crime: A Review of Jhereg by Steven Brust"
Jhereg is sort of a crime/mystery story. But rather than solve a crime, Vlad must figure out how to perpetrate one. A ranking member of House Jhereg has stolen a huge amount of Jhereg money and taken off for parts unknown. As a warning to imitators the heads of the house want the thief dead as soon as possible. Since Vlad's not only a member of the house but one of the best assassins in the empire, he's hired to carry out the killing.

Before Vlad can kill the thief he needs to find him. The thief has gotten himself invited into the House of the Dragon's floating castle. Because of a long-ago war between the Jhereg and Dragons that left both nearly exterminated, the castle is considered inviolate. The thief seems to have an impenetrable shield in his host's obligations to his guest. If another bloody war with the Dragons is to be avoided, Vlad must find a way to accomplish his mission without inciting the Dragons and before the Jhereg bosses lose patience.

Jhereg reads like a fantastic and slightly off-kilter version of a Golden Age crime story. The focus is on Vlad's ingenuity and the puzzle of how to kill the thief. That plus the witty banter, snarky sidekicks, and some action here and there kept me captivated.

Even though the book's main character is a criminal in the service of organized crime, Jhereg's a fairly light story. The only murders are of criminals who fell afoul of their code of honor or tried to muscle in on someone else's racket. When violence happens it's not really graphic and definitely not gory. And as most deaths in Dragaera aren't permanent (since resurrection is commonplace) there's less at stake, which further lightens the overall tone of the book. It's so light that I was never bothered that I was rooting for a killer to succeed.

The greatest depth in Jhereg is Brust's worldbuilding… It never feels labored and always serves to move the quick-paced plot forward. In the book's mere 239 pages there's a vast world on display.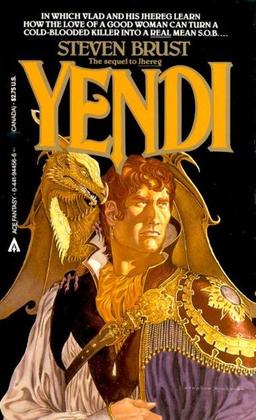 Fletcher covered the second book in "A Rogue's Early Days: Yendi by Steven Brust"
Brust goes back in time with Yendi. Here we learn how Vlad rose in the ranks of the mafia-like House Jhereg. By a combination of smarts, daring, and just enough violence, he secures a position in the gangland ecology of the Dragaeran Empire's capital city, Adrilankha. By book's end, he's well on his way to becoming the successful racketeer we meet in the first book. Unfortunately for him, things happen between the beginning and end of Yendi that make for a lousy time for Vlad, but a fast-paced story for us…

Brust's style requires — no, demands — the reader's attention in order to follow the plot. This is beautifully on display during the second half of Yendi, as Vlad works to unravel the mystery behind the Sword's lost inheritance. Brust assumes his reader to be up to the task of following him wherever he leads, without stopping for more than a sentence or two of explanation every now and then. I love it when a writer is willing to let me sink or swim.
And Elizabeth Cady, in her March BG article "What to Read Next?," summed up the feelings of a lot of fans when she wrote:
I tend to have a set list of authors whose work I will pre-order the instant I hear about it. Neil Gaiman, Sarah MacLean, Kate Elliot. I have authors I forget about for a few years and then dive in to read everything they've put out in the meantime (Stephen Brust tops that list: I can't quit Vlad Taltos).
The first eleven novels have been collected in five omnibus collections. Stephen Hickman did the covers for the first three paperbacks; later covers were by Kinuko Y. Craft and Ciruelo Cabral.
Publication details are as follows:
The Book of Jhereg (Ace, August 1999, 471 pages) — cover by Stephen Hickman

Jhereg (Ace, 1983)
Yendi (Ace, 1984)
Teckla (Ace, 1987)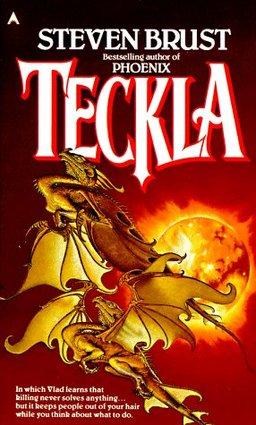 The Book of Taltos (Ace, January 2002, 389 pages) — cover by Kinuko Y. Craft

Taltos (Ace, 1988)
Phoenix (Ace, 1990)

The Book of Athyra (Ace, February 2003, 436 pages) — cover by Ciruelo Cabral

Athyra (Ace,1993)
Orca (Ace, 1996)

The Book of Dragon (June 2011, 395 pages) — cover by Stephen Hickman

Dragon (1998)
Issola (2001)

The Book of Dzur (Tor, October 2011, 400 pages) — cover by Stephen Hickman

Dzur (Tor, 2006)
Jhegaala (Tor, 2008)
The following three volumes have yet to be collected:
Iorich (Tor, 2010)
Tiassa (Tor, 2011)
Hawk (Tor, 2014)
For the completests in the audience, here's the back covers of all five volumes in the set (click for legible versions).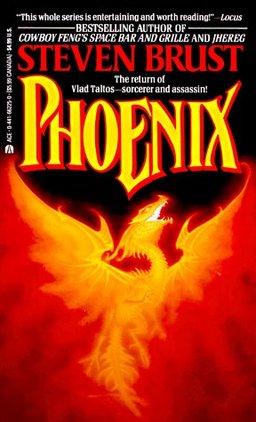 We've covered the Vlad Taltos series at various times over the past few years:
Steven Brust's Jhegaala by Bill Ward
A Review of Jhereg by Isabel Pelech
A Hero in the Service of Organized Crime: A Review of Jhereg by Fletcher Vredenburgh
A Rogue's Early Days: Yendi by Fletcher Vredenburgh
New Treasures: Hawk
The previous installments in this series on omnibus collections of interest to fantasy fans include:
The Omnibus Volumes of P.N. Elrod: The Vampire Files
The Omnibus Volumes of Jack Vance, Part I: Planet of Adventure
The Omnibus Volumes of Jack Vance, Part II: Tales of the Dying Earth
The Omnibus Volumes of Jack Vance, Part III: The Demon Princes
The Omnibus Volumes of C.J. Cherryh, Part I
The Omnibus Volumes of C.J. Cherryh, Part II
The Omnibus Volumes of C.J. Cherryh, Part III
The Omnibus Volumes of H. Beam Piper
The Chronicles of Corum by Michael Moorcock
Von Bek by Michael Moorock
The Dhulyn and Parno Novels: Volume One by Violette Malan

See all our recent coverage of Series Fantasy here.