Future Treasures: Six of Crows by Leigh Bardugo
Future Treasures: Six of Crows by Leigh Bardugo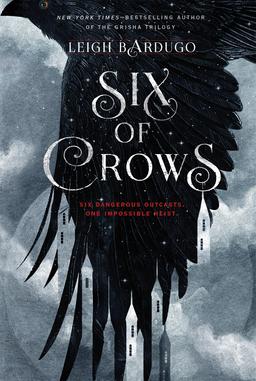 I love a good caper novel. Fantasy doesn't have enough of them. There's Steven Brust's Jhereg books, of course, and Scott Lynch's marvelous Gentleman Bastard trilogy (The Lies of Locke Lamora, Red Seas Under Red Skies, and The Republic of Thieves). But we could certainly use a few more. Leigh Bardugo sets out to correct that deficiency with Six of Crows, a very promising new novel featuring "a cunning leader with a plan for every occasion, nigh-impossible odds, an entertainingly combative team of skilled misfits, a twisty plot, and a nerve-wracking cliffhanger" (Publishers Weekly). It's on sale September 29 from Henry Holt and Co.
Ketterdam: a bustling hub of international trade where anything can be had for the right price — and no one knows that better than criminal prodigy Kaz Brekker. Kaz is offered a chance at a deadly heist that could make him rich beyond his wildest dreams. But he can't pull it off alone…

A convict with a thirst for revenge. A sharpshooter who can't walk away from a wager. A runaway with a privileged past.

A spy known as the Wraith. A Heartrender using her magic to survive the slums. A thief with a gift for unlikely escapes.

Six dangerous outcasts. One impossible heist. Kaz's crew is the only thing that might stand between the world and destruction — if they don't kill each other first.
Leigh Bardugo is the author of the popular YA novels Shadow and Bone, Siege and Storm, and Ruin and Rising (collectively The Grisha Trilogy). Read her story "The Too-Clever Fox" for free at Tor.com.
Six of Crows will be published by Henry Holt and Co. on September 29, 2015. It is 480 pages, priced at $18.99 in hardcover and $8.99 for the digital edition.