Vintage Treasures: The Dream Lords by Adrian Cole
Vintage Treasures: The Dream Lords by Adrian Cole
I don't often hear of fantasy described as "In the tradition of Tolkien and Lovecraft!" Just seems like an odd mix to me. But that's exactly how Adrian Cole's first three novels, collectively known as The Dream Lords trilogy, are described.
Cole is a British writer also known for his four-volume Omaran Saga, and his more recent trilogy The Voidal, which Fletcher Vredenburgh called "an endless collection of interesting settings: universe-sized dimensions; monster-infested pocket worlds; a realm filled not with planets but islands that float in space." But I was first introduced to him with The Dream Lords, which he reportedly wrote after reading Tolkien's The Lord of the Rings while working in a library in the mid-seventies.
Interestingly, this series has no second volume. It has a first volume, A Plague of Nightmares, and two third volumes, Lord of Nightmares and Bane of Nightmares, but no second volume. That's cool.
[Click on any of the images for bigger versions.]
The Dream Lords saga was published by Zebra Books in 1975-76, with a series of covers by Thomas Barber (above). They have not been in print since 1977. The publication order was:
A Plague of Nightmares (1975)
Lord of Nightmares (1975)
Bane of Nightmares (1976)
Zebra has a (rather deserved) rep as a third-rate publisher, mostly for the lack of editorial care put into their books, but they did publish a lot of sword & sorcery and horror in the mid-seventies — including Andrew J. Offutt's seminal Swords Against Darkness anthologies, and about a dozen volumes of Robert E. Howard's short fantasy. They also took chances on unknown authors like Cole, and a publisher who does that is not to be dismissed lightly in my book.
While the books have not been reprinted since 1977, Zebra did switch up the covers a bit during the roughly two years they were in print, and sent them out into the world with some eye-catching wraparound art by Barber. Here are the complete covers for all three (with the back cover copy), including the original cover for Lord of Nightmares (cover artist uncredited.) Click for bigger versions.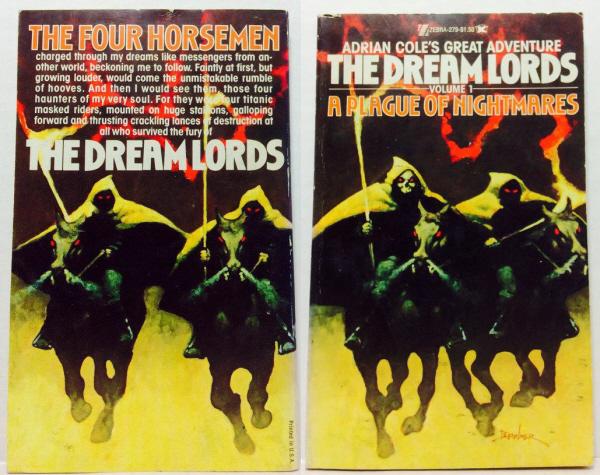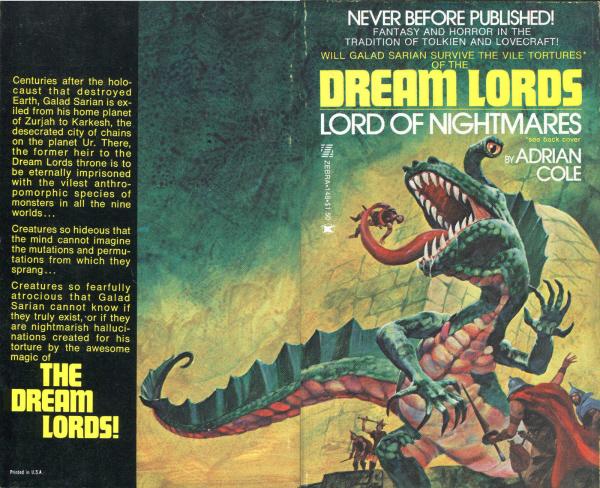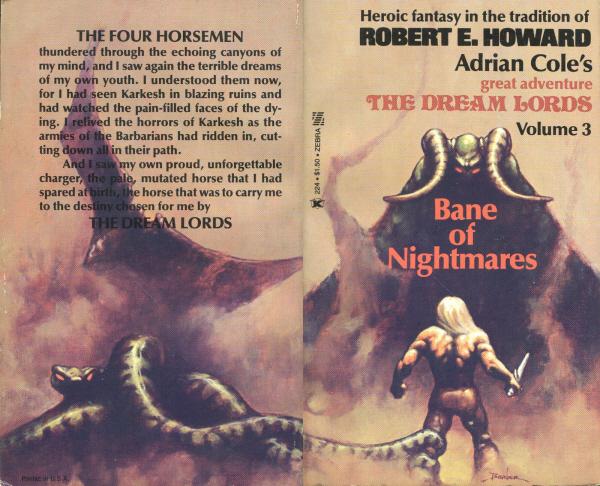 We've previously covered the following books by Adrian Cole:
I Invoke the Voidal! Oblivion Hand by Adrian Cole
The Long Reach of Night: The Voidal Vol. 2 by Adrian Cole
See all of our previous coverage of Series Fantasy here.