New Treasures: Hawk by Steven Brust
New Treasures: Hawk by Steven Brust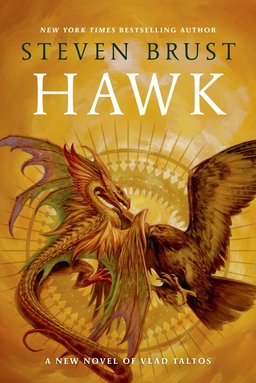 I was surprised and delighted to receive a new book in the Vlad Taltos series from Steven Brust in the mail last week.
Hawk is the 14th novel in the adventure fantasy series that began with Jhereg (reviewed by Fletcher Vredenburgh here) way back in 1983. A total of 19 are planned; the last one was Tiassa (2011), and the next is Vallista. If you're a newcomer to the series, I highly recommend The Book of Jhereg, a paperback omnibus collection of the first three novels (Jhereg, Yendi, and Teckla), which has been in print from Ace for over 15 years.
Vlad Taltos was an oppressed and underprivileged Easterner — that is, a human — living in Adrilankha, capital of the Dragaeran Empire. Life was hard. Worse, it was irritating. Then Vlad made a great discovery: Dragaerans would pay him to kill other Draegarans. Win-win!

The years of Vlad's career as a crime boss and top assassin were cut short by a revolution, a divorce, and an attack of conscience (not necessarily in that order). In the midst of all that, he broke with the Jhereg, the Dragaeran house of organized crime. He's been a marked man ever since. The Jhereg want to kill him. The Jhereg would love to kill him.

So Vlad's been avoiding Adrilankha as much as possible. That hasn't worked out too well. His life is there: his ex-wife Cawti, his son, and all his friends. One of those friends is his former assistant Kragar, who's taken over Vlad's old territory and criminal operations. Vlad will need Kragar's help if he's going to return to Adrilankha and deal with this mess.

It won't be easy, and it certainly won't be simple. Because there are no messes like the ones you make yourself.
Hawk was published by Tor Books on October 7. It is 320 pages, priced at $24.99 in hardcover ($11.99 for the digital edition). The cover is by Stephen Hickman. Read an excerpt at Tor.com.