New Treasures: The Best of Gordon R. Dickson, Volume 1 edited by Hank Davis
New Treasures: The Best of Gordon R. Dickson, Volume 1 edited by Hank Davis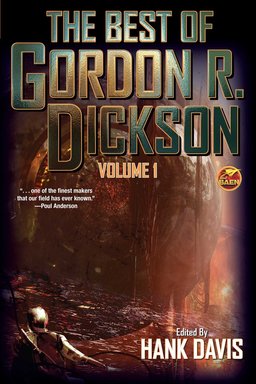 Over the last four years we've spent a lot of time and energy covering Del Rey's 1970s-era Classic Science Fiction line, also know as the Best of…. series. In the process we may have angrily shaken our fists at the entire publishing industry once or twice, shouting "You don't have the guts or the imagination to do something like this any more, do you??"
And of course, along comes Baen Books to prove us wrong.
Last week Baen Books released The Best of Gordon R. Dickson, Volume 1, the first in a two-volume set collecting a generous sample of science fiction and fantasy from one of the most popular and celebrated SF writers of the 20th Century. It follows The Best of Bova, a planned 3-volume set, and their recent omnibus collections of Andre Norton, Murray Leinster, and James H. Schmitz.
The Best of Gordon R. Dickson, Volume I, gathers together fourteen stories, predominantly from the first half of legendary science fiction and fantasy writer Gordon R. Dickson's career, ranging from the early 1950s through the 1960s, including tales dragons, dolphins, aliens, werewolves, mutants and humans trying to make sense of an infinitely bewildering universe. A maiden aunt is suddenly given superpowers. An alien who looks like a large, sentient rabbit makes ominous announcement which make no sense from behind an impenetrable force shield. Humans besieged by an alien enemy refuse, against all reason, to give up fighting. And much more, in stories running the gamut from exciting adventure to stark tragedy to hysterical comedy. Plus the never before published "Love Story," written for Harlan Ellison's legendary, but never published anthology, The Last Dangerous Visions. And stay tuned for The Best of Gordon R. Dickson, Volume II, with another generous display of Dickson's virtuosity, covering his brilliant career from 1970s to the century's end.
I was especially pleased to see that editor Hank Davis managed to pry another unpublished tale from Harlan Ellison's clutches, where it has been languishing in the submission pile for The Last Dangerous Visions since 1973.
Dickson is something of a legend to old-school SF fans. His first SF story was "Trespass!", written with frequent collaborator Poul Anderson, which appeared in the Spring 1950 issue of Fantastic Stories Quarterly. He won three Hugos and one Nebula award, and his books included the popular Dorsai series, the 9-volume Dragon Knight series that began with The Dragon and the George, and more than 50 standalone novels and collections published over a 50-year career.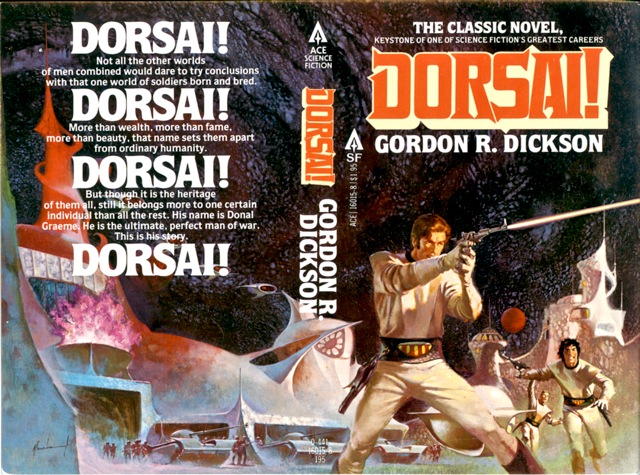 He was inducted into the Science Fiction and Fantasy Hall of Fame in 2000, and died in January 2001, at the age of 77.
We've covered a handful of Dickson's books over the years, including:
Dickson's Dorsai! to Hit Small Screen by Bill Ward
Vintage Treasures: Jamie the Red by Gordon R. Dickson with Roland Green
None But Man
Dorsai/The Genetic General (1960)
Here's the complete table of contents for The Best of Gordon R. Dickson, Volume 1:
"Love Song" (previously unpublished)
"Miss Prinks" (The Magazine of Fantasy and Science Fiction, June, 1954)
"Our First Death" (The Magazine of Fantasy and Science Fiction, August, 1955)
"St. Dragon and the George" (The Magazine of Fantasy and Science Fiction, September, 1957)
"Friend for Life" (Venture Science Fiction, March, 1957)
"Danger—Human" (Astounding Science Fiction, December, 1957)
"Fleegl of Fleegl" (Venture Science Fiction, May, 1958)
"The Question" (Astounding Science Fiction, May, 1958)
"The Girl Who Played Wolf" (Fantastic, August, 1958)
"The Dreamsman" (Star Science Fiction #6, 1959)
"One on Trial" (The Magazine of Fantasy & Science Fiction, May, 1960)
"An Honorable Death" (Galaxy Magazine, February, 1961)
"Whatever Gods There Be" (Amazing Stories, July, 1961)
"Idiot Solvant" (Analog Science Fiction-Science Fact, January, 1962)
"Dolphin's Way" (Analog Science Fact-Science Fiction, June, 1964)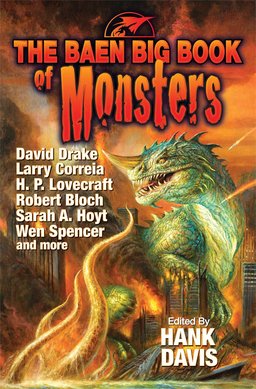 Hank Davis seems to have stepped into Eric Flint's shoes at Baen, as the man keeping classic science fiction alive in paperback on store shelves. If you're a fan of short genre fiction, you have a lot to be thankful to Hank for, including:
The Best of the Bolos: Their Finest Hour (2010)
A Cosmic Christmas (2012)
A Cosmic Christmas 2 You (2013)
In Space No One Can Hear You Scream (2013)
The Baen Big Book of Monsters (2014)
As Time Goes By (2015)
Future Wars … and Other Punchlines (2015)
Worst Contact (2016)
Things from Outer Space (2016)
If This Goes Wrong… (2016)
The Best of Gordon R. Dickson, Volume 1 was published by Baen Books on April 4, 2017. It is 272 pages, priced at $16 in trade paperback and $8.99 for the digital edition. The cover is by Adam Burn. Check out the free sample at the Baen website.
No word yet on Volume 2 will appear. We'll keep you posted.
See all our recent New Treasures here.