Vintage Treasures: None But Man by Gordon R. Dickson
Vintage Treasures: None But Man by Gordon R. Dickson
When I was young, there was a peculiar sub-genre of science fiction that many folks attributed to the influence of John W. Campbell, the legendary editor of Astounding. If you were an SF reader in the 1950s-1980s, you read a fair share of novels in which mankind began a reign of conquest in outer space, carving a glorious empire among the stars. And when we inevitably crossed paths with aliens who frustrated our boundless ambitions, we'd show those godless E.T's in relatively short order why you don't mess with homo sapiens.
This always seemed to me to be a uniquely American branch of SF. Growing up in Ottawa, right across the river from the province of Quebec, my natural response when I met folks from an alien culture, with their own strange language and incomprehensible customs, was not to immediately attempt to assert my superiority. Instead you tried to score some French comics, and asked if they minded if you dated their sister. And if they drove a truck, you bought poutine from them, because that stuff was frickin' manna from heaven.
To my mind Gordon R. Dickson (who was born in Edmonton, Alberta, in 1923) was never part of the Manifest Destiny in Outer Space crowd but, like most career SF writers at the time, he tried a little bit of everything. His 1969 novel None But Man, the tale of 'brave human frontiersmen' who defy a peace treaty and engage in guerrilla warfare against "unhuman Aliens" rather than surrender their homes, seemed pretty firmly in the "Nobody does war the way humans do" Campbell tradition.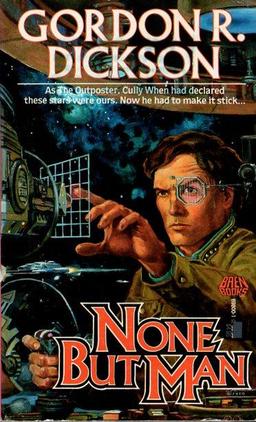 [Click on any of the images for bigger versions.]
None But Man proved popular enough to have half a dozen editions over the next 40 years. It was originally published in hardcover by Doubleday in 1969, and reprinted in paperback by Pyramid two years later, with a cover by Jack Gaughan (above left). DAW reprinted it in November 1977 with a new cover by the great Don Maitz (middle), and again in May 1981 with a Richard Hescox cover (right). Here's the back cover text for the Pyramid edition.
Border Warfare on the Pleiades

The Pleiades Planets, the last outpost of the human frontier, has become an interstellar hotbed. The unhuman Moldaug Ambassador to the Tri Worlds Council warned that the Pleiades belonged to the Aliens, and that the Moldaug are ready to attack the whole human race if the Frontier is not evacuated immediately.

Would the diplomats of the Old Worlds sacrifice the border colonies in a panic attempt to avert galaxial war? If so, one Frontiersman was prepared to wage a guerilla war all his own!
For modern readers, the edition to get is the 1989 Baen paperback, which also includes the 24-page short story "Hilifter" (from the February 1963 Analog), set in the same universe. The cover for that edition was by Tom Kidd (right).
None But Man was published in paperback by Pyramid Books in March 1971. It is 224 pages, priced at $0.75. The cover is by Jack Gaughan. It is currently out of print, and there is no digital edition, but used copies in good condition start at $0.01 at Amazon.com.
See all of our recent Vintage Treasures here.