Forbes on the Tragic Failure of Jem And The Holograms
Forbes on the Tragic Failure of Jem And The Holograms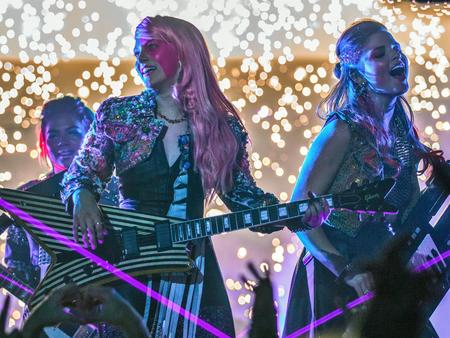 Last week Box Office Mojo reported that Guillermo del Toro's gothic horror film Crimson Peak "crashed and burned into 2,984 theaters to the tune of an estimated $12.8 million." So what did it make of Jem And The Holograms' historically bad take of one-tenth of that total this weekend, $1.3 million from 2,413 theaters? It calls it one of "the year's biggest flops… the fourth worst opening for a film in more than 2,000 theaters."
Jem And The Holograms was a much-loved 80s cartoon produced by Hasbro, Marvel, and Sunbow (the same team behind G.I. Joe and Transformers). Featuring the plucky Jerrica Benton, whose father left her virtually flawless hologram technology that allowed her to disguise herself as a beautiful pop singer, Jem was the brainchild of comics writer Christy Marx (Sisterhood of Steel, Conan, Red Sonja). Forbes writer Scott Mendelson sees the massive failure of the live-action version as a genuine tragedy.
The film took a source material that is over-the-top colorful and over-the-top exciting, filled with larger-than-life characters and musically-charged action sequences where Jem and her friends had to both be kick-ass rock stars and kick-ass crime fighters at the same time, and made a toned-down, muted, and overly patronizing "young girl gets in over her head due to fame and artistic success and forgets what matters" fable that basically penalized its young heroes for wanting and achieving success and power…

It was the kind of film that Josie and the Pussycats spoofed a decade ago, and basically operated as a dark-n-gritty origin story that spent the entire film building up to the possibility of maybe seeing a Jem movie that Jem fans wanted to see the first time out in a would-be sequel. Okay, so a cheap film that spit on the source material bombed, who cares right? Well, here's the rub: The overriding message of Jem and the Holograms is that a girl-centric action cartoon from the 1980′s doesn't deserve or justify even 5% of the resources given without a second thought to boy-centric properties cashing in on 80′s nostalgia.
Read the complete article here.