Dickson's Dorsai! to Hit Small Screen
Dickson's Dorsai! to Hit Small Screen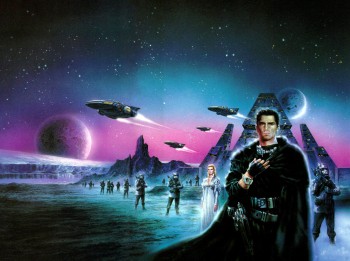 Occasionally a bit of book-to-film news seems to come out of nowhere and create some genuine surprise. So, amidst reports of this-or-that being remade, rebooted, retread, reimagined, or reduxed (what is it this week? Lord of the Ring Tones? Aliens vs. Predator vs. Chucky vs. Tony Montana? T.J. Hooker on Mars?) it seems there is actually an original, never done before, not part of a hot franchise redo, SF book adaptation slated for television. Gordon R. Dickson's Childe Cycle, better known by the name of the first book in the series, Dorsai!, is being made into a live action series by MDR productions (official site). Announcements to that effect can be read at SFsignal and SF Crowsnest.
Not a great deal of information on it yet, just some nice art and story boards, and general background. The Dorsai! universe is an interesting choice, from a  series of books I enjoyed but one that felt very disjointed and fragmented due to the long time separating books, the somewhat cobbled together nature of the earlier ones, and similar issues. I have a bit of a hard time imagining the tv series (or mini-series more likely) picking up on future books as, if I recall correctly, they mostly all jump ahead in time and present an entirely new cast of characters.
_____________
But Dorsai! had a great space opera/military science fiction feel to it, and seemed to me a partial inspiration for Herbert's Dune universe. In a galaxy-spanning future, mankind has fragmented into specialist cultures, and the Dorsai are a warrior society of crack mercenaries. A great genius emerges among them, and makes them more than mere guns-for-hire, in a story that is full of politics and battles. It's been quite a while since I've read the books, but they were certainly enjoyable.
One thing that struck me as odd on the Dorsai! site is a press release: "MDR Entertainment, a production company that creates original programming is announcing their first live action series for television: Dorsai has been designed around kids ages 8 – 14." Say what? I'm all for making it family friendly, but the words designed around seem to imply that this is being made for children. Hopefully it's a bit of targeted hyperbole for a press release that went out to some kid-centric organization and my initial reaction of irritation (at the notion that a story about spaceships and super-soldiers just has to be aimed at kids, you can't take that seriously) is misplaced. As always, I'll flip the autopilot to 'guardedly optimistic' and wait and see with the rest of us how this turns out.