Future Treasures: The Baen Big Book of Monsters, edited by Hank Davis
Future Treasures: The Baen Big Book of Monsters, edited by Hank Davis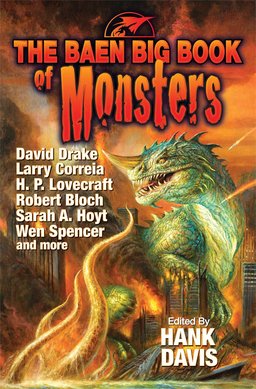 Monsters!! And lots of 'em.
That's all you need to know. Big monster book comin'. A Halloween-themed monster anthology, with a tantalizing a mix of classic reprints and original stories, all featuring REALLY BIG MONSTERS. Contributors include names that will be very familiar to Black Gate readers, such as Robert E. Howard, Henry Kuttner, William Hope Hodgson, Murray Leinster, James H. Schmitz, Arthur C. Clarke, H.P. Lovecraft, Robert Bloch, David Drake, and many more.
It even includes the pulp classic "The Monster-God of Mamurth" by Edmond Hamilton. And Harlan Ellison told us that story sucked when we wanted to reprint it. What does he know?
I approve of this Hank Davis fellow. His last anthology for Baen was the awesome In Space No One Can Hear You Scream, released last Halloween. This man is doing God's work. Next time you run into him tell him he is blessed, and we'll be rubbing elbows with the saints in the line to buy his book.
Here's the book description, and the complete Table of Contents.
SIZE MATTERS

From the dragons of legend to Jack the Giant Killer's colleague to King Kong and Godzilla, people have found the idea of giant creatures both scary and fascinating. Why so many should find accounts of a critter big enough to gulp down a puny human like an insignificantly small hor d'oeuvre or step on said human and leave a grease spot might be explained by the psychologists, but such yarns are undeniable fun.
Here's a book crammed full of things that you can't outrun because they take big steps, by writers with equally large reputations, including:

David Drake, best-selling author of the Hammer's Slammers and RCN series, describes the far future plight of an unusual descendant of present-day humans, who's being pursued by the descendants of another species, which are much larger than they were in our time.

Robert Bloch, winner of the Hugo award and the lifetime achievement award of the World Fantasy Convention, and author of the classic horror novel Psycho, introduces an unusual orphan and aspiring thespian who was much more than he seemed and was destined to play the biggest role of anyone's lifetime.

Philip Wylie, co-author of the SF classic When Worlds Collide and other imaginative works, tells of the arrival of a very, very tall giant on Earth and what happened next, in a sharp-edged satiric tale.

Murray Leinster, known as the Dean of Science Fiction Writers, spins a yarn of a stranded starship whose crew must get replacement parts from an abandoned outpost in order to take off again—if they can reach the outpost through the swarming gigantic insect life of the planet.

H.P. Lovecraft, renowned master of horror, is on board with a story of a star-spawned thing which was not only huge, but invisible as well.

Plus all-new stories by New York Times best-selling author Larry Correia, and award-winning authors Sarah A. Hoyt and Wen Spencer. And much more.
You don't see too many anthologies these days that put Lovecraft, Howard, Clarke and Sarah A. Hoyt side by side.
Here's the Table of Contents:
Introduction: "Size Matters" by Hank Davis
"The Shining Ones" by Arthur C. Clarke (Playboy, August 1964)
"All About Strange Monsters of the Recent Past" by Howard Waldrop (Shayol #4, Winter 1980)
"The Monster-God of Mamurth" by Edmond Hamilton (Weird Tales, August 1926)
"Talent" by Robert Bloch first (If: Worlds of Science Fiction, July 1961)
"The End of the Hunt" by David Drake (New Destinies VIII, Baen Books, 1989)
"Ooze" by Anthony N. Rud (Weird Tales, March 1923)
"The Valley of the Worm" by Robert E. Howard (Weird Tales. February 1934)
"Whoever Fights Monsters" by Wen Spencer – New
"Deviation from a Theme" by Steven Utley (Galaxy, May 1976)
"The Eggs from Lake Tanganyika" by Curt Siodmak (Amazing Stories, July 1926)
"The Dunwich Horror" by H.P. Lovecraft (Weird Tales, April 1929)
"From Out the Fire" by Sarah A. Hoyt — New
"Beauty and the Beast" by Henry Kuttner (Thrilling Wonder Stories, April 1940)
"The Island of the Ud" by William Hope Hodgson (The Red Magazine, May 15, 1912)
"A Single Samurai" by Steven Diamond — New
"Planet of Dread" by Murray Leinster (Fantastic, May 1962)
"An Epistle to the Thessalonians" by Philip Wylie (Finnley Wren, 1934)
"The Monster of Lake Lametrie" by Wardon Allan Curtis (Pearson's Magazine, September 1899)
"The Giant Cat of Sumatra" by Hank Davis — New
"Greenface" by James H. Schmitz (Unknown Worlds, August 1943)
"Tokyo Raider" by Larry Correia — New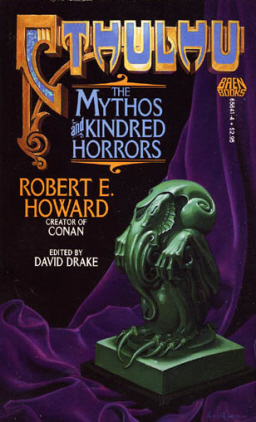 We've covered several pulp and classic SF/fantasy reprints from Baen over the past few years, including:
Cthulhu: The Mythos and Kindred Horrors by Robert E. Howard (1987)
Unknown, edited by Stanley Schmidt (1988)
The Incompleat Nifft by Michael Shea (2000)
Agent of Vega by James H. Schmitz (2001)
Eternal Frontier by James H. Schmitz (2002)
Planets of Adventure by Murray Leinster (2003)
The Creatures of Man by Howard L. Myers(2003)
A Cosmic Christmas, edited by Hank Davis (2012)
In Space No One Can Hear You Scream, edited by Hank Davis (2013)
The Baen Big Book of Monsters, edited by Hank Davis (2014)
The Baen Big Book of Monsters is edited by Hank Davis and will be published by Baen Books on October 7, 2014. It is 496 pages, priced at $14 in trade paperback and $8.99 for the digital edition. The cover is by Bob Eggleton. See more details, including Davis's complete story intros and sample snippets from many of the stories, at the Baen website.
See more upcoming Future Treasures here.