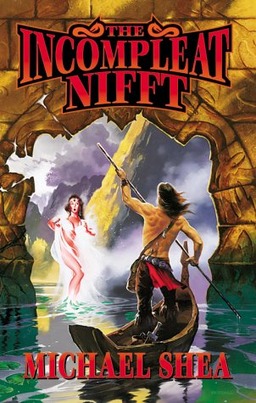 Under editor Eric Flint, Baen Books has led the way in producing inexpensive mass market reprints of some of the most essential classic SF and Fantasy of the 20th Century — including Robert E. Howard, Andre Norton, James H. Schmitz., Murray Leinster, and P. C. Hodgell's God Stalker Chronicles, among many, many others (They've continued in this tradition with fabulous anthologies, including the recent In Space No One Can Hear You Scream and many others.)
In 1997, Baen Books turned to Michael Shea, publishing his second Nifft the Lean novel, The Mines of Behemoth. By 2000, they were preparing to trumpet the arrival of his third, but by that point the original World Fantasy Award-winning volume Nifft the Lean had been out of print for almost two decades.
So five months before the release of The A'rak, Baen bundled both of the first two novels into a single paperback, cleverly titled The Incompleat Nifft, signally the impending arrival of the what would be the final book in the series. At 576 pages it was a terrific bargain, collecting both Nifft the Lean and The Mines of Behemoth under a Gary Ruddell cover, and it has become perhaps the most collectible paperback in Shea's catalog.
This Time, They Would Make a Killing

Join master thief Nifft the Lean with his companion-at-arms, mighty barbarian Barnar Hammer-Hand, as they trust to their wits and their luck. Once Nifft and Barnar were hired by the ghost of a dead woman to kidnap the man who betrayed her and drag him down to hell to join her. A simple task — or so they thought at first…
Another time, the pair lucked into an even more lucrative proposition, when they were shipwrecked on the way to work in Costard's sap mine — very dangerous and sometimes nauseating work far below ground — and were hired by Bunt to bring back twenty gills of the ichor exuded only by the monstrous insectile queen. It seemed like easy money — they wouldn't have to go to hell Of course, the best laid plans sometimes do go astray, but this time they were sure they would… make a killing.
In addition to the two novels, this volume also includes the introduction by Tim Powers that originally appeared in The Mines of Behemoth: "Running Away with the Circus: An Introduction to Michael Shea's Nifft the Lean."
The Incompleat Nifft was published May 2000 by Baen Books. It is 576 pages, priced at $6.99. The cover art was by Gary Ruddell. There is no digital edition and it has never been reprinted. I usually report that most vintage paperbacks can be acquired for less than the price of a new paperback, but this is one of the rare exceptions. Prices are hard to gauge, as it's tricky to find copies.
Michael Shea passed away last month and we've been surveying his complete works here.
So far we've covered:
Nifft the Lean (1982)
The Color Out Of Time (1984)
In Yana, the Touch of Undying (1985)
The Mines of Behemoth (1997)
The Incompleat Nifft (2000)
The A'rak (2000)
The Extra (2010)
Assault on Sunrise (2013)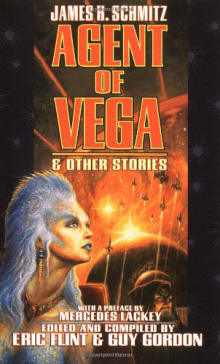 We've covered several pulp and classic SF/fantasy reprints from Baen over the past few years, including:
Cthulhu: The Mythos and Kindred Horrors by Robert E. Howard (1987)
Unknown, edited by Stanley Schmidt (1988)
The Incompleat Nifft by Michael Shea (2000)
Agent of Vega by James H. Schmitz (2001)
Eternal Frontier by James H. Schmitz (2002)
Planets of Adventure by Murray Leinster (2003)
The Creatures of Man by Howard L. Myers(2003)
A Cosmic Christmas, edited by Hank Davis (2012)
In Space No One Can Hear You Scream, edited by Hank Davis (2013)
The Baen Big Book of Monsters, edited by Hank Davis (2014)
Coming up: Shea's first novel, an authorized sequel to Jack Vance's Dying Earth: A Quest for Simbilis (1974).
See all of our recent Vintage Treasures here.