The Novels of Michael Shea: The Extra
The Novels of Michael Shea: The Extra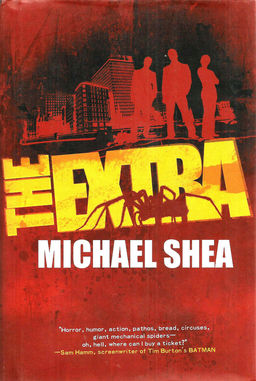 We're continuing our look at the career of Michael Shea, who died last week, leaving behind a legacy of underappreciated novels. We started with his Sword & Sorcery classic Nifft the Lean (1983) and his dark fantasy In Yana, the Touch of Undying (1985).
Now we turn to something more recent, the first of a pair of novels that Locus Online called "dark, satirical novels about the movie industry." The Extra arrived unexpectedly in hardcover in 2010, and when I first saw it I remember wondering if this was the same Michael Shea – it looked more like a biotech thriller than the kind of moody, cutting edge fantasy we'd come to expect from him. But, as Locus noted, there was a sharp satirical edge to this novel of a murderous, out-of-control Hollywood:
Producer Val Margolian has found the motherlode of box-office gold with his new "live-death" films whose villains are extremely sophisticated, electronically controlled mechanical monsters. To give these live-action disaster films greater realism, he employs huge casts of extras, in addition to the stars. The large number of extras is important, because very few of them will survive the shoot.

It's all perfectly legal, with training for the extras and long, detailed contracts indemnifying the film company against liability for the extras' injury or death. But why would anyone be crazy enough to risk his or her life to be an extra in such a potentially deadly situation?

The extras do it because if they survive they'll be paid handsomely, and they can make even more if they destroy any of the animatronic monsters trying to stomp, chew, fry, or otherwise kill them. If they earn enough, they can move out of the Zoo — the vast slum that most of L.A. has become. They're fighting for a chance at a reasonable life. But first, they have to survive…
The Extra was followed three years later by Attack on Sunrise, the second book in the Extra Trilogy. It was also set in a future Southern California, this time featuring a reality TV series based on the invasion of a small bankrupt town by murderous robot wasps. We'll cover that one in our next installment.
The Extra was published February 2, 2010 by Tor Book. It is 288 pages, priced at $7.99 for the digital edition. It was never released in paperback. The hardcover is out of print, but widely available new online for under $5.
Michael may be gone, but the gifts he left us remain. So far we've covered:
Nifft the Lean (1982)
The Color Out Of Time (1984)
In Yana, the Touch of Undying (1985)
The Mines of Behemoth (1997)
The A'rak (2000)
The Extra (2010)
Assault on Sunrise (2013)
See all of our recent New Treasures here.