The Novels of Michael Shea: In Yana, The Touch of Undying
The Novels of Michael Shea: In Yana, The Touch of Undying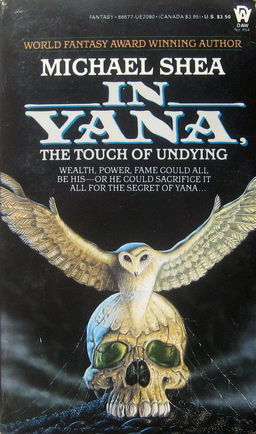 Around Christmas in 1985, I walked into The House of Speculative Fiction in Ottawa, Ontario, and after browsing the shelves for a while, selected a volume. The man behind the counter that Saturday was Rodger Turner, who years later would head up the Hugo and World Fantasy Award-nominated SF Site. But back then, Rodger was a humble bookseller — and a very good one.
I asked Rodger what he thought of my selection. He shrugged. "It won't change your life," he said. That was one of the marvelous things about Rodger: he always gave his honest opinion. And his taste was excellent.
"You know what will change your life?" he asked. And without another word, he handed me a copy of In Yana, The Touch of Undying. That was my first exposure to the magical worlds of Michael Shea, but it was by no means my last. Today, In Yana is considered a classic of darkly humorous fantasy; it is well worth seeking out.
Bramt Hex is a student of ancient lore until a chance meeting at an inn opens infinite pathways of possibility and, touched by destiny, Bramt abandons his ivory tower for the greater world, hoping to become a maker of legends in his own right.

But the world is a fearful place peopled by cunning nobles and wily wizards, demons and ogres, vampires and vengeful ghosts, sword-wielding warriors and flesh-craving giants. And soon, Bramt's quest for fame and wealth becomes a battle for survival — and a desperate, magic-led search for a treasure far greater than gold… the secret of immortality which can only be found in the dangerous, illusive realm called Yana…
In Yana was published by DAW Books in December 1985. It is 318 pages, priced at $3.50. The cover is by Terry Oakes. It has never been reprinted.
We lost Michael Shea last month, but the gifts he left us remain, and we've been surveying them here.
So far we've covered:
Nifft the Lean (1982)
The Color Out Of Time (1984)
In Yana, the Touch of Undying (1985)
The Mines of Behemoth (1997)
The A'rak (2000)
The Extra (2010)
Assault on Sunrise (2013)
See all of our recent Vintage Treasures here.