The Novels of Michael Shea: The Mines of Behemoth
The Novels of Michael Shea: The Mines of Behemoth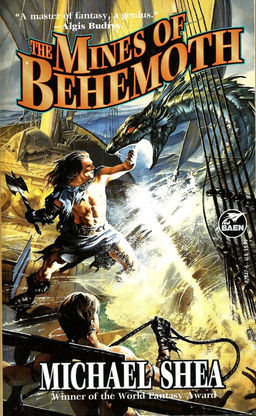 The last two Michael Shea novels we discussed, The Extra and Attack on Sunrise, took his career in an intriguing and very different direction. But I still admit a greater fascination with his Nifft the Lean novels, Nifft the Lean (1982), The Mines of Behemoth (1997), and The A'rak (2000). Baen Books published the last two in attractive paperback editions, with covers by Gary Ruddell, and I've always thought they were some of the most eye-catching sword-and-sorcery on the market.
We lost Michael last month, but very fortunately for us, he left a fine body of work behind to remember him by, including The Color Out Of Time (1984), In Yana, the Touch of Undying (1985); and his highly acclaimed collections Polyphemus (1987), The Autopsy and Other Tales (2008), and Copping Squid and Other Mythos Tales (2010).
Nifft the Lean, and his companion-at-arms, Barnar Hammer-Hand, were often lucky. Enroute to working Costard's sap mine — very dangerous, and sometimes nauseating work far below ground — they were shipwrecked. But this proved fortuitous, when they met Bunt, who had been seeking just such as they. If they would work the sap mine, but also bring back twenty gills of fluid, he would make them exceedingly wealthy. So it was settled. They would suck the sap from the servants of the monstrous insectile queen — and they would bring back some of the ichor that she alone exuded — and they would be rich. It seemed relatively easy. They wouldn't have to go to hell at all, for instance.

Of course, the best laid plans sometimes do go a little astray.
The Mines of Behemoth was published in 1997 by Baen Books. It is 256 pages, with an original price of $5.99 in paperback. It is out of print and there is no digital edition.
It also includes an introduction by Tim Powers, "Running Away with the Circus: An Introduction to Michael Shea's Nifft the Lean."
We've been surveying Michael's complete works here. So far we've covered:
Nifft the Lean (1982)
The Color Out Of Time (1984)
In Yana, the Touch of Undying (1985)
The Mines of Behemoth (1997)
The A'rak (2000)
The Extra (2010)
Assault on Sunrise (2013)
See all of our recent Vintage Treasures here.