Michael Shea, July 3, 1946 – February 16, 2014
Michael Shea, July 3, 1946 – February 16, 2014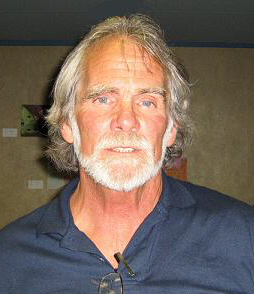 For all of the many obituaries I've written, I've been fortunate enough to have to write only two for Black Gate contributors: prolific short story writer Larry Tritten, and Euan Harvey, taken from us too young. So it is with a heavy heart that I report the death of Michael Shea, BG contributor and one of the most acclaimed sword & sorcery and horror writers of the last four decades.
In the early 70s, Michael picked up a battered copy of Jack Vance's Dying Earth novel The Eyes of the Overworld in a hotel lobby in Juneau, Alaska. Four years later, he tried his hand at fan fiction, writing a novel-length sequel to Vance's classic titled A Quest for Simbilis. Not knowing what else to do with it, Shea submitted it to Donald Wollheim at DAW Books. Jack Vance graciously granted permission for it to be published (and declined any share in the advance), and Wollheim released it in paperback in 1974. It was a finalist for the British Fantasy Award and launched Michael's career — a career that produced some of the most acclaimed fantasy of the past four decades.
Eight years later, Michael published one of the most important works of modern sword and sorcery: Nifft the Lean, a collection of four linked novellas published in paperback by DAW in 1982. It won the World Fantasy Award and was followed by two sequels: The Mines of Behemoth (Baen, 1997) and the novel The A'rak (Baen, 2000). His other novels include The Color Out Of Time, the sequel to Lovecraft's 1927 story "The Colour Out of Space;" In Yana, the Touch of Undying (1985); and The Extra (2010) and its recent sequel Assault on Sunrise (2013). His highly acclaimed collections include Polyphemus (1987), The Autopsy and Other Tales (2008), and Copping Squid and Other Mythos Tales (2010).
I had the good fortune to meet Michael at the World Fantasy Convention in Saratoga Springs, New York, in 2007. We hit it off and a few months later, I found an original novelette of Lovecraftian horror by Michael in my inbox. I was proud to publish "Tsathoggua" as part of the Black Gate Online Fiction line.
I was shocked and dismayed to find that Locus Online reported today that Michael Shea died unexpectedly on February 16, 2014. He was 67 years old. He will be sorely missed.
Michael may be gone, but the gifts he left us remain, and we've been surveying them here.
So far we've covered his novels:
Nifft the Lean (1982)
The Color Out Of Time (1984)
In Yana, the Touch of Undying (1985)
The Mines of Behemoth (1997)
The Incompleat Nifft (2000)
The A'rak (2000)
The Extra (2010)
Assault on Sunrise (2013)
And one collection:
Polyphemus (1987)
See all of our recent Vintage Treasures here.