R.I.P. Euan Harvey
R.I.P. Euan Harvey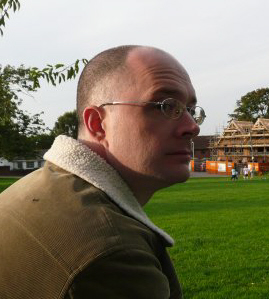 In the decade or so I've been editing Black Gate magazine, I've been blessed to cross paths with a wide variety of talented writers, artists, and creators.
One of the most talented was Euan Harvey, a terrific short story writer whose career was just beginning to take off. His work appeared in Realms of Fantasy, Aoife's Kiss, and Heroic Fantasy Quarterly. I bought a story from Euan, "Kamaratunga's Masterpiece," and it is scheduled to appear next year in Black Gate.
In August 2009 Euan was diagnosed with metastatic cancer. He lived and taught in South East Asia for thirteen years, but that year he returned to the United Kingdom, where he lived just outside London with his wife and family.
Today his family posted the following announcement on his Facebook page:
To all of Euan's friends who have been reading this. I am sorry to tell you all that his melanoma grew so fast that on Tuesday his state deteriorated and we were warned he might not have long. His brother and sister, cousin and parents were… all with him yesterday, and last night Alex and Fon stayed with him. He could hear but not talk. At 5.45 this morning [Friday 9th] his breathing changed, and he died very peacefully.
BG Managing Editor Howard Andrew Jones, who discovered and first introduced me to Euan while he was editing Flashing Swords magazine, said this about him:
Euan Harvey was a fine man and father, and an excellent writer. He gave me great novel feedback, and I have enjoyed his stories for years. I was proud to call him friend. I am stunned and saddened by this news.
Douglas Cohen, editor of Realms of Fantasy, wrote a thoughtful reminiscence on his blog today:
Euan Harvey [was] one of my favorite RoF authors.  Euan was a slush survivor of mine, and one of the magazine's most prolific authors… I first came across his writing in the magazine's slush piles back in 2006.  I passed that story along, and Shawna almost bought it.  She did buy the next one though, which we published in 2007.  He would publish another seven stories with us after that.  Had RoF continued, he had two more stories with us in inventory, one that was deeply informed by his cancer.  I used to argue with people when they said RoF didn't publish sword & sorcery.  Euan was a big reason why my argument held water.  Much of what Euan published with us fell into this vein.  And we took almost everything he sent us.
There aren't a lot of rewards associated with publishing a small press magazine like Black Gate, but discovering an author of Euan's caliber is perhaps the most gratifying. Euan had a brilliant career ahead of him as a fantasy writer, and he was taken from us too soon.
His website can be found at euanharvey.com.