New Treasures: Planets of Adventure by Murray Leinster
New Treasures: Planets of Adventure by Murray Leinster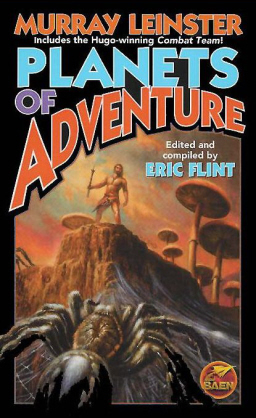 There's lot of great new arrivals to tell you about this week. I've got them all stacked up beside my green chair, unread. Because the book I'm really excited about is Planets of Adventure by Murray Leinster, published by Baen Books over a decade ago.
That's when I first bought it, too — over a decade ago. I went hunting for a copy as a birthday gift for my son last week, and was thrilled to find it was still in print. A fat omnibus of pulp science fiction from one of my favorite science fiction writers, still in print in mass market after nearly eleven years!
Just like that, my faith in humanity is restored. Here's the back cover blurb, 'cause it's awesome.
Breathtaking space adventure by a master of interplanetary science fiction. Including two complete novels, one of them a Hugo Award-winner.

The Planet Explorer: As humans spread throughout the galaxy, thousands of planets have been colonized. Often, the colonists discover too late that an apparently hospitable planet conceals a danger to their survival. The fate of these colonies scattered across the galaxy rests with one man, whose own fate is to race forever against looming interstellar disaster.

The Forgotten Planet: A ship is marooned on a planet whose existence has been mislaid by the galactic bureaucracy. And the planet's ecology has gone wild, breeding deadly giant insects. The ship's crew and passengers have no hope of rescue. Can they and their descendants survive? Tune in next millennium.

Plus more exciting adventures of men and women against the hostile stars.
Both The Planet Explorer and The Forgotten Planet began life in the 50s with hardcover editions from the legendary Gnome Press, and both have seen multiple editions over the years. Here's a snapshot of a few you may recognize.
The Forgotten Planet was published in hardcover in 1954, with a cover by Ric Binkley. The Planet Explorer first appeared in 1956 under the title Colonial Survey — with a cover by EC Comics great Wally Wood, no less.
The first mass market paperback editions also appeared relatively close together, although this time from different publishers.
The Forgotten Planet was one of the earliest Ace Doubles, paired with Lee Correy's Contraband Rocket in 1956 and with a spectacular cover by Robert E. Schulz. For its 1957 Avon paperback edition, Colonial Survey  was  retitled Planet Explorer (cover artist unknown.)
Both novels returned to print in the late 80s/early 90s — The Forgotten Planet with a 1990 Carroll & Graf cover featuring a giant purple worm, no less (because, why not?), and Planet Explorers in a 1989 edition from Bart Books, blessed with what may well be the finest cover in the history of human civilization. Seriously, look on that cover with awe.
The artist for this edition of The Forgotten Planet is unknown (a pity, because he paints purple worms like nobody's business.)
The Planet Explorer cover is by Peter Scanlan. Peter, you rock.
In addition to the two novels, the omnibus volume Planets of Adventure contains:
The Forgotten Planet (1954)
The Planet Explorer (1956)
"Anthropological Note" (The Magazine of Fantasy and Science Fiction, April 1957)
"Scrimshaw" (Astounding Science Fiction, September 1955)
"Assignment on Pasik" (Thrilling Wonder Stories, February 1949)
"Regulations" (Thrilling Wonder Stories, August 1948)
"Skit-Tree Planet" (Thrilling Wonder Stories, April 1947)
Planets of Adventure was edited and compiled by Eric Flint, and published in October 2003 by Baen Books. It is 554 pages, priced at $7.99 in paperback and $6.99 for the digital version. The cover is by Bob Eggleton.
We've covered several Ace Doubles recently, including:
ATTA/ The Brain-Stealers by by Francis Rufus Bellamy and Murray Leinster
The Ship from Atlantis/ The Stolen Sun by H. Warner Munn and Emil Petaja
Vulcan's Hammer / The Skynappers by Philip K. Dick and John Brunner
The Ship That Sailed the Time Stream by G.C. Edmondson
Bow Down to Nul / The Dark Destroyers by Brian W. Aldiss and Manly Wade Wellman
Gateway to Elsewhere / The Weapon Shops of Isher by Murray Leinster and A. E. van Vogt
The Cosmic Puppets / Sargasso of Space by Philip K. Dick and Andre Norton
The Beast Master / Star Hunter by Andre Norton
Big Planet by Jack Vance
City Under the Sea by Kenneth Bulmer
The Forgotten Planet (Planets of Adventure) by Murray Leinster
Six Worlds Yonder / The Space Willies by Eric Frank Russell
Sentinels of Space / The Ultimate Invader by Eric Frank Russell and Donald Wollheim
Ring Around the Sun/ Cosmic Manhunt by Clifford D. Simak and L. Sprague de Camp
The Trouble With Tycho/ Bring Back Yesterday by Clifford D. Simak and A. Bertram Chandler
The Last Planet (Star Rangers) by Andre Norton
A Touch of Infinity/ The Man With Nine Lives by Harlan Ellison
Kirkus Looks at Donald A. Wollheim and the Ace Double
Tales of Outer Space/ Adventures in the Far Future edited by Donald A. Wollheim
The Pirates of Zan by Murray Leinster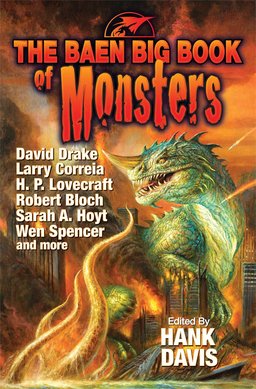 We've also covered several pulp and classic SF/fantasy reprints from Baen over the past few years, including:
Cthulhu: The Mythos and Kindred Horrors by Robert E. Howard (1987)
Unknown, edited by Stanley Schmidt (1988)
The Incompleat Nifft by Michael Shea (2000)
Agent of Vega by James H. Schmitz (2001)
Eternal Frontier by James H. Schmitz (2002)
Planets of Adventure by Murray Leinster (2003)
The Creatures of Man by Howard L. Myers(2003)
A Cosmic Christmas, edited by Hank Davis (2012)
In Space No One Can Hear You Scream, edited by Hank Davis (2013)
The Baen Big Book of Monsters, edited by Hank Davis (2014)
See all of our recent Vintage Treasures here.