Kirkus Looks at Donald A. Wollheim and the Ace Double
Kirkus Looks at Donald A. Wollheim and the Ace Double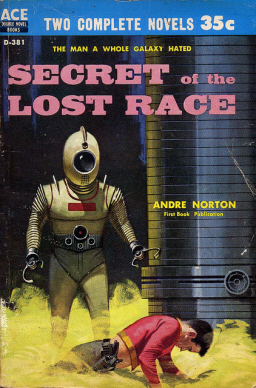 Back in June, I wrote a short blog entry about one of my favorite Ace Doubles, Tales of Outer Space and Adventures in the Far Future. I took the excuse to talk about one of the field's true renaissance men, Donald A. Wollheim, who edited both books and launched several of the most enduring SF and fantasy publishing imprints in history.
Wollheim doesn't get much credit for his amazing accomplishments these days. Which is why I was pleased to see Andrew Liptak at Kirkus dedicate his latest column to Wollheim and one of his greatest creations: the Ace Double. These compact and beautiful treasures occupy a very special place in my library. Here's a snippet:
In 1952, editor Donald A. Wollheim of Ace Books introduced a format that would prove to be immensely popular, and cemented science-fiction literature's role in bookstores afterwards…

Ace's Double Novels were a distinctive part of the science-fiction community throughout the two decades in which they were published. The line helped to launch the novel careers of a number of authors, from Philip K. Dick to Ursula K. Le Guin to Samuel R. Delany, in addition to a number of other popular authors in the field, such as A.E. van Vogt, Margaret St. Clair and Leigh Brackett… the books were an innovative entry in a brand-new publishing world, one that found both considerable staying power and a platform for publishing a high volume of science fiction. The huge number of stories published allowed for something great to happen: Talented authors with interesting stories to tell broke into the field, allowing for their own voices to shape the genre as they continued to find success.
Read the complete article here. We last reported on Liptak when he looked at Astounding Science Fiction in February.
The last Ace Doubles we examined were:
ATTA/ The Brain-Stealers by by Francis Rufus Bellamy and Murray Leinster
The Ship from Atlantis/ The Stolen Sun by H. Warner Munn and Emil Petaja
Vulcan's Hammer / The Skynappers by Philip K. Dick and John Brunner
The Ship That Sailed the Time Stream by G.C. Edmondson
Bow Down to Nul / The Dark Destroyers by Brian W. Aldiss and Manly Wade Wellman
Gateway to Elsewhere / The Weapon Shops of Isher by Murray Leinster and A. E. van Vogt
The Cosmic Puppets / Sargasso of Space by Philip K. Dick and Andre Norton
The Beast Master / Star Hunter by Andre Norton
Big Planet by Jack Vance
City Under the Sea by Kenneth Bulmer
The Forgotten Planet (Planets of Adventure) by Murray Leinster
Six Worlds Yonder / The Space Willies by Eric Frank Russell
Sentinels of Space / The Ultimate Invader by Eric Frank Russell and Donald Wollheim
Ring Around the Sun/ Cosmic Manhunt by Clifford D. Simak and L. Sprague de Camp
The Trouble With Tycho/ Bring Back Yesterday by Clifford D. Simak and A. Bertram Chandler
The Last Planet (Star Rangers) by Andre Norton
A Touch of Infinity/ The Man With Nine Lives by Harlan Ellison
Kirkus Looks at Donald A. Wollheim and the Ace Double
Tales of Outer Space/ Adventures in the Far Future edited by Donald A. Wollheim
The Pirates of Zan by Murray Leinster
We've discussed Andrew Liptak's articles at Kirkus before, including:
Kirkus Looks at Astounding Science Fiction
Kirkus Looks at Galaxy Science Fiction
Kirkus Looks at Donald A. Wollheim and the Ace Double
Kirkus Looks at The Meteoric Rise and Fall of Gnome Press
[Thanks to SF Signal for the tip.]