Kirkus Looks at Galaxy Science Fiction
Kirkus Looks at Galaxy Science Fiction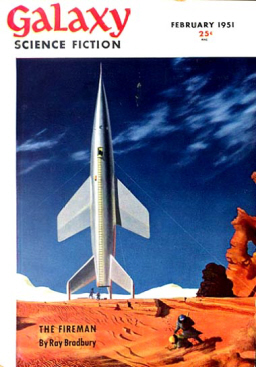 Over the last few months, Matthew Wuertz and Rich Horton have been tag-teaming a series of Retro Reviews here at Black Gate, looking at science fiction digests from the 1950s and 60s — especially H.L. Gold's Galaxy, which Matthew has been covering issue by issue since the very first, cover-dated October 1950.
Meanwhile, Andrew Liptak at Kirkus Reviews has done his own retrospective, "Changing the Playing Field: H.L. Gold & Galaxy Science Fiction," a detailed and affectionate look at Gold and the superb magazine he created:
Galaxy appeared in October 1950 as a monthly publication. It paid far better than its competitors, and Gold proved to be a far better editor than his counterpart at Astounding… With Gold at the helm, Galaxy Science Fiction began to change the tone of the genre. Astounding had taken advantage of the scientific rush that followed the development of the atomic bomb, and the resulting doomsday stories that followed. Gold went in another direction, explaining in an editorial that "The shape humanity is in is cause for worry, I believe, but not the kind of paralyzing terror that clutches science fiction writers in particular… Look, fellers, the end isn't here yet."

Strong, socially aware and satirical fiction became the mainstay with Galaxy, and 1951 proved to be an excellent year for the publication: "The Fireman," by Ray Bradbury, appeared in the February issue, set in a dystopian world where literature was burned by government agents, and was later expanded into his landmark novel Fahrenheit 451. April brought Cyril Kornsbluth's story "The Marching Morons," and September saw Gold bring Robert Heinlein away from Astounding with his three-part story The Puppet Masters…
Around the same time, Gold began calling Alfred Bester, asking for some work, eventually wearing him down to the point where Bester came up with a series of ideas that became his first novel, The Demolished Man. The first installment started in January 1952, and continued through March. The novel was an immediate hit, and in 1953, it earned the first ever Hugo Award for Best Novel. October of 1953 brought a new Isaac Asimov novel, Caves of Steel, bringing the author's robot stories from the logic puzzles of Astounding into the more socially oriented world of Galaxy.
This is a companion piece to Andrew's February article on John Campbell's Astounding Science Fiction. Read the complete article here, and Matthew Wuertz's review of "The Fireman" and the complete February 1951 issue here. [Thanks to John DeNardo at SF Signal for the tip.]
We've discussed Andrew Liptak's articles at Kirkus before, including:
Kirkus Looks at Astounding Science Fiction
Kirkus Looks at Galaxy Science Fiction
Kirkus Looks at Donald A. Wollheim and the Ace Double
Kirkus Looks at The Meteoric Rise and Fall of Gnome Press