Vintage Treasures: Sentinels of Space by Eric Frank Russell / The Ultimate Invader edited by Donald Wollheim
Vintage Treasures: Sentinels of Space by Eric Frank Russell / The Ultimate Invader edited by Donald Wollheim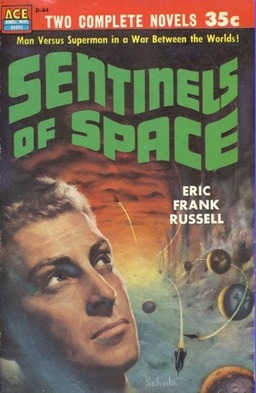 We're back  with our journey through the Ace Double line, this time with one of the earliest volumes in the series: Eric Frank Russell's SF novel Sentinels of Space, coupled with a Donald Wollheim anthology The Ultimate Invader. It was published in paperback in 1954.
Eric Frank Russell is one of those writers I'm not nearly as well-versed in as I should be. I read his brilliant short story "Dear Devil" in Terry Carr's YA anthology Creatures From Beyond in the mid-seventies, when I was in Junior High, and that's all it took for his name to stick with me.
"Dear Devil" — rejected by all the major magazines until Bea Mahaffey pulled it from the slush in 1950, while filling in for the hospitalized Ray Palmer at Other Worlds — established Russell as a major name and it also cemented the 26-year-old Mahaffey's rep as an editor. She remained as co-editor of Other Worlds when Palmer returned and also edited his magazines Science Stories and Universe Science Fiction in the late 50s.
Russell wasn't terribly prolific. He wrote only eight novels between 1939 and 1965, plus a posthumous collaboration with Alan Dean Foster, Design for Great-Day (1995), published 17 years after his death. I'm sure there's a fascinating story behind that — I'll have to ask Alan next time I run into him at a convention.
His two most famous works are probably his first novel Sinister Barrier, which so impressed John W. Campbell that he reportedly founded Unknown magazine just to get it into print, and "Allamagoosa' (Astounding, May 1955), the first short story to win the Hugo Award.
My favorite Eric Frank Russell anecdote occurred while I was selling vintage paperbacks in the Dealer's room at the 2012 Worldcon here in Chicago (Howard's detailed report is here.) Jo Walton — who won a Hugo the next day for her novel Among Others — was browsing my books when she suddenly let out a shout of glee.
She explained why in a funny and delightful post a few months later at Tor.com., titled "The Book You Don't Know You're Looking For."
I was in Chicago for Chicon 7, the World Science Fiction Convention in 2012… the dealers room has people selling all kinds of things from dragons to spaceships, and also books. I was looking along one of the many stalls of second hand books, the same kind where last year I picked up a Poul Anderson I hadn't read since I was fifteen. There were some volumes of Eric Frank Russell, and I was looking at them and I thought "Why are you even looking, Jo? It's not like there's going to be any new Eric Frank Russell. He's been dead since before you knew he was alive." And there was a new Eric Frank Russell. I'm not joking. It's called The Mindwarpers, and I bought it but I haven't read it yet. I am delighted to have it. But I had no idea I wanted it because I had no idea it existed…

I found it through pure serendipity and the massive gravitational pull of a Worldcon dealers room. Physical books sitting next to each other. But I was looking more out of nostalgia than anything else. There's Wasp. There's dear old Next of Kin. Wait! What on Earth is that? How did I miss it? Or did it fall through a wormhole from another dimension? Or have I slid into an alternate reality like The Stone Pillow in Robert Charles Wilson's Divided by Infinity?

I may read The Mindwarpers and write about it, if I don't wake up soon and discover I'm actually still fifteen. But there's something so enticing and happy-making about having a new Eric Frank Russell, which I never thought I'd have again, that I may keep it on the shelf unread until I get diagnosed with something terminal. That'll give me something to look forward to!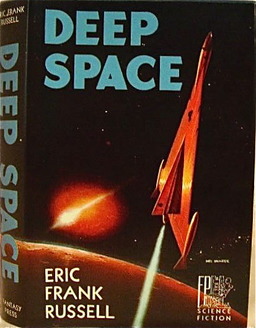 Another vintage paperback sold, another satisfied customer. This is why I sell old paperbacks.
Read Jo's complete article here.
Although Eric Frank Russell wrote a relatively small number of novels, he published several major collections, starting with Deep Space (1954) and Six Worlds Yonder (1958), and including Far Stars (1961), Dark Tides (1962), Somewhere a Voice (1965), Like Nothing on Earth (1975), and The Best of Eric Frank Russell (1978).
In 2000, the irreplaceable NESFA Press began a major project to collect the best of his work in handsome permanent editions. The result was Major Ingredients (2000), which reprinted 30 short stories, and Entities (2001), an omnibus of five novels.
More recently, Midnight House collected much of his best horror and weird fiction in Darker Tides in 2006.
Sentinels of Space was Russell's third novel; it was an expanded version of a short story, "The Star Watchers," originally published in 1951. Here's Don Wollheim's blurb from the inside cover:
They Sent One Man to Block an Interplanetary War!

"We have been at war for eighteen months and have only just discovered the fact! Venus and Mars are attacking us — and we can't do a thing about it!"

That's what the World Council told David Raven when they gave that space pilot the most dangerous mission of his career. Earth's rebellious colonies on Mars and Venus were out to win their independence by fair means or foul. Being still technically citizens of Earth, they could send their sabotage squads down without legal interference to spread havoc and wage secret warfare. And those traitorous colonists were talented beyond all normal abilities. Some were super-Hypnotists, some could read thoughts, some could start fires by merely pointing a finger, and some could change their features to match anyone's. Single-handed, David Raven was supposed to outwit them all and restore peace!

How Raven handled these dread foes, how he personally invaded Venus, just who and what the amazing Sentinels of Space were, is an epic science-fiction adventure. Groff Conklin called this novel "one of the most inventive of the last year or so."
Sentinels of Space has had a few title changes over the years. When it appeared as a complete novel in the 1951 issue of Startling Stories, it was originally titled "The Star Watchers," with cover art by a young Alex Schomburg.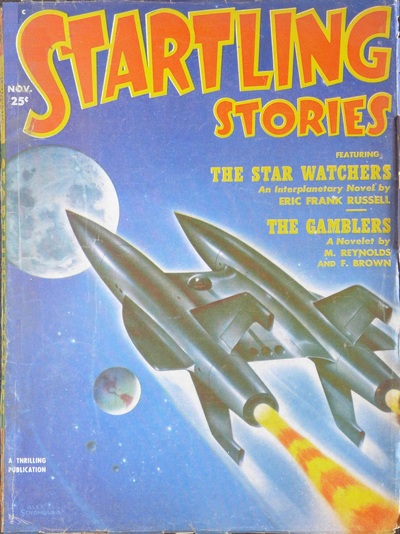 For its first hardcover appearance in 1953 from Bouregy & Curl, it was retitled Sentinels From Space. The cover was by Ric Binkley.
For the Ace Double edition, Donald Wollheim reworked the title slightly as Sentinels of Space, no doubt confusing collectors and card catalogers for decades. The cover for the Ace Double version was by Robert E. Schulz.
Ace reprinted the book one final time in 1976 as part of Frederick Pohl's Science Fiction From the Great Years line, with a cover by Vincent di Fate. In the process, they changed the title back to Sentinels From Space, because why not.
Sentinels From Space was given one last paperback edition in the US in 1986, this time by Del Rey, with a very purple cyberpunk cover by Barclay Shaw.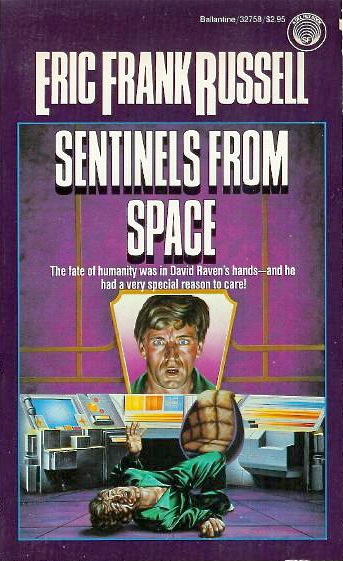 For modern readers interested in finding a copy, their best bet is probably Entities: The Selected Novels of Eric Frank Russell, still in print in hardcover from NESFA Press. It contains Sentinels From Space plus four other novels (Wasp, Sinister Barrier, Next of Kin, and Call Him Dead), a smattering of short fiction, and an introduction by Jack L. Chalker. The cover art is by Bob Eggleton.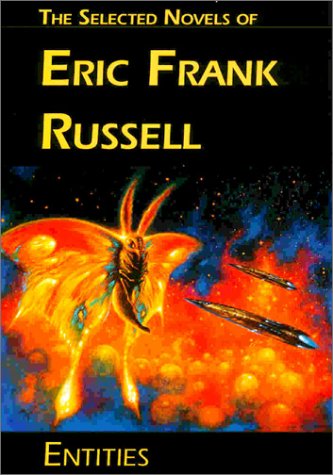 On the flip side of the 1954 Ace Double with Sentinels of Space was The Ultimate Invader and Other Science-Fiction, an original anthology assembled by Don Wollheim and containing a novella by Eric Frank Russell and novelettes from Murray Leinster, Frank Belknap Long, and Malcolm Jameson.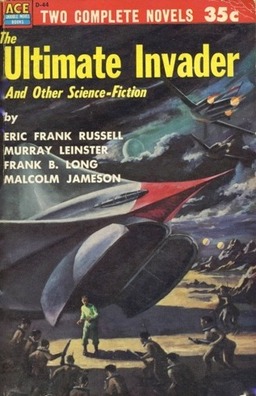 Here's the inside blurb:
Great Science Fiction from the Four Corners of Time!

Here's an exiting new anthology in which four famous writers present breath-taking adventures that span the whole of time and space. Never before published in book form, these stories have been specially selected to combine all the elements of first-rate science fiction entertainment.

Eric Frank Russell's complete short novel gives a vision of farthest future and of a conflict that involves two galaxies.

Malcolm Jameson's unusual novelette deals realistically with the problem of the near future's conquest of space and the impact of interplanetary life.

Murray Leinster takes us face to face with a terrible danger from humanity's near past.

Frank Belknap Long spans the entire course of human history to throw a boomerang into the very dawn of life.

This startling new collection is an ACE Original, edited for ACE BOOKS by Donald A. Wollheim, well-known anthologist and science-fiction expert.
And here's the complete Table of Contents:
"The Ultimate Invader," by Eric Frank Russell (Planet Stories, January 1953)
"Alien Envoy," by Malcolm Jameson (Astounding Science Fiction, November 1944)
"Malignant Marauder," by Murray Leinster (Thrilling Wonder Stories, Summer 1946)
"The Temporal Transgressor," by Frank Belknap Long (Astounding Science Fiction, August 1944)
Wollheim re-titled every story in the collection (with the exception of "Alien Envoy"), which doubtless didn't endear him much to his authors.
The Ultimate Invader was never reprinted. The cover was by Stanley Meltzoff. Click on the cover at right for a bigger version.
Sentinels of Space / The Ultimate Invader was published by Ace Books in 1954. It is 179+141 pages, originally priced at 35 cents. Both books are currently out of print, but relatively inexpensive in the used book market. I bought my copy as part of a collection on eBay for under $4.
Our most recent Eric Frank Russell coverage includes:
Wasp
Somewhere a Voice
Six Worlds Yonder / The Space Willies
Men, Martians, and Machines
Sentinels of Space
It's A Small World After All
Creatures From Beyond, edited by Terry Carr
Robert Bloch on J. Francis McComas, Eric Frank Russell, and Leigh Brackett
The last Ace Doubles we examined were:
ATTA/ The Brain-Stealers by by Francis Rufus Bellamy and Murray Leinster
The Ship from Atlantis/ The Stolen Sun by H. Warner Munn and Emil Petaja
Vulcan's Hammer / The Skynappers by Philip K. Dick and John Brunner
The Ship That Sailed the Time Stream by G.C. Edmondson
Bow Down to Nul / The Dark Destroyers by Brian W. Aldiss and Manly Wade Wellman
Gateway to Elsewhere / The Weapon Shops of Isher by Murray Leinster and A. E. van Vogt
The Cosmic Puppets / Sargasso of Space by Philip K. Dick and Andre Norton
The Beast Master / Star Hunter by Andre Norton
Big Planet by Jack Vance
City Under the Sea by Kenneth Bulmer
The Forgotten Planet (Planets of Adventure) by Murray Leinster
Six Worlds Yonder / The Space Willies by Eric Frank Russell
Sentinels of Space / The Ultimate Invader by Eric Frank Russell and Donald Wollheim
Ring Around the Sun/ Cosmic Manhunt by Clifford D. Simak and L. Sprague de Camp
The Trouble With Tycho/ Bring Back Yesterday by Clifford D. Simak and A. Bertram Chandler
The Last Planet (Star Rangers) by Andre Norton
A Touch of Infinity/ The Man With Nine Lives by Harlan Ellison
Kirkus Looks at Donald A. Wollheim and the Ace Double
Tales of Outer Space/ Adventures in the Far Future edited by Donald A. Wollheim
The Pirates of Zan by Murray Leinster
See all of our recent Vintage Treasures here.