Vintage Treasures: Somewhere a Voice by Eric Frank Russell
Vintage Treasures: Somewhere a Voice by Eric Frank Russell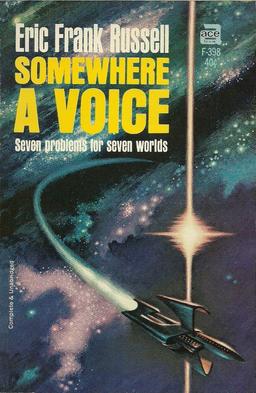 I cover a lot of different writers with these Vintage Treasures posts. Some are authors I've long cherished, and some are folks I've never read. Frequently they're books I've been curious about for a long time, and sometimes they're simply odd discoveries from recent collections I've acquired.
But I think the most rewarding are those where I take a look at writers I've long overlooked. That's the case with Eric Frank Russell, whom I really knew for a single story, "Dear Devil," which I read in Terry Carr's great anthology Creatures From Beyond many years ago — a great story, true, but a single story nonetheless. So I'm discovering him for the first time now by reading collections of his pulp science fiction, such as Men, Martians, and Machines and Six Worlds Yonder, and they are delightful.
I went searching for more in my library and found Somewhere a Voice, a 1966 Ace paperback that has now been out of print for nearly five decades. A great pity, I think, since Russell's stories still speak to a modern audience and I'm convinced he would easily find readers today.
In the meantime, I can do my part to fight against the cruel modern neglect of Eric Frank Russell by spending a few moments talking about him here, and that's what I'm going to do. Plus, I'm going to throw in a few pulp magazine covers, because it's Saturday morning and I have nothing better to do.
Let's start with the text from the back of the book, because that saves me the effort of describing it myself.
Somewhere a Voice

A band of shipwrecked spacemen making their way across a world so fierce that all Earth's jungles tame by comparison…

A future euthanasia agency with a double-barreled scientific secret…

The unexpected problem of a lone astronaut with an entire ocean world to himself…

These are some of the science-fiction premises that Eric Frank Russell has cooked up in his new collection of novelettes and stories. Somewhere a Voice is a book worthy of the brilliant talents of the author of The Space Willies and Sentinels From Space.
On the inside front cover is a brief essay by the author:
Eric Frank Russell writes:

In the science fiction field many yarns concern themselves with the space-cavortings of rocket-ships whose passengers triumph over all obstacles. Within this book you will find the tale of a disaster that gained no medals.

Plenty of yarns have dealt with tentacled, bug-eyed monsters that invariably have menaced the human race. Herein is a story of one that didn't.

The great virtue of science fiction and the chief cause of its fascination is the strength of its plots. By the same token it often shows weakness in allowing plot to dominate character. You are now being offered two or three narratives in which the leading character dominates the plot.

By and large science fiction does not need to convey a message or point a moral, with the inevitable result that it rarely does so. This tome has the temerity to offer a couple of stories that do.

A truth that has taken thirty years to become obvious is that science fiction is a gross misnomer. The stuff is speculative fiction of scope so wide that — as you will discover within — it can make monsters of humans and humans of monsters, it can make a child unseat a dictator, or put a strange evaluation upon a flock of seagulls, or assert the right to suicide, or plead the case for Satan.

This should be enough for the most avid reader. In case it isn't, the publisher is giving away a full-color cover with every copy — and what more could you want than that?
In addition to "a full-color cover," the book also includes spot illustrations by cover artist Frank Kelly Freas accompanying each story, which add nicely to the pulp vibe this book gives off.
Somewhere a Voice includes seven stories from Astounding Science Fiction, Weird Tales, and Other Worlds — including "Dear Devil," which is worth the purchase price alone. Here's a sample of some of the magazines these stories originally appeared in (click for bigger versions.)
Here's the complete table of contents:
"Somewhere a Voice" (Other Worlds Science Stories, January 1953)
"U-Turn" (Astounding Science Fiction, April 1950)
"Seat of Oblivion" (Astounding Science-Fiction, November 1941)
"Tieline" (Astounding Science Fiction, July 1955)
"Displaced Person" (Weird Tales, September 1948)
"Dear Devil" (Other Worlds Science Stories, May 1950)
"I Am Nothing" (Astounding Science Fiction, July 1952)
Our most recent Eric Frank Russell coverage includes:
Wasp
Somewhere a Voice
Six Worlds Yonder / The Space Willies
Men, Martians, and Machines
Sentinels of Space
It's A Small World After All
Creatures From Beyond, edited by Terry Carr
Robert Bloch on J. Francis McComas, Eric Frank Russell, and Leigh Brackett
Somewhere a Voice was published by Ace Books in 1966. It is 174 pages, originally priced at 40 cents. The cover is by Frank Kelly Freas. It has never been reprinted, and there is no digital edition. Used copies online start at around $2.
See all of our recent Vintage Treasures here.