It's A Small World After All
It's A Small World After All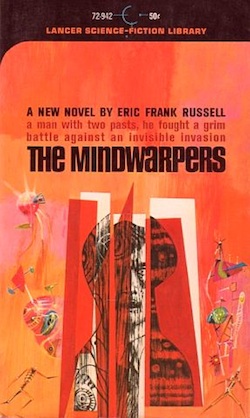 I sold a copy of Eric Frank Russell's The Mindwarpers at Worldcon last week, for three bucks. This usually isn't a big deal. I buy a lot of vintage SF and fantasy collections, and I end up with a lot of duplicates. A lot of duplicates — thousands of 'em, packed in dozens of boxes in my bedroom, garage, and basement. Years ago, I hit on the bright idea of bringing some with me when I get a booth at science fiction conventions. Beside all the bright, shiny Black Gate issues for sale, I spread out a few hundred paperbacks from the 60s and 70s, and let nostalgia do the rest. (Howard published some snapshots of our booth, including the paperbacks, in his Worldcon Wrap-up last week.)
Sometimes I'll get compliments from folks who stop by the booth. "You have a terrific collection," they say with admiration, fingering a 50-year old Ace paperback. It's a little awkward to admit that this isn't my collection. It's a small portion of the duplicates from my collection. But admitting that is akin to confessing to a compulsive mental disorder, so I usually just smile and say, "Thanks. I hate to part with them, but I need the space."
But the woman I sold The Mindwarpers to thought it was a big deal. She was evidently a big Eric Frank Russell fan, and she had no idea the book existed. It was originally published by Lancer in 1965 with a Richard Powers cover and a cover price of 50 cents, and she was thrilled to find it. She practically did a happy dance right there in the booth. I took her three bucks and told her I was glad it had found a good home.
I thought that was the end of it, until I stumbled on this blog post by Hugo-winning author Jo Walton at Tor.com today, titled The Book You Don't Know You're Looking For:
This past weekend I was in Chicago for Chicon 7, this year's World Science Fiction Convention… I was looking along one of the many stalls of second hand books… There were some volumes of Eric Frank Russell, and I was looking at them and I thought "Why are you even looking, Jo? It's not like there's going to be any new Eric Frank Russell. He's been dead since before you knew he was alive." And there was a new Eric Frank Russell. I'm not joking. It's called The Mindwarpers, and I bought it but I haven't read it yet. I am delighted to have it. But I had no idea I wanted it because I had no idea it existed..

I found it through pure serendipity and the massive gravitational pull of a Worldcon dealers room. Physical books sitting next to each other. But I was looking more out of nostalgia than anything else. There's Wasp. There's dear old Next of Kin. Wait! What on Earth is that? How did I miss it? Or did it fall through a wormhole from another dimension?… I may read The Mindwarpers and write about it soon, if I don't wake up soon and discover I'm actually still fifteen. But there's something so enticing and happy-making about having a new Eric Frank Russell, which I never thought I'd have again, that I may keep it on the shelf unread until I get diagnosed with something terminal. That'll give me something to look forward to!
Jo Walton won the Hugo Award Sunday night at Worldcon, for her novel Among Others. I'm glad finding The Mindwarpers became part of the experience of that historical weekend for her. It's always nice to get three bucks, but the greater pleasure is finding a new home for these treasures.
That, and getting them out of my basement.
Our most recent Eric Frank Russell coverage includes:
Wasp
Somewhere a Voice
Six Worlds Yonder / The Space Willies
Men, Martians, and Machines
Sentinels of Space
It's A Small World After All
Creatures From Beyond, edited by Terry Carr
Robert Bloch on J. Francis McComas, Eric Frank Russell, and Leigh Brackett
See our most recent Vintage Treasures here.