Vintage Treasures: Six Worlds Yonder / The Space Willies by Eric Frank Russell
Vintage Treasures: Six Worlds Yonder / The Space Willies by Eric Frank Russell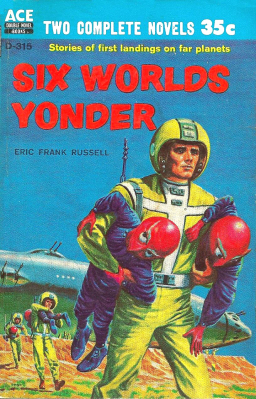 We're back with our continued look at some of the most interesting Ace Doubles.
Last time we discussed Eric Frank Russell's first Ace release, his 1954 novel Sentinels of Space (with a brief aside to look at his 1958 paperback collection from Berkley, Men, Martians, and Machines.) So I thought it apropos to examine his first Ace Double pair: Six Worlds Yonder / The Space Willies, published in 1958.
Six Worlds Yonder is a rather uniquely themed collection: stories of first landings on far planets, all published in Astounding between 1955 and 1957. Here's the book description:
THE PLANET MAPPERS

One thing's certain about the exploration of outer space — there's not going to be two worlds alike! In this new collection of interstellar explorers, the fertile and original mind of Eric Frank Russell presents a half-dozen of the more extraordinary possibilities.

There's the world where everything moves at a pace so different from ours that it would take a couple of lifetimes to establish communication. There's the planet of immortals, with all that that really signifies. There's the puzzling problem of keeping important messages secret when surrounded by truculent aliens. And there's more…

Every story is different, every world is unique, and every adventure is science-fiction at its best.
Russell's stories were frequently more whimsical than most others depicting the grim business of interstellar exploration in 1950s SF digests. I think perhaps Bud Webster described Russell's style best in his book Past Masters, in his appreciation of the stories in Men, Martians and Machines.
They're fun, and funny, but Russell's skill even in a series of yarns tossed off to make John Campbell laugh is evident… Zany individuals the crew and officers may be — this is Russell, after all — but they are first and foremost a crew…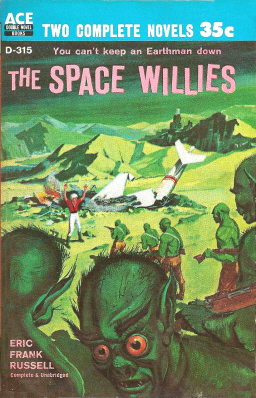 On the flip side of Six Worlds Yonder is a complete novel: The Space Willies, the tale of John Leeming, a military maverick who's tasked with waging a one-man psychological warfare campaign against a hostile alien race in the midst of a deadly interstellar war with Earth. This was its first publication — but by no means its last.
AN EARTHMAN'S TONGUE IS HIS DEADLIEST WEAPON

There was a common understanding in the Space Navy that scout-pilots were a breed apart — cocksure, reckless, and slightly nuts. But it was also understood that when a really dangerous job had to be done, a scout-pilot was the man to do it.

So for John Leeming, a couple of months of dodging death in a one-man ship, zipping in and out of the enemy Combine's rearguard, was just another one of those jobs. And there was no man in the Universe more surprised than Leeming when his heretofore indestructible ship just gave up the ghost smack in the middle of a Combine-held prison planet!

It was then that the spirit of the Scout Corps had its chance to shine. With self-confidence as his only weapon, Leeming had only two choices: give in to the enemy and be captured… or quick-talk them into a real case of THE SPACE WILLIES!
Russell published one additional book with Ace between Sentinels of Space and Six Worlds Yonder: his classic novel of alien invasion, Three to Conquer (1957).
Six Worlds Yonder / The Space Willies was reprinted once, in 1971, with a new set of covers by the great Kelly Freas.
That was the last time Six Worlds Yonder saw print, but The Space Willies has been reprinted over a dozen times — though not with that title.
It was expanded into a full-length novel in 1959 and appeared under the title Next of Kin in hardcover from British publisher Dennis Dobson. Under that name it's remained in print, off and on, over the past five decades, and indeed is still in print today.
Here's the fresh set of Kelly Freas covers for the 1971 reprint. I find it interesting that both books kept their tag lines from the 1958 versions.
And here's a sample of the paperback versions of Next of Kin over the decades.
That's the cover of Sphere Science Fiction Classics #13 from 1973 on the left (art by Chris Foss); followed by the April 1986 Del Rey / Ballantine edition (cover by Barclay Shaw); the July 1989 Mandarin (cover by Angus McKie); and finally the 2002 Gollancz SF Collectors' Edition (art by Chris Moore).
Our most recent Eric Frank Russell coverage includes:
Wasp
Somewhere a Voice
Six Worlds Yonder / The Space Willies
Men, Martians, and Machines
Sentinels of Space
It's A Small World After All
Creatures From Beyond, edited by Terry Carr
Robert Bloch on J. Francis McComas, Eric Frank Russell, and Leigh Brackett
The last Ace Doubles we examined were:
ATTA/ The Brain-Stealers by by Francis Rufus Bellamy and Murray Leinster
The Ship from Atlantis/ The Stolen Sun by H. Warner Munn and Emil Petaja
Vulcan's Hammer / The Skynappers by Philip K. Dick and John Brunner
The Ship That Sailed the Time Stream by G.C. Edmondson
Bow Down to Nul / The Dark Destroyers by Brian W. Aldiss and Manly Wade Wellman
Gateway to Elsewhere / The Weapon Shops of Isher by Murray Leinster and A. E. van Vogt
The Cosmic Puppets / Sargasso of Space by Philip K. Dick and Andre Norton
The Beast Master / Star Hunter by Andre Norton
Big Planet by Jack Vance
City Under the Sea by Kenneth Bulmer
The Forgotten Planet (Planets of Adventure) by Murray Leinster
Six Worlds Yonder / The Space Willies by Eric Frank Russell
Sentinels of Space / The Ultimate Invader by Eric Frank Russell and Donald Wollheim
Ring Around the Sun/ Cosmic Manhunt by Clifford D. Simak and L. Sprague de Camp
The Trouble With Tycho/ Bring Back Yesterday by Clifford D. Simak and A. Bertram Chandler
The Last Planet (Star Rangers) by Andre Norton
A Touch of Infinity/ The Man With Nine Lives by Harlan Ellison
Kirkus Looks at Donald A. Wollheim and the Ace Double
Tales of Outer Space/ Adventures in the Far Future edited by Donald A. Wollheim
The Pirates of Zan by Murray Leinster
Six Worlds Yonder / The Space Willies was published by Ace Books in 1958. It is 128 + 131 pages, priced at 35 cents. Both covers are by Ed Emshwiller.
See all of our recent Vintage Treasures here.