Vintage Treasures: The Beast Master and Lord of Thunder by Andre Norton
Vintage Treasures: The Beast Master and Lord of Thunder by Andre Norton
Andre Norton's The Beast Master is one of the most famous Ace Doubles ever published.
It was also one of her most popular books. It was originally published in 1959, and it's still in print today, 55 years later. To give you some understanding of how amazing that is, try and find a paperback from, oh, 2010 at your local Barnes & Noble. (It's not easy — 98% of fiction paperbacks four years old are out of print already.) Ladies and gentlemen, that's literary staying power.
The Beast Master has been reprinted in a number of handsome editions over the last five decades, with covers by Richard Powers, Ed Valigursky, John Schoenherr, Ken Barr, Julie Bell, and many other talented folks. If you're a struggling midlist writer, that's one more reason to be jealous of Andre Norton. She was covered by the best.
[Click on any of the images for bigger versions.]
The Beast Master, the first of the five volume Hosteen Storm cycle, is a pretty classic example of science fantasy. It's the tale of Navajo warrior Storm and his assorted animal companions, genetically engineered creatures with whom he shares telepathic connections of varying strengths. Norton wrote a sequel, Lord of Thunder, three years after the first volume appeared, and eventually returned to the series 40 years later with  a trilogy of novels co-authored with Lyn McConchie.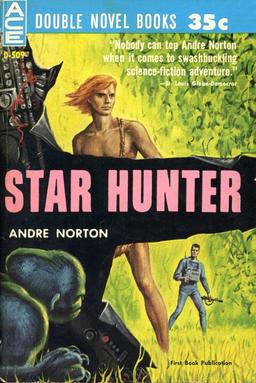 The complete series is:
The Beast Master (1959)
Lord of Thunder (1962)
Beast Master's Ark (2002), with Lyn McConchie
Beast Master's Circus (2004), with Lyn McConchie
Beast Master's Quest (2006), with Lyn McConchie
The first four were collected in two omnibus collections:
Beast Master's Planet (Tor, 2005), containing The Beast Master and Lord of Thunder
Beast Master Team (Science Fiction Book Club, 2004), containing Beast Master's Ark and Beast Master's Circus
The Beast Master first appeared in hardcover from Harcourt, Brace & Company in August 1959, with a rather dark cover by Richard Powers (above left). But it really burst into public consciousness with the 1961 Ace Double edition — copies of which are still easy to find today (above center). The cover of the Ace Double version was by Ed Valigursky.
It was paired with an Andre Norton novel appearing in print for the first time, Star Hunter (1961, right). For its Ace appearance, however, The Beast Master text was abridged, dropping to just 159 pages.
Like Big Planet and numerous other Ace Doubles, The Beast Master eventually had a standalone paperback edition from Ace, in 1967, in the same abridged format and with the same cover. Fans didn't get the complete version until 1972, when Ace reprinted the book again, this time with a new cover by John Schoenherr (above right). The restored text brought the book back up to a decent size for a 1970's paperback: 189 pages.
For whatever reason, Ace didn't think that cover was pink enough. The book was reprinted in 1977 with a cover redesign that turned Andre Norton's name dark red, and altered Schoenherr 's artwork to make it a lot more pink (below left.) Don't try to fathom Art Designers of the 1970s; it's best if you just nod and move on.
Maybe it was the pink; maybe Andre Norton just wanted to change publishers. For whatever reason, only a year later, The Beast Master appeared in yet another edition, this time from Fawcett, with a dinosaur cover by Ken Barr (above middle).
If you think the same way I do (that is to say, rationally), you understand that there's no reason that The Beast Master should have appeared in print again without a dinosaur on the cover. Ever. When you have achieved a cover with a dinosaur, you have achieved the peak of artistic evolution.
Sadly, I do not dictate artistic policy to major US publishers (or even minor ones). And so I must inform you that, inexplicably, The Beast Master returned to print six years later with a dinosaur-free cover by Laurence Schwinger, from a third publisher, Ballantine/Del Rey (above right).
In addition to lacking dinosaurs, I find this cover gloomy and colorless. Also, it has no dinosaurs.
In January 1987, Puffin released a UK edition with a striking cover by Julek Heller (above left). Yeah, it's missing dinosaurs, but that's clearly a saber-toothed tiger in the lower right, so I'm on board.
After the 1984 Ballantine edition, The Beast Master was out of print in the US for over 20 years. Tor finally returned it to print in 2005 in a hardcover omnibus edition with the sequel, Lord of Thunder, titled Beast Master's Planet, with a cover by Julie Bell.
When you look at the printing history of Lord of Thunder, you begin to understand the marketing strategy of the publishers down through the decades a little better. Above right is the Ace paperback edition from 1963, with a cover by Alex Schomburg.
Above left is the 1975 Ace reprint, with a cover by Davis Meltzer.
In the middle is the 1978 Fawcett edition (cover by Ken Barr). This one would have been on sale simultaneously with the 1978 Fawcett edition of The Beast Master. It's subtle, but if you look closely, you'll see Hosteen Storm is outfitted in the same green garb he's sporting in that cover (it's hard to notice because of the dinosaur in the foreground, but trust me.) This is how publishers told readers that books were sequels, before they invented titles with colons and numbers.
Just to prove that Fawcett wasn't the only publisher to think this way, on the right is the 1984 Ballantine/Del Rey edition of Lord of Thunder. Once again, they've employed the same artist (Laurence Schwinger) as their The Beast Master reprint the same year. I'm not particularly fond of Schwinger's covers, but I have to admit the design and art are similar enough to help readers who enjoyed the first to discover the second.
Forty years after Lord of Thunder first appeared, Andre Norton finally returned to Hosteen Storm and his companions, with a trilogy of novels co-written with Lyn McConchie. They were Beast Master's Ark (2002), Beast Master's Circus (2004), and Beast Master's Quest (2006), all published by Tor.
The interesting thing about these covers is that Hosteen Storm vanishes from them altogether after the first, as the focus of the narrative moves towards the young women of the corps of Beast Masters, including Tani Storm and Laris.
In case you're curious, and too embarrassed to ask, the answer is no. The 1982 Marc Singer/Tanya Roberts film The Beastmaster has nothing to do with Andre Norton's novels. It doesn't even have dinosaurs. It does have a cool pair of ferrets, however, so it has that going for it.
We've covered several Andre Norton novels in the past few months, including:
The Beast Master and Lord of Thunder by Andre Norton
Witch World
Three Against the Witch World
Year of the Unicorn
Warlock of the Witch World
All the Covers of Galactic Derelict
Galactic Derelict
Kirkus Looks at Andre Norton's Young Adult Novels
The Last Planet (Star Rangers)
Andre Norton, Michael Moorcock and Appendix N: Advanced Readings in D&D
Star Soldiers and Other Free Kindle Books at Amazon.com
Velvet Shadows
And if you're interested in Ace Doubles, we've got you covered as well.
ATTA/ The Brain-Stealers by by Francis Rufus Bellamy and Murray Leinster
The Ship from Atlantis/ The Stolen Sun by H. Warner Munn and Emil Petaja
Vulcan's Hammer / The Skynappers by Philip K. Dick and John Brunner
The Ship That Sailed the Time Stream by G.C. Edmondson
Bow Down to Nul / The Dark Destroyers by Brian W. Aldiss and Manly Wade Wellman
Gateway to Elsewhere / The Weapon Shops of Isher by Murray Leinster and A. E. van Vogt
The Cosmic Puppets / Sargasso of Space by Philip K. Dick and Andre Norton
The Beast Master / Star Hunter by Andre Norton
Big Planet by Jack Vance
City Under the Sea by Kenneth Bulmer
The Forgotten Planet (Planets of Adventure) by Murray Leinster
Six Worlds Yonder / The Space Willies by Eric Frank Russell
Sentinels of Space / The Ultimate Invader by Eric Frank Russell and Donald Wollheim
Ring Around the Sun/ Cosmic Manhunt by Clifford D. Simak and L. Sprague de Camp
The Trouble With Tycho/ Bring Back Yesterday by Clifford D. Simak and A. Bertram Chandler
The Last Planet (Star Rangers) by Andre Norton
A Touch of Infinity/ The Man With Nine Lives by Harlan Ellison
Kirkus Looks at Donald A. Wollheim and the Ace Double
Tales of Outer Space/ Adventures in the Far Future edited by Donald A. Wollheim
The Pirates of Zan by Murray Leinster
See all of our recent Vintage Treasures here.