Kirkus Looks at Andre Norton's Young Adult Novels
Kirkus Looks at Andre Norton's Young Adult Novels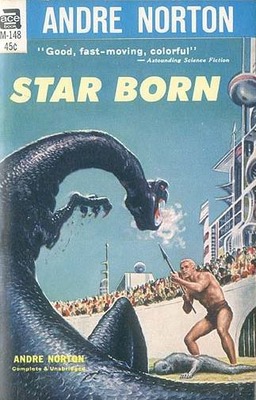 Andrew Liptak has written a fine series of pulp and classic SF retrospectives SF at Kirkus Reviews over the last few months. In his latest, which he introduces at his website, he looks at the often-neglected YA novels of the great Andre Norton:
Norton wrote largely for what we now call the YA audience: teenagers, with fantastical adventures throughout numerous worlds and times. She was also largely ignored or dismissed for writing 'children's literature', which is a shame, because it's likely that she had as great an influence on the shape of the modern genre as Robert Heinlein, [whose] Juvenile novels attracted millions of fans to new worlds. Norton was the same, and influenced countless readers and writers for decades. It's fitting that the major SF award for YA fiction is titled The Andre Norton Award for Young Adult Science Fiction and Fantasy.
Go read the entire article here. Or have a look at some of Andrew's previous articles, including:
Astounding Science Fiction
Galaxy Science Fiction
Donald A. Wollheim and the Ace Double
The Meteoric Rise and Fall of Gnome Press
Digging further, I note that Andrew has also published blog posts on Leigh Brackett, Heinlein and Asimov, Philip K. Dick, Francis Stevens, C.L. Moore, Judith Merril, Margaret St. Clair, Katherine MacLean, and Anne McCaffrey, all at the Kirkus site. How did I miss all that? Clearly, I have some catching up to do!