New Treasures: Trail of Cthulhu: Eternal Lies
New Treasures: Trail of Cthulhu: Eternal Lies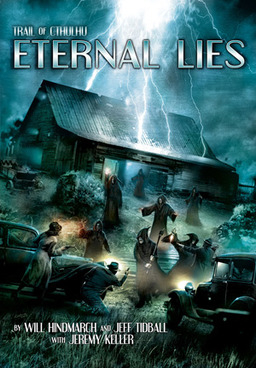 I haven't played Call of Cthulhu or its sister game Trail of Cthulhu in a long, long time. But that's okay, because I still enjoy reading the fabulously creative adventures.
One of the best — and certainly one of the most elaborate and ambitious — I've come across in some years is Eternal Lies from Pelgrane Press. A massive new campaign for Trail of Cthulhu, Eternal Lies is packed full of surprises and adventure.
I originally covered it here when it was first released last year (see my original post for more details), but this week I finally got my hands on a copy. I was not disappointed, even after the lengthy wait.
Trail of Cthulhu is a standalone game of Lovecraftian horror, and one of Pelgrane Press's most successful and acclaimed products. Set in the 1930s, it uses  Robin D. Laws's GUMSHOE system, which is also the basis for several other successful games, including The Esoterrorists, Fear Itself, and Mutant City Blues. Now in its third print run, Trail of Cthulhu won two Ennie awards for Best Rules and Best Writing, as well as an honorable mention for Product of the Year.
It is superbly supported, with some of my favorite recent RPG releases, including Rough Magicks, Bookhounds of London, Arkham Detective Tales, The Armitage Files, and two omnibus adventure collections: Out of Space and Out of Time.
Eternal Lies maintains the extremely high standards of the previous adventures. There are a number of excellent twists and turns in the story, as the players confront a worldwide cult and the alien forces behind it and take on an escalating quest to save humanity. There's a lot of material here, but the writing is top notch and the book is a real pleasure to read.
The book is well designed and laid out, and — as usual for Pelgrane — there's plenty of art and it's of a uniformly high standard.
Watch the trailer, narrated by Wil Wheaton, here.
We've covered several excellent Call of Cthulhu and Trail of Cthulhu adventures and supplements over the past few years, including:
Shadows of Yog-Sothoth from Chaosium (1982)
Cthulhu By Gaslight from Chaosium (2012)
The House of R'lyeh from Chaosium (2013)
Out of Space from Pelgrane Press (2013)
Eternal Lies from Pelgrane Press (2013)
Cthulhu Britannica: Shadows Over Scotland from Cubicle Seven (2014)
Eternal Lies was written by Will Hindmarch and Jeff Tidball with Jeremy Keller. It was published in 2013 by Pelgrane Press. It is 399 pages in hardcover, priced at $49.95. Learn more and order copies at the Pelgrane Press website.
See all of our recent New Treasures here.