New Treasures: Cthulhu Britannica: Shadows Over Scotland by Stuart Boon
New Treasures: Cthulhu Britannica: Shadows Over Scotland by Stuart Boon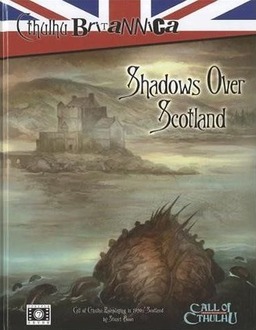 Call of Cthulhu remains one of my favorite role playing games, despite the fact that I haven't played it in… woof. Let's say nearly 25 years.
Part of it, I think, is simple fondness for the source material, H.P. Lovecraft's marvelously rich and creepy Cthulhu Mythos. But just as much stems from an appreciation for the enormously inventive adventures and supplemental material published for the game over the years, since it first debuted in a handsome box set from Chaosium in 1981.
Sure, I'd love to play CoC again. But until I find the time (and a group to play with), I'm quite content to read the best new releases. Because Call of Cthulhu continues to draw fabulously talented creators and artists and, unlike most RPGs, its adventures are highly readable all on their own.
Take the new Cthulhu Britannica line from Cubicle Seven, for example, which transplants Lovecraft's horrors to the green and pleasant land of England. So far, there have been four volumes: the Cthulhu Britannica core book by Mike Mason (2009); Avalon: The Somerset Sourcebook by Paul Wade-Williams (2010); Folklore by Stuart Boon, James Desborough, and Gareth Hanrahan (December 2012); and the first hardcover volume, Stuart Boon's Shadows over Scotland.
(That's not even including the crazy-ambitious, Kickstarter-funded Cthulhu Britannica: London Boxed Set by Dominic McDowall, which rivals the legendary boxed set Horror on the Orient Express. The London Boxed Set raised £90,412 on a £15,000 goal and will include three books, four large full-color maps, and numerous handouts. The Kickstarter closed on December 12 and the set is scheduled for delivery in August.)
Shadows Over Scotland is a marvelous product — well written, nicely researched, and attractively designed, with splendid spot art throughout. It opens with an introduction to 1920s Scotland and three lengthy geographic sections: The Lowlands, the Highlands, and The Islands.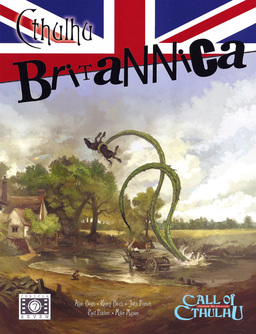 Each section is packed with top-notch period detail and some great characters, such as the formidable Old Maggie, the crone of Appin Hill, a two thousand year-old shoggoth lord living in Argyll; or my new favorite NPC, Salty Bob, the bleached white skeleton of the pirate Robert Dawson, returned to a semblance of life by a blood-drawn pentangle and a chanting cultist. Here's a snippet of his history:
Today, Salty Bob lurks on the edges of civilization, occasionally slipping into the small burghs and towns of Skye by night, and at other times wandering deep into the island's forests and moorlands… some months ago he stole a pair of worn leather boots, a thick brown overcoat, and a black fedora from the home of Charlie Gibson, a pensioner in Kilbeg. He now wears these articles of clothing wherever he goes…

Salty Bob is a lot soul, his days filled with confusion, torment, and madness. He does experience moments of lucidity, but they come and go with frightening rapidity. His daily existence and actions are chaotic, and he walks the earth as a skeletal embodiment of madness, He is as likely to save a puppy from drowning as to stick his rusty cutlass in a tourist's stomach.
The book also contains six lengthy scenarios, each around 25 pages long. These include Death and Horror Incorporated, Heed the Kraken's Call, and Star Seed.
Shadows Over Scotland has not gone unnoticed by the gaming press. It won the 2012 Origins Award for Best RPG Supplement and was also the winner of the 2012 ENnie Award for Best Setting.
Here's the delightfully enticing back cover copy:
Mysterious, wild and beautiful, Scotland in the 1920s is home to horrors modern and ancient, man-made and star-born. From the rolling pastoral Lowlands to the snow-capped peaks of the Highlands and the seaweed-choked Western Isles, creatures and cultures have taken root in Scotland whose maddening, corrupting influence can be felt far and wide. Fiendish things haunt the hive-like alleys and wynds of old Edinburgh, while Glasgow's streets whisper with rumours of dark terrors in the shipyard shadows on the snaking, poisonous Clyde. And in the isles, murmurs on fishing boats and ferries speak of far older things, of sites of power and standing stones, awakenings and stirrings in forgotten places. Something terrifying lurks in the night, casting dark shadows over Scotland.

Shadows over Scotland is a massive new hardback sourcebook for Chaosium's Call of Cthulhu roleplaying game covering Scotland in the 1920s. It features:

Three comprehensive sections detailing the Lowlands, Highlands and Islands
Individual sections on history, folklore, language and life in 1920s Scotland
A complete Mythos timeline
Detailed coverage of nine cities and their various inhabitants
Six sinister adventures complete with extensive handouts
Shadows Over Scotland was written by Stuart Boon and published by Cubicle Seven in May 2011, under license from Chaosium. It is 288 pages, priced at $39.99 in hardcover. There is no digital edition. Read more at the Cubicle Seven website.
Cubicle Seven has produced an eye-opening video showcasing the moody and effective black-and-white art for the book. It's well worth a look. Here it is: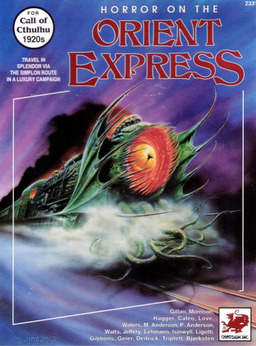 We've covered several excellent Call of Cthulhu and Trail of Cthulhu adventures and supplements over the past few years, including:
Shadows of Yog-Sothoth from Chaosium (1982)
Cthulhu By Gaslight from Chaosium (2012)
Achtung! Cthulhu from Modiphius Entertainment (2012)
The House of R'lyeh from Chaosium (2013)
Out of Space from Pelgrane Press (2013)
Eternal Lies from Pelgrane Press (2013)
Cthulhu Britannica: Shadows Over Scotland from Cubicle Seven (2014)
Horror on the Orient Express (second edition) from Chaosium (2014)
Mythos Expeditions from Pelgrane Press (2014)
Punktown from Miskatonic River Press (forthcoming)
See all of our recent New Treasures here.