Vintage Treasures: Shadows of Yog-Sothoth
Vintage Treasures: Shadows of Yog-Sothoth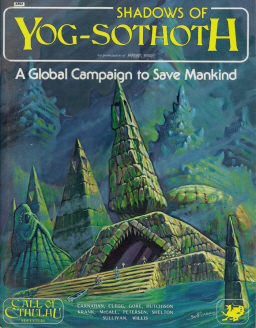 Last week I wrote about the death of Lynn Willis, the legendary editor at Chaosium, who gradually became the mastermind behind Call of Cthulhu, one of the finest RPGs ever made. While at Chaosium Lynn helped write and edit no less than 54 Call of Cthulhu books and supplements like Cthulhu by Gaslight, as well as a host of other board games and products, including Arkham Horror, RuneQuest, Thieves' World, King Arthur Companion, Stormbringer Companion, Carse, Tulan of the Isles, Atlas of the Young Kingdoms, and dozens more.
In honor of Lynn, I dug around this week to find those products that first captured my attention all those years ago. They weren't hard to find, as they still occupy a place of pride in my collection.
When Sandy Peterson's Call of Cthulhu was first released as a boxed set in 1981, the entire industry took notice. Here was the first truly appealing contemporary (or, at least, semi-contemporary) role playing game, which drew on the horrifying cosmic milieu and fabulous bestiary of none other than H.P. Lovecraft. It was an instant hit. But by itself, Call of Cthulhu was just a fascinating oddity. It wasn't until Chaosium released Shadows of Yog-Sothoth, A Global Campaign to Save Mankind a year later that we realized what the game was truly capable of.
Shadows of Yog-Sothoth is an epic, self-contained campaign which first introduced role players to the kind of play demanded by CoC. Players who treated Cthulhu and his minions as simply big D&D monsters, chubby creatures ready to be harvested for their experience point value, were in for a rude awakening.
This paragraph from SoY-S was perhaps the most heavily quoted text in the entire genre that year, and my friends never tired of reading it out loud:
If the characters try to fight it out with Cthulhu, the keeper should wipe them out. Even the lauded Elder Sign is relatively impotent against such a being. For example, if a character were to hold up the Sign before Cthulhu, hoping that he will not be grabbed by Cthulhu's claws, the keeper is well justified in permitting a small, star-shaped piece of the character's body to escape total destruction.
Shadows of Yog-Sothoth was written by John Carnahan, John Scott Clegg, Ed Gore, Marc Hutchison, Randy McCall, and Sandy Petersen. It was published by Chaosium in 1982. The cover and eye-catching interior art was by Tom Sullivan. It is 80 pages in softcover (including 8 pages of handouts); it has no printed price, but if I recall correctly it was around $7.95.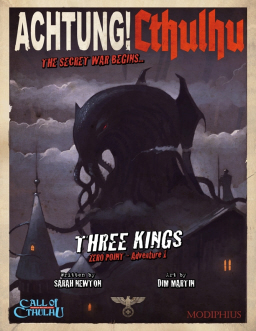 We've covered several excellent Call of Cthulhu and Trail of Cthulhu adventures and supplements over the past few years, including:
Shadows of Yog-Sothoth from Chaosium (1982)
Cthulhu By Gaslight from Chaosium (2012)
Achtung! Cthulhu from Modiphius Entertainment (2012)
The House of R'lyeh from Chaosium (2013)
Out of Space from Pelgrane Press (2013)
Eternal Lies from Pelgrane Press (2013)
Cthulhu Britannica: Shadows Over Scotland from Cubicle Seven (2014)
Horror on the Orient Express (second edition) from Chaosium (2014)
Mythos Expeditions from Pelgrane Press (2014)
Punktown from Miskatonic River Press (forthcoming)
See all of our recent Vintage Treasures here.