Explore a Haunted Cyberpunk City in Punktown from Miskatonic River Press
Explore a Haunted Cyberpunk City in Punktown from Miskatonic River Press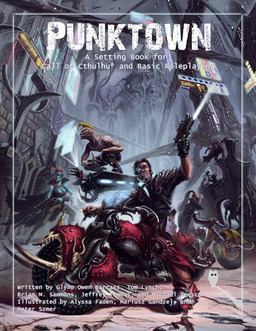 I was at the Chronicle City website today, looking for updates on one of my favorite new science fiction RPGs, Cold & Dark, when I stumbled on an interesting update for an upcoming product.
Punktown is a setting book for the Call of Cthulhu and Basic Roleplaying systems. It explores a dark, haunting, cyberpunk city full of aliens, robots and mutants all set in the world of Jeffrey Thomas' novel series.

With Punktown being the last project by Miskatonic River Press before they wind down operations MRP's President, Tom Lynch, approached Chronicle City's founder, Angus Abranson, about looking after the project… The partnership also means that Punktown will live on beyond the core book as Chronicle City and author Jeffrey Thomas will be collaborating on developing future products to support, explore and grow the game.
This is definitely a good-news, bad-news scenario. First, I'm a huge fan of Miskatonic River Press, and it's great to hear they have something new in the works. They've produced some really terrific Call of Cthulhu products, including New Tales of the Miskatonic Valley, Our Ladies of Sorrow, and their Roman-era adventure The Legacy Of Arrius Lurco.
The bad news of course, is that they're closing. I noticed they hadn't published anything for a while, but to hear they were folding up shop is distressing, to say the least. Still, I've heard great things about Jeffrey Thomas's Punktown books, and if Miskatonic River has to end their illustrious publishing career with one book, I'm pleased it's this one.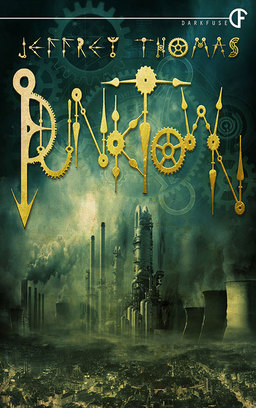 [Click on any of the images for bigger versions.]
I think Thomas's dark-future urban setting will make a terrific locale for a rockin' CoC campaign. The Punktown core setting book was funded by a Kickstarter campaign that successfully funded on December 19, 2012, with $13,564 pledged on a $9,000 goal.
Now we're back to the bad news side of the coin, however. According to the Chronicle City website, the book is "expected in February 2014."
That's not good. Kickstarter projects that are that overdue don't have a good track record for delivery — especially if the company behind them is in the process of shutting down, I would imagine.
The updates on the Kickstarter page look promising, however, and the latest (dated Oct. 27) shows a lot of great-looking scenario maps. So I'm hopeful that the project will soon see the light of day.
When it happens, Chronicle City promise to release a Gamemasters Screen and additional support material in both PDF and physical formats. Get more details on their website.
We've covered several excellent Call of Cthulhu and Trail of Cthulhu adventures and supplements over the past few years, including:
Shadows of Yog-Sothoth from Chaosium (1982)
Cthulhu By Gaslight from Chaosium (2012)
Achtung! Cthulhu from Modiphius Entertainment (2012)
The House of R'lyeh from Chaosium (2013)
Out of Space from Pelgrane Press (2013)
Eternal Lies from Pelgrane Press (2013)
Cthulhu Britannica: Shadows Over Scotland from Cubicle Seven (2014)
Horror on the Orient Express (second edition) from Chaosium (2014)
Mythos Expeditions from Pelgrane Press (2014)
Punktown from Miskatonic River Press (forthcoming)
See all of our recent Games coverage here.