New Treasures: Cold and Dark
New Treasures: Cold and Dark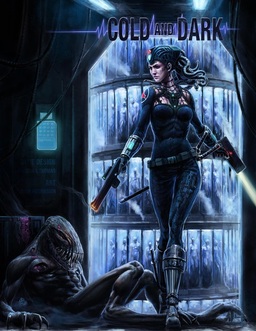 I couldn't go to Gencon in August. I had to work. Someone had to — the rent on our spacious rooftop headquarters here in downtown Chicago doesn't pay itself.
Certain members of our staff did attend that august gathering, however. I'm not going to point any fingers, but I will point you, without comment, to Howard Andrew Jones's GenCon Writer's Symposium 2013 and Andrew Zimmerman Jones's three-part (three-part! That's how much fun you can have at Gencon) Post-Convention Recap. That's right. While some us were putting in long hours, trying to finish that scathing expose on the use of polluted air in model zeppelins, everyone on staff named Jones got to go Indianapolis to party. But I'm not bitter.
I'm lying. I'm totally bitter. What's a guy got to do to keep up with the Joneses around here? It's not just all the fun they had; it's the fantastic loot they brought back. Like Cold and Dark, a new RPG of gritty science fiction horror from Chronicle City — publishers of Dungeonslayers, Achtung! Cthulhu, and the upcoming Punktown — which draws inspiration from Pitch Black, Dead Space, and other classics of dark SF. Here's the back-cover copy:
Centuries from now mankind lives on in the Sirius galaxy, an enormously vast and dense system of stars. It's a greedy industrial society run by corporations and the Governmental Industrial Complex. The onslaught of strip-mining has stirred something terrible best left buried and forgotten.
The sci-fi universe of Cold & Dark is a frightening and violent world. In the reaches of space the protagonists have to face known as well as unknown horrors. The players take on the roles of people who have chosen to live on the edge as site engineers, corsairs and deep space salvagers. Only out there in the big empty, on the verge of disaster facing the horror, do they flourish and realize their full potential. This is sci-fi at its darkest.
I really want to play this game. Just browsing the pages conjures up fabulous images of a grim and fantastic campaign, exploring the unknown horrors on the perimeter of space — aided considerably by the fabulous interior art, I must say. Fortunately, Howard was generous enough to share his copy with me or I probably would have resorted to stealing it out of his office. The self-contained softcover rulebook contains a starmap and info on 18 systems, details on the mysterious religion known as Infinitology, a simple system for space combat and ship management, sample spacecraft, rules for a nasty mental illness which has the power to devastate humanity, and much more. It's a complete RPG system with everything you need to play.
Cold and Dark was written by Mischa L. Thomas/Wicked World Games and published by Chronicle City on October 9. It is 320 pages and available in two editions: a full-color hardcover for $54.99 and a black & white trade paperback for $44.99. Get more details on the website and see the Terus 8 Report, a 2-minute YouTube video set in the gritty world of Cold and Dark.