GenCon Writer's Symposium 2013
GenCon Writer's Symposium 2013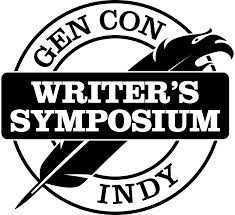 A few short weeks ago, I was in Indianapolis for GenCon, which is almost certainly the pre-eminent gaming convention in North America and probably the world. It's obviously the place to be if you love table-top gaming, but if you enjoy board games or related interests, it's also a fine stopping point. What you may not know is that tucked away in one corner of the convention is an exceptional resource for writers.
Let's face it: there's so much interesting gaming stuff going on — chances to try out various new games, or to visit with friends from far lands — that you might not think the Symposium is worth your time. But you can take in as much of it, or as little of it, as you desire. Panels start as early as 8:00, which is two hours before the doors to the Great Exhbition Hall open. And these aren't just dull panels where those behind the podium wander in and ask "now what was this panel about again?" You'll find pros and semi-pros who are willing to discuss the subject with care and at length.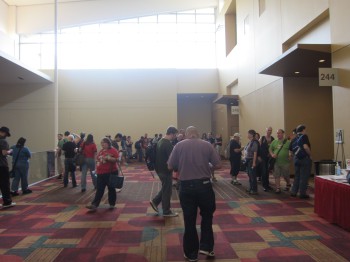 GenCon's getting better and better at promoting this corner of the convention, but even this year it was a little hard to find details on the Symposium from the main web site. I think things are changing, though. More and more popular authors and publishers are making the convention a stopping point: Brandon Sanderson, Patrick Rothfuss, Scott Lynch, and Lou Anders were all in attendance this year, not to mention John Scalzi, Mary Robinette Kowal, Saladin Ahmed, Ed Greenwood, and many, many more. They gave readings and answered questions and provided authorial advice on topics like world building and creating memorable characters and getting started in the industry.
I love gaming and I'd probably be at the convention for the sake of my books with the Paizo Pathfinder line. But the Symposium is icing on the cake. From my side of the table, it's one of the best run conventions I attend. The talented Marc Tassin, Symposium Director, picks excellent panel topics staffed with good panelists and keeps everything organized and moving. The attendees themselves are genuinely interested in the topics and ask great questions. It's a wonderful way to meet with fans (and, in fact, some of my favorite moments at this year's convention were talking with readers at the Symposium, among them Jason Woods).
If you're near Indianapolis during GenCon season and are interested in the industry of writing, I highly, highly recommend joining the 2014 Writer's Symposium.
If you want an even more detailed look at what GenCon is like, I have a series of posts over on my web site with behind-the-scenes silliness and (hopefully) interesting details: Part 1, Part 2, Part 3, Part 4, and some pics. And of course there are Andrew Zimmerman Jones's write-ups from earlier this month right here on the Black Gate site.