New To View: An Interview With Betwixt's Joy Crelin
New To View: An Interview With Betwixt's Joy Crelin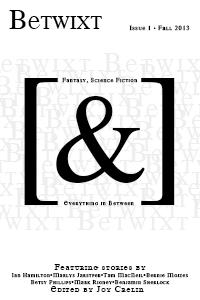 Fantasy and sci-fi markets come and go (as, in fact, do periodicals in general). Most don't survive six months. Some, however, have an aura of staying power, even right out of the gate; it shows in their guidelines, in the way they present themselves to the watching, skeptical world. One such magazine is Betwixt. I recently posed a few questions to Joy Crelin, editor and publisher of Betwixt, to quiz her about her hopes for her new venture and to take her pulse on all things spec fic. Whether you're a writer, a reader, or a magazine publisher, you'll want to hear what she has to say.
There are a fair number of fantasy mags and 'zines on the market. Where does Betwixt fit in the pantheon?
As Betwixt is still so new, its editorial point of view is still evolving — and honestly, I expect it will continue to evolve indefinitely. The gist of the magazine's ethos is deliberate eclecticism. When it comes down to it, I want to publish the kinds of stories I want to read. That means fantasy, science fiction, horror, magic realism, slipstream, whateverpunk, and all the configurations and mash-ups and niches thereof. I like having the freedom to publish stories that speak to me without having to decide whether they conform well enough to someone else's expectations of what a fantasy or science fiction story should be — or my expectations, for that matter!
At the same time, I recognize that eclectic can often read as wishy-washy, so it's important to me that there be at least a degree of internal consistency in each issue of the magazine. Overarching themes tend to develop in most collection works I edit, whether I expect them to or not, and so far Betwixt has been no exception.
How did you become an editor?  What's your background?
I've been a freelance editor since I was seventeen, when I was hired to copyedit a book about a particular line of limited-edition guitars (long story). I later attended Emerson College in Boston, Massachusetts, and earned a BFA in writing, literature, and publishing. While at Emerson, I began to attend Boston-area science fiction conventions and, through a convoluted series of events, eventually became a convention intern for New Genre magazine and an editor for Circlet Press. During this time, I began to think about starting a magazine/small press, but I kept those plans on the back burner for a few years while I settled into a full-time day job in educational/reference publishing. In early 2013, I decided the time for Betwixt had come, so here I am.
Given the difficulties of attracting readership, what's your strategy for getting Betwixt noticed?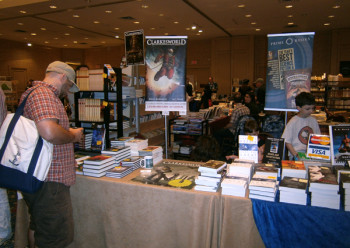 In a perfect world, the magazine would attract attention based solely on the strength of the published stories. Word of mouth goes only so far, though, so I'm also experimenting with a few different advertising strategies and plan to promote the magazine in person at conventions.
What surprised you most about getting Betwixt launched?
I expected that the launch of a new paying market would attract the interest of some writers, but I was surprised by the number of submissions I received right off the bat. The response has been fantastic! It will be interesting to see whether the number of submissions and the types of stories submitted change at all now that the first issue has been published.
You've got an hour or two to kill, and Netflix is staring you in the face.  Will it be Doctor Who, Firefly, or The Walking Dead?
Doctor Who, preferably classic.
What are some influences for you on the editorial or literary front?
My biggest editorial influences are probably the two editors who hired me early in my career — Adam Golaski of New Genre and Cecilia Tan of Circlet Press. Adam and New Genre are responsible for prompting my realization that I like horror, which seemed strange at the time, as I always hated scary movies. As it turns out, horror fiction is awesome. (I still can't watch the movies, though.) My experience with Circlet was probably the greatest influence on my decision to launch Betwixt. I'm about the age Cecilia was when she founded the press, which is still a major presence in erotic speculative fiction twenty-odd years after its establishment, and the company's endurance through two of the more tumultuous decades in publishing is inspiring to say the least. Thanks to Cecilia, I now know a whole lot more about editing and the SF publishing community, as well as the ups, downs, and "oh crap" moments of running a small press.
What's the last book you read that wasn't work-related?
Battle Magic, by Tamora Pierce.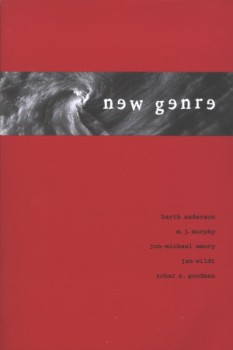 If you had to sum up what makes a Betwixt story, what qualities might those be?
The ideal Betwixt story is well-written and thought-provoking, tackles an unusual topic or presents a fresh take on a common one, and, most importantly, is entertaining. Life's too short for boring fiction.
Betwixt opened its doors as a paying market. How do you plan on sustaining that commitment to paying the writers you publish?
It was important to me that Betwixt be a paying market from the beginning. In order to ensure that I could offer contributors more than a token payment, I set myself a strict budget and adjusted the publication schedule, number of stories per issue, and whatnot until I figured out a plan that worked. Ideally, the magazine will make money from the sales of electronic and print issues and from advertisements, but I designed the magazine's budget to be sustainable even if we don't make any money. I don't particularly want to pay for the magazine out of pocket, but I can, and I'm prepared to do so if necessary. I promise you this: contributors to the magazine will never go unpaid and I will never offer money I don't have. I've read enough horror stories about failing magazines and small presses to know that I don't want to go there. It's unfair to everyone involved.
In a world of electronic readers, Kindles and such, which do you prefer?  Digital or hard copy?
Digital — I do most of my reading on the go, so having multiple books available without actually lugging them around is a blessing.
Are you a writer yourself?  What other projects have you embarked on?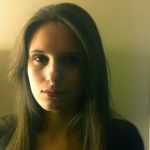 I don't really write fiction; I recognized early on that I'm much better with other people's words than with my own. I do write nonfiction occasionally as part of my day job. When not editing Betwixt, I acquire and edit erotic science fiction and fantasy for Circlet Press.
*
Full disclosure: one of my own short stories appears in Betwixt's debut issue, and you can visit their site and read a trove of great fiction HERE.
'Til next time.
Onward!
---
Mark Rigney has published three stories in the Black Gate Online Fiction library: "The Trade," "The Find," and "The Keystone." Tangent called the tales "Reminiscent of the old sword & sorcery classics… once I started reading, I couldn't stop. I highly recommend the complete trilogy."