GenCon 2013 Post-Convention Recap – Part 3: The Pathfinder Booth
GenCon 2013 Post-Convention Recap – Part 3: The Pathfinder Booth
One of the most fun booths at GenCon (a land of many fun booths) is the Paizo booth. They have their own table with nearly round-the-clock author signings and great promotional giveaways, plus they produce fantastic gaming products … this year, having topped previous years in all categories. Their goblin masks were ubiquitous throughout the convention hall, though I did miss the Goblin flash mob on Wednesday evening. But I did have an opportunity to spend time at the booth and talk with CCO Erik Mona about the new developments with their line of games.
Pathfinder Adventure Card Game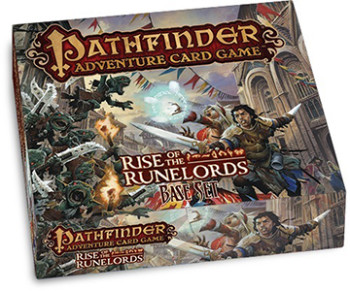 Definitely the biggest hit at the Paizo booth was the release of the first boxed set in the Pathfinder Adventure Card Game (Amazon, Paizo), a massive box containing nearly 500 cards. The demo area where they were running through the game was packed and I never actually made it into a demo slot, though I did watch a few of them.  When I arrived on Thursday morning, there was a line nearly halfway down the wall of the Exhibit Hall, consisting mostly of people who were buying this game.
This isn't a simple card game, but instead a roleplaying campaign in a box. It can be played by 1 to 4 players – that's right, it can be played solo – who create a character, and then build a deck of equipment, allies, and magic to help progress through the events of Paizo's classic Rise of the Runelords adventure path.
The game is built around a series of locations, adventures, and scenarios that mirror those presented in the adventure path. Players play through the events at the different locations, trying to defeat the villains and move along to the next location or scenario. Through the play, you gain additional equipment, allies, and other resources that you add to your character deck, growing in power to face future challenges. For more details on the gameplay, you can access the full rulebook through the Paizo website.
And while the initial box contains enough to keep you occupied and engaged for a long while, the story unfolds with expanded Adventure Decks that come out every two months. This adds a growth potential to the game, allowing Paizo to go through the adventures of two full adventure paths every year.
I'm definitely looking forward to an opportunity to review the game itself at greater length. As a fan of both cooperative games and someone who sometimes has trouble finding time to get gaming groups together, the idea of a game that can be played cooperatively or in solo form really appeals to me.
New Pathfinder RPG Supplements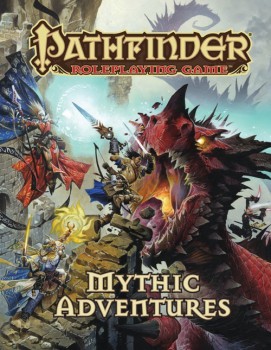 Next to the Adventure Card Game, I was thrilled to see the Pathfinder core supplement, Mythic Adventures (Amazon, Paizo), revealed as well. I had been anticipating this for some time, ever since looking through the playtesting materials they published through their websites.
Mythic Adventures introduces a secondary progression of skills and powers, in addition to the traditional class system. The idea is that certain characters go beyond mere adventurers and become true legends. These heroes (or villains) go through a moment of ascension, where they are called on to one of six mythic paths:
Archmage
Champion
Guardian
Marshall
Hierophant
Trickster
There are ten tiers on the mythic path, with characters gaining access to various path abilities based upon their chosen path. These tiers are gained through story events, rather than through gaining a certain set number of experience points. Characters advance to the next tier by achieving a given number of "trials," which the GM does not always reveal until after they've been accomplished.
I had some severe reservations about the amount of power creep involved. The playtest materials, for example, had give mythic characters a +20 bonus to initiative, which struck me as substantial overkill. In the final version of the rules, a mythic character gains an initiative bonus equal to their mythic tier. This is a lot more reasonable. The mythic powers give a definite boost, but they're now in line with the rest of the game. A mythic character could still be thwarted by a powerful, non-mythic adversary, so there's a lot more balance. Again, I'll have a more detailed look at this supplement in the days ahead.
Beyond the addition of mythic paths, one of the other big changes is that the Pathfinder modules have now doubled in length, from 32-page modules to 64 pages. The first of these new deluxe modules is The Dragon's Demand (Amazon, Paizo), featuring not only a great adventure that takes characters from level 1 to level 7, but also a double-sided, full color map of the village the adventure is set in, as well as a battleground map. They have also released a campaign card deck (Amazon, Paizo), containing cards featuring the key players, equipment, and missions from within the module, allowing players to more easily track what's taking place. There was certainly something to be said for Paizo's previous, trim adventure modules, but these modules contain a wealth of useful material that can be cannibalized for incorporation into other adventures, even if you aren't applying the adventure exactly as written.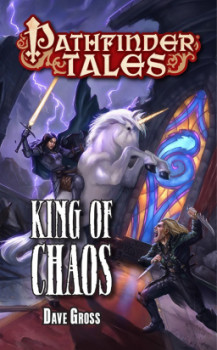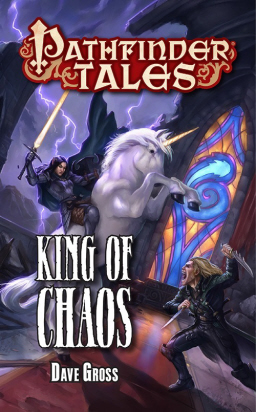 Paizo's Pathfinder roleplaying game has really taken center stage in recent years and it's in part because of their commitment to producing high quality products. This certainly includes their Pathfinder Tales novel series. The most recent release is Dave Gross's King of Chaos (Amazon, Paizo). We are proud to offer his personal introduction to the novel, as well as its first chapter, right here at Black Gate. Then, you can enter to win a copy of the novel yourself (deadline Oct. 1).
---
Andrew Zimmerman Jones is a writer of fiction and non-fiction. He has been a finalist in the Writers of the Future contest and received Honorable Mention in the 2011 Writer's Digest Science Fiction/Fantasy Competition. In addition to being a contributing editor to Black Gate magazine, Andrew is the About.com Physics Guide and author of String Theory For Dummies. You can follow his exploits on Facebook, Twitter, and even Google+.