Experience the Epic Madness of Eternal Lies From Pelgrane Press
Experience the Epic Madness of Eternal Lies From Pelgrane Press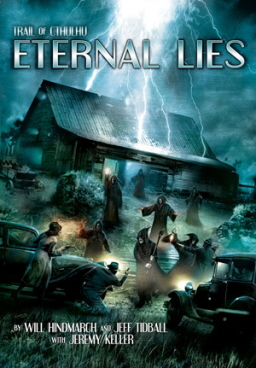 Pelgrane Press has been producing some of the most ambitious and exciting RPGs in recent memory.
They began in 2001 with one of my favorite RPGs, The Dying Earth, based on the rich world created by Jack Vance. More recently, we covered their ENnie Award-winning SF game Ashen Stars; the mammoth adventure compilation for Trail of Cthulhu, Out of Space; and their epic fantasy release 13th Age — which topped the list of 9 Most Anticipated RPGs of 2013 recently compiled by EN World.
But it's quite possible they've topped all of those with Eternal Lies, a massive new campaign for Trail of Cthulhu by Will Hindmarch, Jeff Tidball, and Jeremy Keller. The early buzz on Eternal Lies compares it very favorably to Masks of Nyarlathotep, the seminal 1984 mega-adventure for Call of Cthulhu that is frequently (and justifiably) cited as the finest role playing adventure ever written.
A decade ago, a band of occult investigators battled against the summoning of an ancient and monstrous evil.

They failed.

Now, you must piece together what went wrong. Investigate ancient crypts, abandoned estates, and festering slums. Explore choked jungles and the crushed psyches of your predecessors. Follow in their footprints and make new ones of your own. This time, there won't be another chance. The world is yours to save… or lose.
Pelgrane Press is selling the adventure in a special pre-release bundle with the soundtrack album, print edition, and PDF. They've created an audio trailer voiced by Wil Wheaton, which you can listen to here.
Eternal Lies will be available in print in August; the PDF version is available now. It is 396 pages; pre-order price is $49.95 for the complete bundle. Order at the Pelgrane Press website.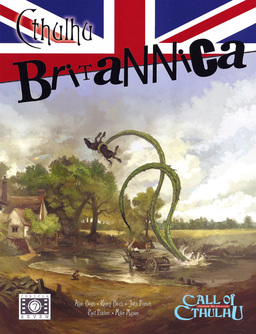 We've covered several excellent Call of Cthulhu and Trail of Cthulhu adventures and supplements over the past few years, including:
Shadows of Yog-Sothoth from Chaosium (1982)
Cthulhu By Gaslight from Chaosium (2012)
Achtung! Cthulhu from Modiphius Entertainment (2012)
The House of R'lyeh from Chaosium (2013)
Out of Space from Pelgrane Press (2013)
Eternal Lies from Pelgrane Press (2013)
Cthulhu Britannica: Shadows Over Scotland from Cubicle Seven (2014)
Horror on the Orient Express (second edition) from Chaosium (2014)
Mythos Expeditions from Pelgrane Press (2014)
Punktown from Miskatonic River Press (forthcoming)
See all of our recent New Treasures here.