Tabletop Gaming On The Rise
Tabletop Gaming On The Rise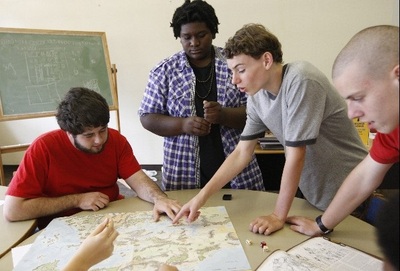 There's an interesting article in the Times Free Press this week that examines the growing evidence that tabletop role playing is experiencing a significant resurgence.
Written by Casey Phillips, the article, "After 40 years, popularity of tabletop gaming rises despite high-tech competition," mixes industry stats with anecdotal evidence gathered from the Chattanooga area.
D&D and other role-playing games increasingly are becoming a mainstream activity. In a 2000 survey, Wizards of the Coast — the current owners of the D&D universe of products — estimated that 5.5 million people in the U.S. regularly play tabletop roleplaying games…

With the recent growth of nerd culture through blockbuster comic book films and the growth of the video game industry, role-playing has been embraced more positively by pop culture, serving as a plot device in TV shows such as Futurama, Freaks and Geeks, Community and The Big Bang Theory…

In a 2004 essay about his introduction to D&D as a seventh grader, talk show host Stephen Colbert writes, "I… was instantly hooked. It allowed me to enter the world of the books I was reading. I put more effort into that game than I ever did into my school work." In 2011, he also issued an on-air shout-out to "any half-elf thieves who are joining us tonight."
I'm not sure I believe that 5.5 million people stat from Wizards of the Coast — unless maybe they define "regularly plays tabletop roleplaying games" as "daydreamed about being Legolas one time." But I definitely concur that D&D has become tightly identified with the rise of nerd culture, and that has played a very real part in popularizing it and other role playing games. I witnessed that first hand, when my daughter asked to play after her friends watched the "Advanced Dungeons and Dragons" episode of Community.
Read the complete article here.