New Treasures: The House of R'lyeh: Five Scenarios Based on Tales by H.P. Lovecraft
New Treasures: The House of R'lyeh: Five Scenarios Based on Tales by H.P. Lovecraft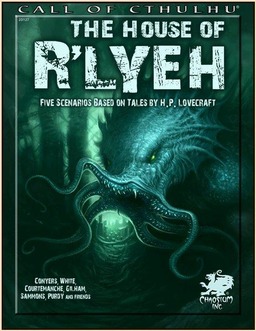 I feel like I'm in the middle of H.P. Lovecraft week.
On Sunday I talked extensively about Lovecraft, a propos of his inclusion in the latest round of Advanced Readings in D&D. This morning I invoked his name while discussing Robert Bloch's Nightmares collection. Now here we are again, with the latest collection on adventures for one of my favorite role-playing games, Call of Cthulhu, based on the work of H.P. Lovecraft.
I bought my first CoC adventure — the classic Shadows of Yog-Sothoth — over 30 years ago (yes, I'm aware that's longer than most of you have been alive. Shut up), and the most recent, Cthulhu By Gaslight, last April. I haven't played CoC in years (decades, probably), but the adventures are marvelously inventive and always a pleasure to read for a veteran game master like me. But The House of R'lyeh has extra appeal for Lovecraft fans of all kinds, not just CoC players, I think: it draws directly from five of the Master's short stories. I'm looking forward to digging in and seeing how successful it is.
The House of R'lyeh contains five Call of Cthulhu scenarios that follow or expand upon events in five of H.P. Lovecraft's stories: "Pickman's Model," "The Haunter of the Dark," "The Hound," "Arthur Jermyn," and "The Nameless City." Set in Boston, Providence, the British Isles, continental Europe, and the Middle East, none of the scenarios need be played at set dates or in a set order, but they could be run in the order presented to form a loose campaign using optional link between scenarios to draw investigators from one to the other.

Alternatively, the scenarios may be used to supplement classic Call of Cthulhu campaigns such as The Shadows of Yog-Sothoth which suggests that its component scenarios should be interspersed with others.
The House of R'lyeh was written by David Conyers, Glyn White, Brian Courtemanche, Peter Gilham, and Brian M. Sammons, and illustrated by Scott Purdy and Caleb Cleveland. It was edited by Frank Darden, and published by Chaosium on April 15, 2013. It is 222 pages in trade paperback, nicely illustrated in black & white, and priced at $33.95. There is no digital edition, but you may be able to get one printed on yak hide or sumthin'. Can't hurt to ask.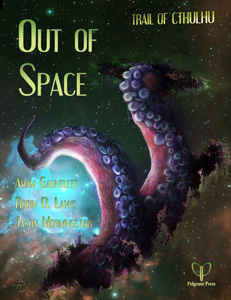 We've covered several excellent Call of Cthulhu and Trail of Cthulhu adventures and supplements over the past few years, including:
Shadows of Yog-Sothoth from Chaosium (1982)
Cthulhu By Gaslight from Chaosium (2012)
Achtung! Cthulhu from Modiphius Entertainment (2012)
The House of R'lyeh from Chaosium (2013)
Out of Space from Pelgrane Press (2013)
Eternal Lies from Pelgrane Press (2013)
Cthulhu Britannica: Shadows Over Scotland from Cubicle Seven (2014)
Horror on the Orient Express (second edition) from Chaosium (2014)
Mythos Expeditions from Pelgrane Press (2014)
Punktown from Miskatonic River Press (forthcoming)
See all of our recent New Treasures here.