Vintage Treasures: Rogers' Rangers by John Silbersack
Vintage Treasures: Rogers' Rangers by John Silbersack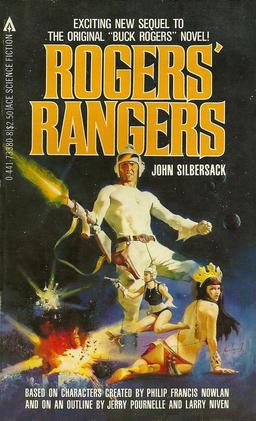 If you know the name John Silbersack, it's likely for his many significant accomplishments as a publisher and literary agent.
Silbersack has founded no less than six different imprints, including ROC Books at Penguin, Warner Aspect, and Harper Prism. Over a decade ago, he walked away from publishing and decided to become an agent, partnering with Trident Media Group, where he now reps some of the biggest names in the industry, including Barb & J.C. Hendee, Guy Gavriel Kay, E. E. Knight, William F. Nolan, David Schow, Paul Park, and the Isaac Asimov and Frank Herbert estates.
But back in the early 80s, this publishing Renaissance man also tried his hand at writing and editing. With Victoria Schochet, he edited the first four volumes of The Berkley Showcase (1980 – 1982), an anthology of science fiction and fantasy that presented original work from Berkley authors. It lasted five volumes and published a fabulous range of fiction from Orson Scott Card, R A Lafferty, Pat Cadigan, John Kessel, Howard Waldrop, Connie Willis, Thomas M Disch, Marge Piercy, Eric Van Lustbader, and many others.
All very interesting. But what we want to talk about today is Silbersack's sole novel: Rogers' Rangers, a sequel to the original Buck Rogers novel, published by Ace Books in 1983, which I found in a collection of SF books from the 1980s I acquired two months ago.
Back in 1979, Glen A. Larson, the producer behind the original incarnation of Battlestar Galactica, launched a new SF TV show for Universal: Buck Rogers in the 25th Century, starring Gil Gerard and Erin Gray (and the voice of Mel Blanc as Twiki, Buck's robot companion.) The series was a hit, and I vividly remember seeing the pilot episode in theaters, shortly before the TV version launched.
Universal had a lock on the TV and theatrical license to Buck Rogers, but apparently not the book rights. That left a window open for Ace, who brought bestselling authors Jerry Pournelle and Larry Niven on board to script a series of direct sequels to Philip Francis Nowlan's original novel.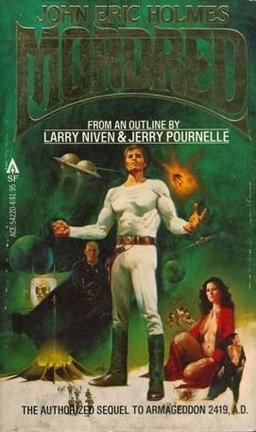 Capitalizing on the success of the TV show, Ace released five novels in what came to be known as Niven and Pournelle's Buck Rogers, starting with his first appearance, in Nowlan's novel from the August 1928 issue of Amazing Stories, Armageddon 2419 A.D.
Armageddon 2419 A.D. (1981) by Philip Francis Nowlan
Mordred (1980) by John Eric Holmes
Warrior's Blood (1981) by Richard S. McEnroe
Warrior's World (1981) by Richard S. McEnroe
Rogers' Rangers (1983) by John Silbersack
The marvelous covers, by Don Brautigam and Penalava, gave a visual coherence to the entire series.
Silbersack's contribution was the last in the series — and was his only novel (so far). I'm sure there's a fascinating story about how he came to write a Buck Rogers novel, and if I ever meet him, I'll have to remember to ask.
In the meantime, I think I'll sit back and enjoy this one. It was a completely serendipitous find in a large collection of 80's paperbacks I bought on eBay for 10 bucks back in January, and which I finally got around to opening today. There was a lot of marvelous fiction in there, but this is the one that leaped into my curious hands first.
Oddly, the book refers to Buck Rogers as "Tony Rogers" ("Buck" is a nickname; his full name is Anthony Rogers.) Not sure if that was for legal reasons or what. I'm sure Silbersack could tell me. Another reason I need to buy this man lunch when I see him.
Humanity Rises Against an Alien Empire

In the aftermath of nuclear war, over the rubble of once-great cities, the Prl'lu keep a watchful eye. There is sporadic underground resistance to their vast and vicious empire. But only Tony Rogers and his faithful followers have manged to escape to a distant planet where Rogers is making plans and training his Rangers, an alien force of rebellious Prl'lu, for the cataclysmic battle to liberate all humanity…
Rogers' Rangers was published in August 1983 by Ace Books. It is 235 pages, priced at $2.50. The cover art is by Penalava. It has never been reprinted, and there is no digital edition.