Vintage Treasures: Starwolf by Edmond Hamilton
Vintage Treasures: Starwolf by Edmond Hamilton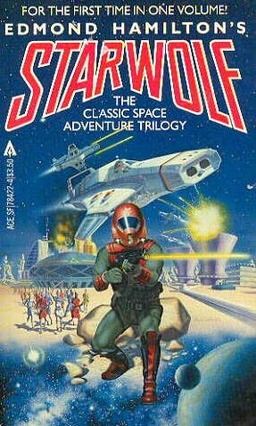 Last week, I wrote about a delightful collection of 80′s paperbacks I bought on eBay for just 10 bucks — including John Silbersack's Buck Rogers novel Rogers' Rangers, well worth $10 all on its own. Sometimes it's good when no one else shares your hobbies.
I'm still digging through the remaining 74 volumes and continuing to make marvelous finds. Like the omnibus collection of pulp novels by Edmond Hamilton, gathering together all three volumes in his classic Starwolf trilogy. It contains The Weapon From Beyond (1967), The Closed Worlds (1968), and The World of the Starwolves (1968), all originally published by Ace. That's a lot of classic space adventure from one of the greatest pulp writers of the 20th Century. Well worth tracking down, if you can find a copy.
The only mercy a Starwolf could expect was death…

Morgan Chane was a Starwolf – a member of the most infamous band of interstellar pirates in the galaxy. He had flown with the raiding packs, rockets screaming, to plunder the rich and slaughter the helpless.

But Morgan Chane was also a Terran, adopted as a child into the Starwolf clan. And when a quarrel erupted, Chane discovered that the Starwolves weighed his alien birth more heavily than all the years of comradeship. Now he is cast out of the clan – and running for his life.

But where, in all the galaxy, can a Starwolf expect to find refuge?
Starwolf was published by Ace Books in October 1982. It is 456 pages, priced at $3.50. It went through multiple printings between 1982 and 1990, but has otherwise never been reprinted. There is no digital edition. The cover is by David Schleinkofer, who was obviously influenced by one too many viewings of Battlestar Galactica.
See all of our recent Vintage Treasures here.