New Treasures: The Six-Gun Tarot by R.S. Belcher
New Treasures: The Six-Gun Tarot by R.S. Belcher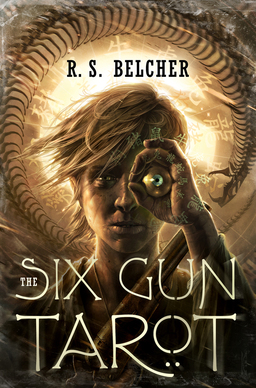 I've mentioned my fondness for this new Weird Western genre before. In the right hands, it's an invigorating mix of mythic adventure and the straight-out gonzo weird. There's been no shortage of fine examples recently, including Lee Collins's She Returns From War, Guy Adams's Once Upon a Time in Hell, Mercedes Lackey & Rosemary Edghill's Dead Reckoning, and the Bloodlands novels of Christine Cody. Heck, even Firefly is a weird western, if you squint at it right.
The latest volume to cross my desk, hot off the presses last week in paperback, is the debut novel by R.S. Belcher. In a starred review, Library Journal called it "an astonishing blend of first-rate steampunk fantasy and Western adventure," which sounds like just the right mix in my book.
Nevada, 1869: Beyond the pitiless 40-Mile Desert lies Golgotha, a cattle town that hides more than its share of unnatural secrets. The sheriff bears the mark of the noose around his neck; some say he is a dead man whose time has not yet come. His half-human deputy is kin to coyotes. The mayor guards a hoard of mythical treasures. A banker's wife belongs to a secret order of assassins. And a shady saloon owner, whose fingers are in everyone's business, may know more about the town's true origins than he's letting on.

A haven for the blessed and the damned, Golgotha has known many strange events, but nothing like the primordial darkness stirring in the abandoned silver mine overlooking the town. Bleeding midnight, an ancient evil is spilling into the world, and unless the sheriff and his posse can saddle up in time, Golgotha will have seen its last dawn… and so will all of Creation.
The Six-Gun Tarot was published on January 22, 2013 by Tor Books. It is 368 pages, priced at $25.99 in hardcover and $11.99 for the digital edition. It was re-issued in paperback on March 25, 2014.