New Treasures: Once Upon a Time in Hell by Guy Adams
New Treasures: Once Upon a Time in Hell by Guy Adams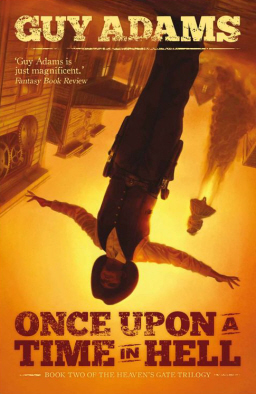 You know, I try not to play favorites with these New Treasures posts. The whole point is to present a diverse sampling of the most intriguing fantasy crossing my desk every week. It defeats the purpose if I keep talking about the same writers week after week, so I don't do it.
Unless your name is Guy Adams, apparently. I wrote up his novel of hidden laboratories, genetic engineering, and Sherlock Holmes, The Army of Dr. Moreau, back in August 2012, and his noir jazz club mystery Deadbeat: Makes You Stronger last October. But it was his gonzo fantasy-western, The Good The Bad and the Infernal, released last March, that really grabbed my attention and I've anxiously been awaiting the sequel. Now that it's arrived, here I am talking about Guy Adams again. It's not my fault, I swear.
A weird western, a gun-toting, cigarrillo-chewing fantasy built from hangman's rope and spent bullets. The west has never been wilder.

Wormwood has appeared, and with it a doorway to the afterlife. But what use is a door if you can't step through it?

Hundreds have battled unimaginable odds to reach this place, including the blind shooter Henry Jones; the drunk and liar Roderick Quartershaft; that most holy, yet enigmatic of orders, the Brotherhood of Ruth; the inventor Lord Forset and his daughter Elisabeth; the fragile messiah Soldier Joe and his nurse Hope Lane. Of them all, Elwyn Wallace, a young man who only wanted to travel west for a job, would have happily forgone the experience. But he finds himself abroad in Hell, a nameless, aged gunslinger by his side. He had thought nothing could match the terror of his journey thus far, but time will prove him wrong.

On the road to Hell, good intentions don't mean a damn.
Once Upon a Time in Hell is Book two of The Heaven's Gate Trilogy. It was published on December 31, 2013 by Solaris. It is 283 pages, priced at $7.99 in paperback and $6.99 for the digital edition.