Doctor Who and the Daemons – the Novel!
Doctor Who and the Daemons – the Novel!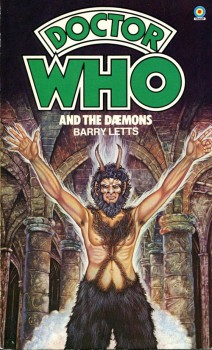 More than once on Black Gate, I've heard that the seventies were a dead zone for science fiction and fantasy. For teens in search of readily available genre "gateway drugs," I suppose this might have been true for many, but my particular experience of growing up managed, against all odds, to be different. Ohio was my home base, a vanilla environment for "culture" of the fantastical sort, but luckily I had a smorgasbord of British relatives. One especially perceptive and sibylline aunt started sending me Doctor Who novelizations.
Doctor Who and the Dinosaur Invasion, that was the first I tried. Next, one of the best offerings in the canon, Doctor Who and the Auton Invasion.  I was in third grade and after facing down those blank-eyed Autons and their Nestene masters, I was hooked.
Note that I wasn't in any way watching the TV show. In Columbus, Ohio, it simply wasn't available, not until the early eighties, and then, when PBS did pick up a few random episodes, it was Tom Baker's roost to rule. The Jon Pertwee, Patrick Troughton, and William Hartnell adventures I first encountered were absent entire.
What Tom Baker's run taught me is that talented actors can be mired forever in substandard scripts and even worse special effects. This was a total and unpleasant surprise, because the novelizations were fast-paced genre gems, especially those penned by Terrance Dicks.  (Malcolm Hulke was the other regular adapter for the Doctor Who franchise, with a rotating cast of fellow contributors including Gerry Davis, Ian Marter, and David Whitaker.) How could such pacey, adrenaline-filled books arise from such hokey, hamstrung screen material?
That's a massive question and I'm going to avoid it — for today, at least.
Instead, I want to champion the one Doctor Who book that demanded to be re-read and that clings best to memory all these many years later.
It's Doctor Who and the Daemons by Barry Letts (1974).
Three significant facts: Letts served as Doctor Who's producer throughout the Jon Pertwee years (Pertwee played Doctor Number Three); this was Letts's only novelization for the show; and Letts developed the Daemons scenario himself, so this was his project from the get-go.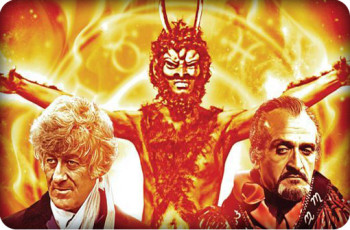 The set-up is alarmingly simple and wholly British. On national television, one Professor Horner proceeds to open a Celtic barrow called the Devil's Hump, in the aptly-named village of Devil's End. The Doctor, watching together with companions Jo Grant and UNIT officer Mike Yates, realizes that Horner is being manipulated: something wants him to open that barrow and to do it precisely at midnight on Beltane.
Of course the barrow gets opened, releasing a Daemon, Azal. Unlike most of the Doctor's vintage enemies, Azal isn't out to seize control of the universe. Instead, Azal has risen to pass judgment on humanity and, maybe, pass on his wisdom and intellect. Not that he's in a very good mood. "My race destroys its failures," he tells the Doctor's nemesis, a Time Lord gone bad called the Master, "and this planet smells to me of failure."
The key points that make the story really crackle are that Azal sets up a force field around the barrow (and the village church), thus locking the Doctor in, but most of UNIT out, and then Azal must decide which of two superior minds will receive his gift of knowledge: the Master's or the Doctor's.
Add in a white witch, Morris Dancing, and an animated church gargoyle and you have a feast of all things Albion.
Of course, Azal's rather rigid sense of duty can't be precisely fulfilled and the humanistic elegy that forces the action is very much the close cousin of any number of Captain Kirk's Star Trek speeches, but the whole thing feels unified, a yarn made of strong and homogenous material from start to finish.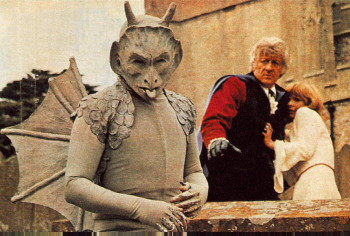 Does the prose hold up, now that my hyper-critical adult self is on the case? I think it does. One excerpt:
Down the steep track leading from the Goat's Back flew a strange figure, cloak fluttering behind like the wings of a giant moth, and uttering occasional weird cries such as "Ha!" or "Fool, fool, fool!" Miss Hawthorne on her bicycle. Swooping through the spinney at the corner of Longbottom farm and out into Shady Lane, she narrowly avoided the Ransomes' ginger cat and never even noticed—this being most odd as Marmalade was a personal friend—so exhilarated was she still by her righteous anger at that idiot Horner.

"My giddy godfathers, but I told him!" she thought to herself…
Lively and quick, this writing. Heck, I may have to stop all this blogging so I can curl up in a favorite armchair, a cup of milky British tea and a biscuit or three at my elbow. It's Doctor time!
Doctor Who novelizations are now available in many forms, but once upon a time, they came only from Target Books, in the U.K.  My copy of The Daemons cost my aunt all of 75 pence. In Malta, it would have cost 80 cents. I know, because it says so, right there on the cover. Higher costs pertain in Australia, Canada, and New Zealand. No U.S. price appears.
Perhaps fantasy and sci-fi were far-flung archipelagos back in the seventies, but given a near infinite supply of Doctor Who novelizations to wade through, my elementary and early teen years were anything but bereft. I had good guides and strong stories to carry me and the best came courtesy of Barry Letts, who died in 2009 at the age of 84. He had a long and productive career; check his name on IMDB or Wikipedia if you'd care to learn more.
Meanwhile, do me a favor and pass the biscuits, yes? Thank you, there's a love.
It was twilight in Devil's End.  All over the village shutters were being fastened…
---
Mark Rigney has published three stories in the Black Gate Online Fiction library: "The Trade," "The Find," and "The Keystone." Tangent called the tales "Reminiscent of the old sword & sorcery classics… once I started reading, I couldn't stop. I highly recommend the complete trilogy." In other work, Rigney is the author of "The Skates," and its haunted sequels, "Sleeping Bear," and Check-Out Time, forthcoming in 2014.