New Treasures: She Returns From War by Lee Collins
New Treasures: She Returns From War by Lee Collins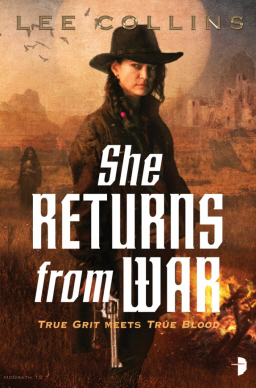 I love Angry Robot books. I don't pay much attention to publishers when I'm at the bookstore. But when I'm home, and my purchases are stacked by my big green chair, it's hard not to notice that half of them have the Angry Robot logo on the spine.
I think they're just in tune with the kind of books I'm most interested in. Which is weird, because I'm not exactly sure what they are myself. But I know they involve great cover art, intriguing settings, and women in cowboy hats. This week, anyway.
She Returns From War is the sequel to the supernatural western The Dead of Winter, released last October. The tag line is True Grit Meets True Blood, which is clever. Have you noticed this burgeoning mini-trend of western-horror-fantasies, including Guy Adams's The Good The Bad and the Infernal, Mercedes Lackey & Rosemary Edghill's Dead Reckoning, and the Bloodlands novels of Christine Cody? Apparently it's a thing. See? We're paying attention.
Four years after the horrific events in Leadville, a young woman from England, Victoria Dawes, sets into motion a series of events that will lead Cora and herself out into the New Mexico desert in pursuit of Anaba, a Navajo witch bent on taking revenge for the atrocities committed against her people.
She Returns From War was published by Angry Robot on January 29, 2013. It is 361 pages, priced at $7.99 in paperback and $6.99 for the digital edition.
The recent coverage Angry Robot titles we've covered were The Crown of the Blood by Gav Thorpe, The Lives of Tao by Wesley Chu, The Bookman Histories by Lavie Tidhar, and The Corpse-Rat King, by Lee Battersby.