New Treasures: The Crown of the Blood by Gav Thorpe
New Treasures: The Crown of the Blood by Gav Thorpe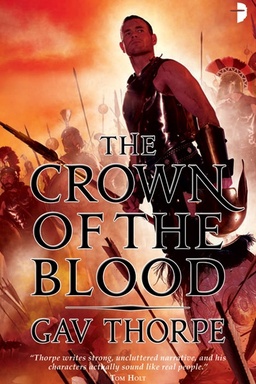 It's Friday. Already. Which means I'm a little tardy getting my latest New Treasures selection up.
I usually decide what book to highlight by glancing over the new arrivals for the week and selecting which one I'm going to read on the weekend. Except this weekend, I'll have my nose in the 358-page rulebook for Black Crusade, the Warhammer 40k role playing game from Fantasy Flight, learning how to play so I can host an adventure for my kids, who've been begging me for weeks. (Why don't kids play softball any more? Or frisbee? What does that take — 45 seconds prep time?)
So instead, I'm staring longingly at the review books that arrived this week, wishing I could read them. Still, all this Warhammer immersion reminds me of the great adventure fiction set in that universe, and as a result I find the book calling loudest for my attention is Gav Thorpe's The Crown of the Blood, the first novel in his trilogy of the same name.
Ullsaard has conquered the known world. All have fallen before his armies.

Now it's time to take the long journey home, back to the revered heart of the great Empire he had helped create for his distant masters. But when he returns to the capital, life there is so very different from what he had believed. Could it be that everything he has fought for, has conquered and killed for, has been a lie?

A sweeping fantasy of immense battles, demonic magic and dark politics.
No waiting around for the sequels, either — they're already here: The Crown of the Conqueror and The Crown of the Usurper. (Great — more books I can't read this weekend.) Gav Thorpe has written over a dozen novels in the Warhammer universe for Black Library, including Angels of Darkness and the Sundering trilogy.
The Crown of the Blood was published by Angry Robot in September, 2010. It is 528 pages in paperback, priced at $7.99 ($6.99 for the digital edition). More details at the Angry Robot website.