Vintage Treasures: Galactic Derelict by Andre Norton
Vintage Treasures: Galactic Derelict by Andre Norton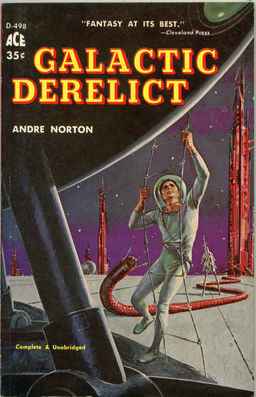 I came too late to science fiction and fantasy to catch Andre Norton's true heyday in the 50s and 60s, when she published over two dozen novels — including early classics like Star Man's Son (1952), Star Rangers (1953), Star Gate (1958), The Time Traders (1958), The Beast Master (1959), Witch World (1963), Three Against the Witch World (1965), and Year of the Unicorn (1965).
True, she continued to publish books steadily throughout the 70s, 80s, and even the 90s — though by the last decade of her life (she died in 2005), she was writing almost solely in collaboration with other authors. But it was her early Ace paperbacks that really stirred my collector's soul. Perhaps it was the splendid covers. Here's the back cover copy from the 1961 Ace paperback Galactic Derelict — with one of those splendid covers — reprinting a review from Galaxy:
"All the classic elements are present in full measure in Galactic Derelict. It suffers not at all in being a sequel to Andre Norton's excellent Time Traders.

"The U.S. Army's race with the Russians through and against Time remains Norton's background. Both search for abandoned wrecks of a race that had interstellar travel back in man's infancy.

"Travis Fox, Apache, joins Ross Murdock and Dr. Gordon Ashe, time agents, in attempting the transfer, intact, of an alien ship through 20,000 years to present. Inadvertently, controls are activated and the group is launched on an involuntary galactic tour. Their efforts to return to Here and Now constitute a top-notch science-adventure yarn." – Galaxy Magazine
Galactic Derelict is part of Norton's Forerunner universe. The other books in the series include The Time Traders (1958), The Defiant Agents (1962), Key Out of Time (1963), and others.
Galactic Derelict was published in 1959 by the World Publishing Company and has been reprinted in eight different editions over the last half-century. It first appeared in paperback from Ace Books in 1961. It is 192 pages in paperback, priced at 35 cents. The cover is by Ed Emshwiller. If I have a few moments this weekend, I may assemble some of the other covers to display them here.