What I've Been Watching: September, 2022
What I've Been Watching: September, 2022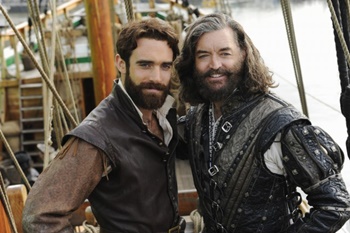 We've just wrapped up another successful summer run of A (Black) Gat in the Hand. What? How do I know it was successful? Because it didn't get canceled, that's how. It was also, unanimously, hands down, the favorite pulp series at Black Gate this summer. So… what now? Yes, it was the ONLY pulp series this summer. I believe even this year so far. Totally beside the point.
Anywhoo…while I was immersed in reading and listening for the series (I didn't do any movies this year, I think), I was still watching 'stuff,' and reading non-Pulp stuff here and there. So, this week, I'm gonna talk about five things I've watched, lately. Next week, it will be five things I've listened to (audio books, radio plays).
I'm not necessarily a renaissance man, but as a friend once said of me, I'm more of a late medieval pretender.
Galavant
I don't do musicals. I liked Chicago. And West Side Story (the original) is a classic. But I'd rather take a nap than watch a musical. And that's often what happens when I do watch one. But I LOVED Galavant during its initial run. It's a fairy-tale, fantasy musical, with more humor than any three shows combined. And with some great songs and singing.
Galavant (Joshua Sasse) is a hero, happily in love with Madalena (Mallory Jansen). But evil King Richard (wonderfully played by Timothy Omundson – Lassiter on Psych) kidnaps her, and Galavant sets out to rescue her. Things don't go quite as planned.
Stalwart British heavy Vinnie Jones is terrific as Gareth, the King's bodyguard/tough guy. You'll see a familiar face or two pop in, like Ricky Gervais ("Xanax fixes everything"), Downtown Abbey's Hugh Bonneville and Sophia McShera, Rutger Hauer, John Stamos, and even Weird Al Yankovic.
The songs are excellent, and laugh-out-loud funny. The romantic one about life for poor people during those difficult days is unbelievable. Season one had a solid story. Ratings weren't terrific for a comedy fantasy musical, as you might guess. The last song in the season finale broke through the wall and wondered if they'd be back for a second season.
Surprisingly, the show was renewed. It's my impression they weren't expecting it, and they had to cobble together a plot-line fore season two. It shows, as there are still a lot of good moments, and much humor, but it's definitely a step down from the first season. There's a song in the first episode, talking about their surprise at being renewed.
But if you want a fun, clever, well-done musical weekly show, Galavant is absolutely it. I re-watched season one on Hulu last week, and it was as refreshing and charming as ever. I'll do season two shortly. And probably a full, in-depth Black Gate post on the show. I can't recommend it enough.
Firefly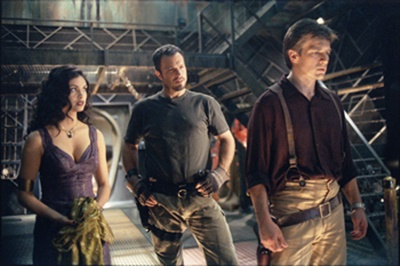 I never watched this show. I didn't follow it back when Fox aired it (out of order!) in the Friday Night Death Slot that had killed The Adventures of Brisco County Jr (my second-favorite show) the year before. A few years later, not knowing the deal, I started watching the follow-up movie, Serenity. Ten minutes in, I was done with that.
Friends of mine really liked this show. And I watched and loved Con Men, which definitely has Firefly in its story DNA (Alan Tudyk and Nathan Fillion are terrific in that short, streaming series. You REALLY should watch it). I love Fillion in Castle, and Dr. Horrible's Sing-a-Long Blog. So, when I subbed Hulu and I saw it had Firefly, I decided to give it a try.
Love it! Just finished the last episode, and will now watch Serenity, which should make some sense. This show has a Han Solo-vibe to it, and presaged The Mandalorian by years. Essentially, the rebels lost a war with an evil alliance. Fillion is Malcolm Reynolds, a smuggler/odd jobs contractor/sorta mercenary, who operates at the edges of civilization with his crew. Their ship is the Serenity, a Firefly-class transport ship.
Fox aired the episodes out of order, and canceled the sixteen-episode season after only fourteen had aired. As with Brisco County Jr, they didn't' know what the heck they were doing. I think this is a very cool show which would have carved out a Sci-Fi/Western niche if given the chance. The cast had great chemistry, too. I recommend checking it out. I'll be watching Serenity shortly. It will make a lot more sense this time!
Lost
I did not watch Lost when it first aired, but I do remember that it was the biggest show in the world for most of its run. I knew the general premise, but just wasn't interested. Amazingly, I've avoided all spoilers, to this day. My son is fourteen now, and I'm constantly looking for another show for us to watch together. Ones we've done, and both liked, have included Psych, Monk, Suits, White Collar, Burn Notice, Leverage, Due South, the Marvel and Star Wars streaming shows, Cobra Kai, and Royal Pains.
So, a few months ago, we started Lost. Carlton Cuse, co-creator of Brisco County, was a producer on the project from the pilot, so that's a plus.
Season one was spectacular. The mysteries, and the constant obstacles, were enthralling. Season two continued the trend. My son's interest waned, and we're on a break, midway through season three. I'm still into it, myself. I've read and heard that the payoffs don't live up to the buildup, but that's fine. I'll deal with them when the time comes.
Like many British mystery shows I watch, this one doesn't mind killing off a main character. It's a large cast, but they certainly have gotten rid of some folks. Though some still reappear in flashbacks, which is THE main storytelling element of this series.
It's got a solid cast, exotic location, and more mysteries than an Agatha Christie anthology. We'll continue on when my son wants to get back into it. But I'm glad I finally got around to this one.
She-Hulk
I have liked the Disney+ offerings in the Star Wars-verse more than those in the Marvel World. I barely forced myself to finish Moon Knight. And frankly, I would have been fine without doing so. I saw a bit of Miss Marvel, but didn't bother to watch it all.
But She-Hulk has been a delight. Tatiana Maslany is perfectly cast. Her direct-to-the-viewer commentaries are spot on! And this show is extremely well-written. It's smart-funny – not dumb funny. And it's not trying to be uber-unconventional like the terrible Wanda Vision; and the sorta tolerable Moon Knight.
This show has really worked so far. It's light, funny, gives us a different look at Mark Ruffalo's Hulk – it's doing everything right. Absolutely worth checking out.
Columbo/Monk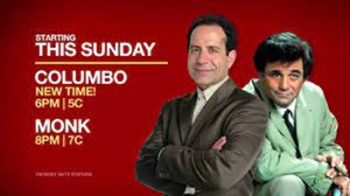 I often drift off to sleep at night watching some show I know well. It was Psych for quite a while. This summer, it was often an episode of Columbo, or Monk. The latter is shorter, and way fewer commercials. But I love both mystery shows and never tire of watching them.
Columbo has great guest stars and terrific villains. They often feel they're superior and act condescending to the misfit Columbo. Usually they get totally exasperated at him int the second half of an episode. And some of them can convey so much emotion when they derisively address him with no honorific, like 'Lieutenant'; just his last name.
The murder is revealed from the beginning – there's no mystery there. The fact the show is re-watchable is a testament to Peter Falk's amazing performance. Rarely has anyone ever been better-suited for a part (they tried to get Bing Crosby for the role…). Watching Falk's detective continue to amble forward, asking "just one more thing," and often appearing to accept the villain's incorrect theories, is a joy.
Columbo has a strong claim to being the greatest original detective show in TV history.
Monk is absolutely the successor to Columbo. Definitely a spiritual descendant. Tony Shaloub's eccentric 'defective detective' is an incarnation of Falk's Columbo. They fit into Joseph Campbell's Hero with a Thousand Faces motif. I've written about Monk a couple times, and I plan on doing that some more. The great guest stars as villains. Their superior attitude towards Monk. Shaloub's brilliant performance as he struggles to solve his wife's murder: I think Monk vies with Columbo for that greatest original detective show honorific. And I say that as a huge fan of The Rockford Files, as well.
Lee Goldberg, and then Hy Conrad, wrote well over a dozen Monk books, and they're excellent. It's like getting bonus episodes. Monk was an absolute treat, and it was the cornerstone show for USA Network becoming an original programming giant.
Honorable Mention – Cobra Kai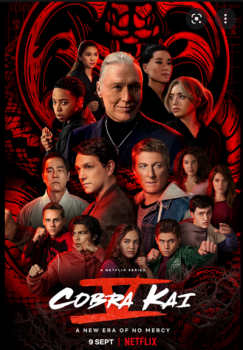 So, season five of Cobra Kai dropped, and my son and I binged the whole thing this weekend. It leaned heavily into the third movie, which was by far the least of the original trilogy. But what it brought in worked well, and it build on last season.
I wrote about Cobra Kai here, and it remains the best original streaming show which I've watched. Every season has been absorbing, and they do a terrific job of tying in the three movies. I don't think t his could be much better. And I'm not all that into the original movies.
They sure seem to have wrapped up all the loose ends in the finale, so I don't know if it will be back for a sixth season. But if not, it was a five star series.
And FAR more interesting than The Rings of Power, which I'm forcing myself through. The Numenor stuff is making it watchable, at least.
Next week, five audio books and radio plays I've been listening to, including some Douglas Adams (not the one you're expecting), and Ian C. Esslemont.
Check out prior viewing I've discussed.
Some previous entries on things to watch:
What I'm Watching- April 2022 (Outer Range, Halo, Why Didn't They Ask Evans, and more)
When USA Network was Kicking Major Butt (Monk, Psych, Burn Notice)
You Should be Streaming These Shows (Corba Kai, The Expanse, Bosch, and more)
What I'm BritBoxing – December 2021 (Death in Paradise, Shakespeare & Hathaway, The Blake Mysteries, and more)
To Boldly Go – Star Treking – (Various Star Trek incarnations)
What I've Been Watching – August 2021 (Monk, The Tomorrow War, In Plain Sight, and more)
What I'm Watching – June 2021 (Get Shorty, Con Man, Thunder in Paradise, and more)
What I've Been Watching – June 2021 (Relic Hunter, Burn Notice, Space Force, and more)
What I'm Watching: 2020 – Part Two (My Name is Bruce, Sword of Sherwood Forest, Isle of Fury, and more)
What I'm Watching 2020: Part One (The Adventures of Brisco County Jr, Poirot, Burn Notice, and more)
Sherlock Holmes (over two dozen TV shows and movies)
---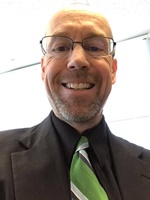 Bob Byrne's 'A (Black) Gat in the Hand' made its Black Gate debut in 2018 and has returned every summer since.

His 'The Public Life of Sherlock Holmes' column ran every Monday morning at Black Gate from March, 2014 through March, 2017. And he irregularly posts on Rex Stout's gargantuan detective in 'Nero Wolfe's Brownstone.' He is a member of the Praed Street Irregulars, founded www.SolarPons.com (the only website dedicated to the 'Sherlock Holmes of Praed Street') and blogs about Holmes and other mystery matters at Almost Holmes.
He organized Black Gate's award-nominated 'Discovering Robert E. Howard' series, as well as the award-winning 'Hither Came Conan' series.
He has contributed stories to The MX Book of New Sherlock Holmes Stories – Parts III, IV, V, VI and XXI.
He has written introductions for Steeger Books, and appeared in several magazines, including Black Mask, Sherlock Holmes Mystery Magazine, The Strand Magazine, and Sherlock Magazine.