BAEN BOOKS SIGNS HOWARD ANDREW JONES TO FIVE-BOOK DEAL: THE CHRONICLES OF HANUVAR
BAEN BOOKS SIGNS HOWARD ANDREW JONES TO FIVE-BOOK DEAL: THE CHRONICLES OF HANUVAR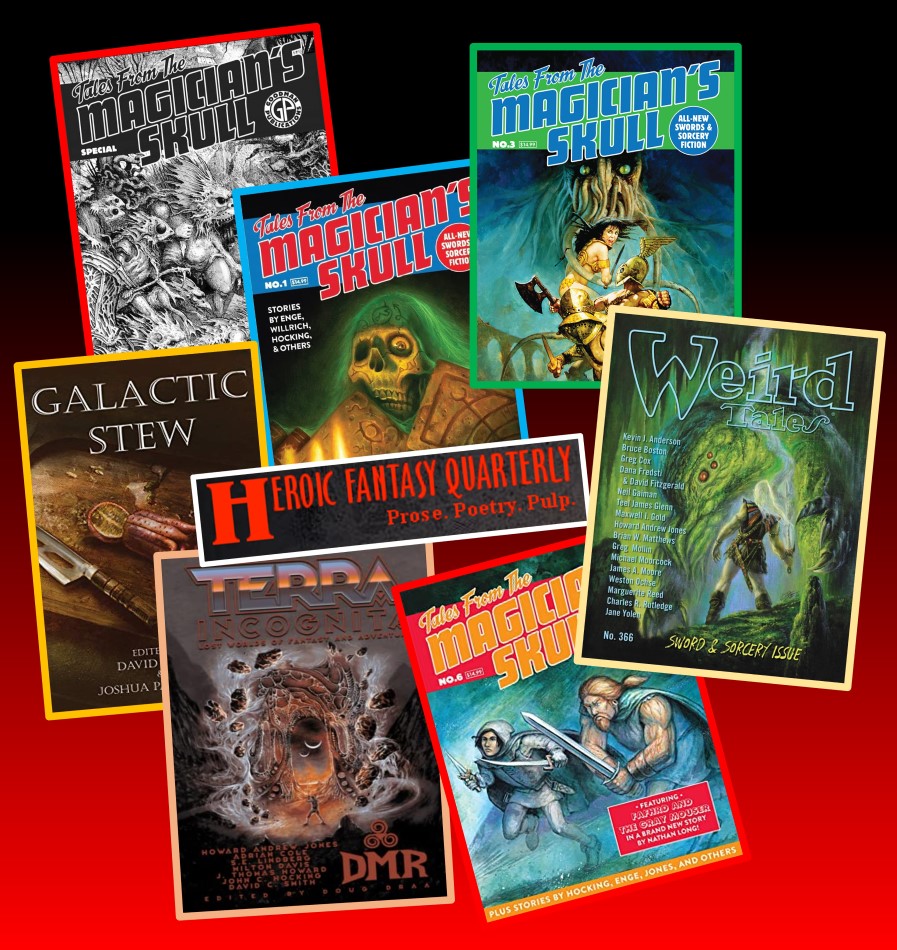 We have exciting news to share about Howard Andrew Jones and Sword & Sorcery.
Howard Andrew Jones in Magazines
Howard Andrew Jones is a titan amongst the Black Gate staff, having served as Manager Editor of the paperback magazine from 2004 onward. He has also been a champion of adventure fiction, being the driving force behind the rebirth of interest in Harold Lamb's historical fiction (assembled and edited 8 collections of Lamb's work for the University of Nebraska Press). On the Sword & Sorcery front, he has been blogging about the genre for decades (and his posts on the now-obsolete Flashing Swords e-zine… and subsequently on Black Gate… regarding REVISITING THE NEW EDGE would eventually coin the term "New Edge S&S").  Howard Andrew Jones is currently the Editor for the sword-and-sorcery magazine Tales From the Magician's Skull, published by Goodman Games.
HAJ in Books
Howard Jones's debut historical fantasy novel, The Desert of Souls (Thomas Dunne Books 2011), was widely acclaimed by influential publications like Library Journal, Kirkus, and Publisher's Weekly, made Kirkus' New and Notable list for 2011, and was on both Locus's Recommended Reading List and the Barnes and Noble Best Fantasy Releases list of 2011. Its sequel, The Bones of the Old Ones, made the Barnes and Noble Best Fantasy Release of 2013 and received a starred review from Publisher's Weekly. He is the author of four Pathfinder novels, an e-collection of short stories featuring the heroes from his historical fantasy novels, The Waters of Eternity, and the Ring-Sworn trilogy from St. Martin's, starting with For the Killing of Kings, which received a starred review from Publisher's Weekly, and concluding with When the Goddess Wakes, which received the same recognition.
Now There is Even More!
Baen Books signed Howard Andrew Jones to pen five books: The Chronicles of Hanuvar (the first book to arrive August 2023). Press release below.
So Who is Hanuvar?
"The first two books of my new series are already written. They star Hanuvar, the last general of Volanus. The Dervan Empire has leveled his city and carried its last few survivors away in chains. Against the might of a vast empire, Hanuvar has only an aging sword arm, a lifetime of wisdom… and the greatest military mind in the world, set upon a single goal. No matter where they've been sent, from the festering capital to the furthest outpost of the Dervan Empire, he will find his people. Every last one of them. And he will set them free." from HAJ's blog
GenCon Interview Reveals Hanuvar Secrets
Learn about the mysterious, inspirational Punic Wars (or as some may say, the "War Against the Punes") directly from Howard Andrew Jones as Joseph Goodman grills him.
Hanuvar Short Story Publications
You may have already encountered Hanuvar's tales:
"The Way of Serpents," first published in the Goodman Games Gen Con 2016 Program Guide and then reprinted in Issue 0 of Tales From the Magician's Skull, 2018.
"Crypt of Stars," printed in Tales From the Magician's Skull, Issue 1, 2018.
"The Second Death of Hanuvar," printed in Tales From the Magician's Skull, Issue 3, 2019.
"A Stone's Throw," printed in Heroic Fiction Quarterly #40, 2019 (available online, even in audio)
"Course of Blood," printed in the Zombies Need Brains anthology Galactic Stew, July 2020.
"From the Darkness Beneath" in DMR's Terra Incognita, May 2022.
"Shroud of Feathers" appeared in issue 6 of Tales From the Magician's Skull, Sept 2021.
"The Warrior's Way," Forthcoming in Weird Tales # 366
Aug 2023 brings us the first novel Lord of a Shattered Land releases (book 1 of 5)!

Official Baen Press Release
BAEN BOOKS SIGNS HOWARD ANDREW JONES TO FIVE-BOOK DEAL
Baen to publish sword and sorcery series, The Chronicles of Hanuvar, with first book in August 2023
RIVERDALE, New York, August 17—Baen Books has signed author Howard Andrew Jones to a five-book deal, for a new series of sword and sorcery fantasy titled The Chronicles of Hanuvar.

The series is set in a fantasy world based on the cultures of the ancient Mediterranean, with Hannibal of Carthage inspiring its hero, and follows Hanuvar, the last general of Volanus, as he travels the Dervan Empire which conquered his homeland. He is driven by a singular purpose: to find what remains of his people, who were carried into slavery across the empire, and free them from subjugation by any means necessary.

The series features the kind of action and world-building sword-and-sorcery fans expect. The Chronicles of Hanuvar also offers twists to the subgenre, such as a middle-aged protagonist who outwits enemies as often as he outfights them.

The series has been a longtime passion project for Jones, known to be a staple of the subgenre. Jones authored the Ring-Sworn trilogy published by St. Martin's Press, several Pathfinder novels, and served as the editor at Black Gate and is the current editor of Tales from the Magician's Skull magazine.

"I can honestly say that I've never had as much fun writing books as I've had writing these," said Jones. "I'm thrilled to see Hanuvar find a place at Baen, which is already home to many of my favorite writers, like David Drake and Tim Powers."

From Baen's side of things, Baen Publisher Toni Weisskopf is excited that The Chronicles of Hanuvar delivers the kind of hero-driven classical sword and sorcery that has been a favorite of Baen readers for decades.

"We're thrilled to bring Howard Andrew Jones onboard at Baen and are looking forward to sharing the adventures of Hanuvar with all of our readers," Weisskopf said. "We think fans of Robert E. Howard and David Drake will be as excited as we were to find a new author to enjoy."

Hanuvar will join the growing ranks of sword and sorcery series published by Baen Books over the next year, including a new book in Larry Correia's Forgotten Warrior Saga, Tower of Silence, as well as Wraithbound, the debut novel in Tim Akers' Spiritbinder Saga. Along with early praise from authors like David Drake and Martha Wells, and an excerpt in an upcoming issue of Weird Tales, Jones is excited by what Baen has in store for Hanuvar – and for him.

"I'm delighted by Baen's support and the level of backing they've already provided and thrilled that their passion for classical sword-and-sorcery matches my own," Jones said. "We can hardly wait to share Hanuvar with all of you."

The first book in The Chronicles of Hanuvar, Lord of a Shattered Land, will be released in hardcover on August 1, 2023. Jones is represented by Bob Mecoy of Creative Book Services.

Baen Books is known for its New York Times bestselling science fiction and fantasy, including David Weber's Honor Harrington series, Eric Flint's Ring of Fire alternate histories, Larry Correia's Monster Hunter International urban fantasies, and Lois McMaster Bujold's Vorkosigan Saga. Baen's physical books are distributed by Simon & Schuster, while their eBooks are sold via numerous venues, including the Baen website (www.baen.com).
---
S.E. Lindberg is a Managing Editor at Black Gate, regularly reviewing books and interviewing authors on the topic of "Beauty & Art in Weird-Fantasy Fiction." He is also the lead moderator of the Goodreads Sword & Sorcery Group and an intern for Tales from the Magician's Skull magazine. As for crafting stories, he has contributed six entries across Perseid Press's Heroes in Hell and Heroika series, has an entry in Weirdbook Annual #3: Zombies  He independently publishes novels under the banner Dyscrasia Fiction; short stories of Dyscrasia Fiction have appeared in Whetstone, Swords & Sorcery online magazine, Rogue In the House Podcast's A Book of Blades, DMR's Terra Incognita, and (soon) the 9th issue of Tales From the Magician's Skull.