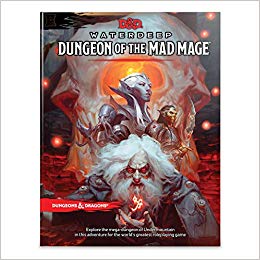 Dungeons & Dragons is having something of a renaissance. After a somewhat awkward period era known as "fourth edition," the most popular roleplaying game in the world has attained a greater reach than anytime in its history.
If you're looking for some good setting materials or adventures for Dungeons & Dragons 5th edition, this last year has shown the release of a handful of fantastic resources. Last spring was Mordenkainen's Tome of Foes, a great resources of various races, including the Devil/Demon war between Hell and the Abyss. But two books released this fall focused a little closer to our fantasy home, with the classic city of Waterdeep.
Waterdeep: Dragon Heist is an urban-based adventure for characters of level 1-5, centered around a massive treasure embezzled from the government of Waterdeep and rumored to be hidden within the city. The GM picks the main villain at the outset from four options, a choice that determines the season of the adventure, which alters how the subsequent chapters will unfold.
---